Carlsbad, Ruidoso, Lincoln County, Hondo, Fort Stanton, Capitan, Cloudcroft, Alamogordo, White Sands New Mexico & the Tularosa Basin, New Mexico
Places Visited:
New Mexico: Carlsbad, Ruidoso, Lincoln County, Hondo, Fort Stanton, Capitan, Cloudcroft, Alamogordo, White Sands New Mexico & the Tularosa Basin
Saturday, June 14, 2003 Windmill RV Park; Carlsbad, New Mexico. Full hookup 50-amps some shade, modem connection, laundry, cable and pool for $23.04 per-night.
We spent a few hours yesterday afternoon getting New Mexico information sorted into folders by city and region. One of the things sorting included was looking through some old "New Mexico Magazines". Yes, New Mexico Magazine is the name of the magazine. The magazine dedicates the last page of each monthly issue to antidotal input from citizens explaining their personal encounters with individuals around the United States that do not know New Mexico is a state. The stories are funny yet shocking. One man told of mailing two postcards from Oregon one to Utah for .12 cents the other to New Mexico for .52 cents. When questioned about the difference the postal worker said "that is what the chart shows". When questioned again, the postmaster would not back down. American Airlines told one individual she would have to have passports when flying to New Mexico. While on a cruise ship approaching the Mexican Yucatan Peninsula about 60 miles north of Belize one man struck up a conversation with a fellow tourist from Alabama. She asked where he was from and he replied New Mexico. She replied "well then you are almost home". Not believing what he heard, the man tried in vain to convince the lady that New Mexico was part of the United Sates not Mexico. The stories go on and on with each as incredulous as the last. One thing about Americans--------------- we don't subtract points for being stupid. It is everyone's right!
We drove up to Brantley Lake State Park located 20-miles north of Carlsbad. Brantley Lake was created to control the Pecos River during periodic floods. Right now there is not much water flowing in the Pecos River. The lake has about dried up. Pathetic is about the only way to describe the "reservoir". Large plants are growing on dry land where water once was. The size of those plants provides stark evidence that the water has been DOWN for a long time.
Brantley Lake Dam releases a controlled amount of water (the Pecos River) to the next downstream dam at the Avalon Reservoir. The Avalon Reservoir is not releasing any water into the Pecos River at this time. Fully 100% of the Pecos River is being routed into the irrigation system in the Carlsbad area.
Earlier I had tried to find a local that understood where the irrigation water in the flume came from with no success. I also wanted to know more about the body of water near downtown Carlsbad that is alternately referred to as the Pecos River and Lake Carlsbad. Finally, at the State Park a ranger understood what was going on. He said that 100% of the Pecos River water was controlled by some kind of Carlsbad Irrigation District or some such official sounding name with the exception that Texas had rights to so many surface feet of water from the Pecos. The Park Ranger said that when Texas called they had to release more water from the Brantley Reservoir.
He did not know how that would result in more water reaching Texas since all the Pecos River water reaching Carlsbad was being channeled into the irrigation system. We both surmised that the irrigation district was likewise obliged to allow water to flow downstream to Texas as well.
Somewhere south of Carlsbad water starts flowing in the Pecos again because we saw water in it when we crossed over the Pecos in Sheffield. Texas. That water may come from springs south of Carlsbad or possibly the irrigation system in Carlsbad may actually empty some "unused" water back into the Pecos south of town.
There is a campground at Brantley Lake State Park located on the top of a hill overlooking the pathetically dry lake and every site is in the HOT sun. They may be good sites during the winter but during June they would be brutal.
A few miles north of Lake Brantley at a place called 7-rivers is a KOA. It is either the Carlsbad KOA or 7-Rivers KOA. It is smack in the middle of NOWHERE with NO shade. It is approximately 20-miles north of Carlsbad if you are interested. It is a nice clean and modern looking place. If you like solitude this is the place for you.
Sunday, June 15, 2003 . We drove 135-miles to Pine Ridge RV Campground Ruidoso, New Mexico. Elevation 7,000' full hookup 30-amps & cable; $27.86
We left Carlsbad at 3,000' this morning driving 135-miles to Ruidoso at 7,000'. It feels SO good at 7,000'! Seriously, this is what we have been looking for it has just taken us longer than anticipated to get to "altitude".
Shortly after heading north out of Carlsbad we noticed that the Chihuahuan Desert plants had disappeared. The agaves, yucca, sotol, ocotillo and lechuguilla vanished. These plants had been so much of the desert landscape south of Carlsbad. Now unidentifiable grasses and low bushes cling to life on the unirrigated landscape. As we near Artesia irrigated fields of corn and hay follow US 285 and the Pecos River north to Roswell. Roswell is a well irrigated town. However, all green stops abruptly with the irrigation. Roswell at around 3,500' was where we exited US 287 and turned west on US 70 heading to Ruidoso at 7,000'. Both of us were wondering how hard the climb would be. As it turned out there was nothing to it. The climb was spread over the 68-miles between Roswell and Ruidoso.
Ruidoso is located in Lincoln County New Mexico home of Billy the Kidd and the home to Ruidoso Downs horse racing facility. Lincoln County is where the legendary Lincoln County War raged from 1878 to 1881. Lincoln County is also the largest county in the United States; at least it was at one time.
Political corruption, range wars, feuds, land frauds, and cattle rustling plagued New Mexico from 1848 to 1900 resulting in continual armed conflicts within the territory. Notorious individuals like Pat Garrett, Billy the Kidd, Clay Allison, Elfego Baca, John Turnstall and others took the law into their own hands. It was the law of the gun. Billy the Kidd had killed 21 men before he met his death. Before we leave this area we will know much more of the history. You may know more about the Lincoln County War than you think. Books have been written and movies have been made about the war, a fairly recent movie, Young Guns, dramatized the Lincoln County War.
Ruidoso is a tourist community nestled in ponderosa pines. At 7,000' we located hummingbirds buzzing around feeders. These are probably the same hummingbirds that were in Texas in April and May. Several years ago in mid-May we watched hundreds of hummingbirds around feeders in South Llano State Park and Lost Maples State Park in the western Hill Country of Texas. This year when we visited the same area in June only a few hummers were still around. The majority had obviously migrated to a cooler climate. Now we have found them again. In addition to hummingbirds we are seeing steller's jays that we are only able to see when at altitude in western states and generally in areas heavily forested in ponderosa pines.
Monday, June 16, 2003 Trek mileage: Pine Ridge RV Campground Ruidoso, New Mexico. Elevation 7,000' full hookup 30-amps & cable; $27.86
We spent the day visiting a number of historic towns near Ruidoso. The first small community was Hondo the home town of Jo Nealy of CNET fame. Tell Jo I said hi. We looked but could not find her ranch.
Next was the historic town of Lincoln where much of the Lincoln County war was fought. We saw the buildings where many of the major battles were fought. We toured the "mercantile" businesses that were at the root of the "war". We even toured the jail where Billy the Kidd was being held prior to his scheduled hanging. This is the same jail where he escaped and shot the two guards Bell and Olinger. A bullet hole is still in the wall that is touted as being the fatal shot that went through Bell. Marble markers are there to document where Bell and Olinger fell.
Next we visited Fort Stanton the Army post established to control the area Apache Indians. The Fort and its soldiers brought stability to the area thus encouraging settlement. Fort Stanton was so large that it was the dominant market for local goods and services. The fort was also associated with a number of legendary figures and groups. It was home to Buffalo Soldiers (Black Soldiers) that helped control Apache bands led by Victorio and Geronimo in the 1880s. Billy the Kid was incarcerated in the guardhouse. Billy was shot and killed by Sheriff Pat Garrett at a house on the Post. Billy the Kidd is also buried at Fort Stanton. Territorial Governor and army officer Lew Wallace wrote part of his famous novel Ben Hur while at the isolated post. John J. "Black Jack" Pershing, Commander of the American Expeditionary Forces in WWI, served two tours of duty at the fort. Colonel Kit Carson and his New Mexico Volunteers were garrisoned at the fort in 1863.
With the Apache Indians no longer a threat Fort Stanton was officially abandoned by the Army in 1896. Then in 1899 the Public Health Department turned the Fort into a Merchant Marine tuberculosis hospital that served over 10,000 Merchant Marines with tuberculosis.
Then in 1939 it served as an internment camp for the crew of a German Luxury Liner that was scuttled off the coast of Cuba in 1939. The story of the crew of that German ship is one worth telling. It seems that Germany had called the Luxury liner back to Germany where it was to be used in the war effort. With these orders the Germans disembarked passengers in Mexico then headed for Germany but came under attack by the British off the coast of Cuba. The Germans scuttled the ship to keep it out of the hands of the British. The British refused to pick up the survivors. However, the United States sent a rescue vessel. Once in the United States the Americans transported the Germans to New York where they planned to put them on a ship back to Germany. However, the British said that any ship transporting them back to Germany was subject to being sunk. Next the government sent them to Los Angeles where they were going to ship them back via the Pacific. The British intervened again. Then the German crew was sent to Fort Stanton where they had the run of the camp for a number of years. They were at Fort Stanton but were not under guard or lock and key. They organized themselves and built things including a swimming pool and several buildings. They endeared themselves with the locals. Then the United States entered the war and they were put under guard but not treated like prisoners of war. At the end of the war some stayed in the area and married locals, one returned to Los Angeles and married a woman of German ancestry that he had fallen in love with when they were interred there. Several local communities have monuments presented to them by the crew of that German Luxury Liner that was interred at Fort Stanton.
Without Fort Stanton there would not have been a Lincoln County War. The major cause of the war was competition between two groups wanting to sell goods to the Fort. One would like to think that the Government would have been neutral in the dispute but NO the military took sides with their old time supply source. As usual there was major corruption both in both the New Mexico Government and United States Government.
Our next stop was Capitan. For those of you that do not know Capitan is the home of none other than Smokey the Bear. Capitan, New Mexico is the birthplace and burial site of the world's most well-known bear. In 1950 a fire crew brought a badly singed bear cub into the fire camp. The frightened cub was tended to by a local veterinarian and a group of locals that bottle fed him. Upon recovery, Smokey was flown to Washington, D.C. and the National Zoo where he became the living symbol of the Forest Service's fire prevention campaign. By the 1950s Smokey the Bear was so popular with school children that he was given his own zip code. Upon his death in 1976 Smokey's body was returned to the Capitan Mountains. It is here in the small town of Capitan that Smokey now rests in eternal peace, buried in a small park which bears his name. There is even a state run museum in the park. What you don't already know about Smokey will be explained in detail and film to you in the small museum.
Around 6:30 we headed to the Flying J Ranch where they have a "chuckwagon" supper and live western stage show in a "Ranch" style setting. We enjoyed the evening and would recommend it to others.
I forgot one thing. We stopped to eat in Capitan for lunch and got a phone call from our son. While he was on the phone it started raining then hail started falling. This place has not had rain for three months and all the locals were extremely excited. We thought it was nice also since the temperature dropped drastically. In fact when we got back to the motorhome this afternoon Joyce turned on an electric heater in the bathroom. We wore long pants and long sleeved shirts with sweaters to the Flying J Ranch tonight. On the way we passed a bank where the sign said the temperature was 53. That is a full 50 degrees less than we had experienced a week or so ago in Texas. On the way back from the Flying J Ranch we turned on the car heater. Mercy me how things do change. Just a week ago neither of us could imagine ever needing a heater again.
Tuesday, June 17, 2003 Trek mileage: Pine Ridge RV Campground Ruidoso, New Mexico. Elevation 7,000' full hookup 30-amps & cable; $27.86
The COOL weather remains. When we woke this morning it was 58-degrees in the motorhome. No wonder we slept so good! If the good folks in south Texas could just experience this there would be a stampede. Forget that they do know. Ruidoso is a tourist town and is full of Texas tags with most from the Dallas, Fort Worth area.
We drove from Ruidoso to Cloudcroft through the Mescalero Apache Indian Reservation on New Mexico 244 a 30-mile road that follows the crest of the Sacramento Mountains. Many individuals assume that New Mexico is little more than a hot desert, especially in the south. A drive through the lush Sacramento Mountains quickly belies that notion. From our 7,000 foot start in Ruidoso we constantly climb until we reach Cloudcroft at 9,000 feet. Ponderosa pines dominate the landscape for most of the drive until we approach Cloudcroft where ponderosas give way to spruce, fir and quaking aspen that occupy the higher elevation. Along the way we pass through a well managed forest with generously spaced trees and lush grass. Cattle are being raised along with the timber.
Cloudcroft is tiny. We saw one small commercial RV-Park at mile marker 4 on New Mexico 4 north of town. We also saw one of those blue campground signs in town but did not investigate so there may be another commercial RV-park. Most camping around Cloudcroft is done in the national forest. We looked at the national forest information and decided that they did not have sites large enough for our 33' motorhome. Most National Forest sites do not have electricity either.
>From Cloudcroft we drove US 82 to Alamogordo a distance of only 20 miles. Cloudcroft is in the Sacramento Mountains at 9,000 feet while Alamogordo is at the foot of the mountains at around 4,500' in the Tularosa Valley. Do the math. That is a MAJOR drop in altitude. US 82 drops rapidly through several life zones, from aspen, spruce and fir at Cloudcroft to creosote bush and cacti at Alamogordo.
The very steep west face of the Sacramento Mountains was created by a huge north south fault. Another parallel fault on the west side of the Tularosa Valley shifted at the same time, causing a large block of the earth's crust to sink and create the valley. The part of the earth's crust that sank and created the Tularosa Valley is larger than the state of Connecticut and it is all contained in central New Mexico. Think about that for a moment and you will realize that New Mexico is a very large state. Anyway, rocks in the cliffs towering over Alamogordo match those exposed in cliffs of the San Andres Mountains across the valley to the west. More on this later, right now we are dropping in altitude like an out of control roller coaster.
US 82 from Cloudcroft to Alamogordo is a scenic road and not at all friendly to trucks and RV's. Multitudes of signs and literature warn of the 6% grade for 16-miles. All the way down trucks are warned that it is not over yet, there is still X more miles of 6% grade. The descent requires engine breaking. Regular breaks would quickly burn up and provide no breaking at all. Several runaway truck ramps are provided along the descent.
We quickly left the spruce and fir behind as they are replaced by ponderosa pines on our way through 7,000 feet, then just as quickly the ponderosa are replaced by pinion pines and juniper before we pass through a zone of cottonwood and walnut before reaching the valley floor and myriad desert plants. What a wild ride with an equally awesome view. As the road wound its way down the canyon we would get glimpses of the valley floor stretching out to the San Andres Mountains far across the valley to the west.
Once reaching the valley floor at Alamogordo we drive across the valley to White Sands National Monument and a drive through the "white-sands". We were able to catch glimpses of the Tularosa Valley while coming down from Cloudcroft. With each glimpse we could better see the white expanse of gypsum far across the valley that makes up White Sands National Monument. At the same time I could not help but think of the awesome geological forces that caused this large section of earth to drop several thousand feet. Remember the area that fell is larger than Connecticut.
White Sands is the world's largest gypsum dune field. The white dunes are ever changing as winds move each dune along. Plants have a hard time surviving in the harsh environment and moving sand. As quickly as a plant sprouts the dune will move and cover it.
Gypsum is the material in wall-board or sheet-rock that many homes are constructed with. It is also the essential ingredient in plaster of paris. Gypsum is leached out of rocks in the mountains by rainwater. The heavily mineralized water flows down the mountains and into the Tularosa Basin where there is no exit. Lake Lucero is located at the southwest corner of the dune field and is one of the lowest places in the basin. The mineralized water gathers there and evaporates leaving behind beds of gypsum crystals. Prevailing winds from the southwest constantly add the resulting evaporate or gypsum crystals to the dunes and keep them moving northeast ahead of the wind.
Parts of the Gypsum field look like sand dunes along Gulf of Mexico beaches near Pensacola and Panama City Beach, Florida. Especially the dunes that have vegetation on them. Deep into the dunes there is no vegetation. This is where parents bring children to slide down the face of dunes on "dune" boards or cardboard of their choosing. Many families are out running up and down the dunes today.
We kept an eye out for oryx, an exotic antelope from Africa that is thriving in the harsh conditions of the basin. New Mexico game managers were looking for a good trophy animal for hunters in southern New Mexico back in 1969 when they introduced the oryx to White Sands. What they got was an exotic antelope from Africa so at home in the desert that it is multiplying like rabbits. Joyce and I saw oryx on the exotic game ranches back in Texas but we did not spot any today.
The original oryx herd has grown to more than 3,000 animals even though hunters are allowed to kill more and more each year. Females reach sexual maturity at 18 months and are nearly always pregnant thereafter. They are migrating beyond original boundaries and are now competing with cattle and other livestock for forage on private ranches. They are even spotted on the runways at Holloman Air Force Base where the F-117 stealth fighters are based.
If you are interested in helping New Mexico control this "problem" the New Mexico wildlife department can be contacted for an oryx permit costing $1,500 for nonresident but only $100 for a New Mexico resident. I think they harvest around a 1,000 of the 400 pound animals with horns more than 3 feet long each year.
While driving in the Tularosa basin around Alamogordo you can not help but see the F-117 stealth fighters flying around. The distinctive shape we have all become familiar with from television coverage of the recent wars is unmistakable as pilots practice touch and go maneuvers over Holloman Air Force Base located in the valley adjacent to Alamogordo.
A few miles north of Alamogordo on US 54 we stopped by Eagle Ranch Pistachios. We missed the 1:30PM guided tour but probably learned enough by reading information provided in their visitors center and gift shop. Eagle Ranch Pistachios has 85 acres of groves with approximately 12,000 trees (125-trees per-acre). Pistachios are native to Middle East deserts where conditions and altitude duplicate that around Alamogordo. Pistachios are small trees less than 10' tall. Someone in the visitors center said that they could grow to 20'. Joyce and I walked in the grove looking at the trees and nuts. Nuts on the trees grow in clusters resembling dates or grapes. The trees were loaded with what appears to be a bumper crop.
Wednesday, June 18, 2003 Trek mileage: Pine Ridge RV Campground Ruidoso, New Mexico. Elevation 7,000' full hookup 30-amps & cable; $27.86
I know there is some uncertainty about the latest Iraqi war and if it was about WMD or OIL. While that may be a tossup Ruidoso is about WEATHER. Yesterday like today had a high in the mid-70s with lows in the mid-40s. Talk about heaven! These temperatures are soooooooooooooooooo nice!
We spent the day in and around Ruidoso visiting the Hubbard Museum of the South West located near Ruidoso Downs. The museum displays thousands of artifacts associated with horses such as buggies, wagons, saddles, threshing machines and stage coaches. The museum also has put together an extensive gallery of western gunfighters complete with pictures, documentary and memorabilia associated with each. One area of the museum was dedicated to a history of Ruidoso Downs and the quarterhorses that race there.
We ate at Billy the Kidd casino located next to Ruidoso Downs. After lunch we walked over to Ruidoso Downs to get an idea of where we wanted to sit for the horse races tomorrow. Neither of us have ever been to a horse race so we are a bit "uneducated" in where we should sit. After a bit of walking around and talking with people hanging around we decided on seats on the 3rd floor. We now have tickets for the races set to began at 1:00 tomorrow afternoon.
RV'ers intending to stay in Ruidoso have a plethora of RV-Parks to choose from. All have strong and weak points; however, even with their weaknesses each has a good number of RVs in them. That strongly indicates that individual RV'ers are looking for different things in an RV-Park. Some shop price while others want shade or cable TV or location the list goes on and on. Upon entering town I think it would be a good idea to stop at the welcome center/Hubbard museum and drop off your RV. The welcome center/museum is located on US 70 ½ mile east of Ruidoso Downs. You can't miss it. You could also drop your RV in the parking lot at Ruidoso Downs or the vacant lot across from the Wal-Mart super center. The Wal-Mart parking lot is too small for an RV, don't even try it. At the visitor's center get some information about Ruidoso. One of their handouts will have a map that will show most of the RV-Parks. You will see the remainder while checking out the ones listed. Next drive around and look at the RV-Parks. There must 10 to 15 within a 6-mile circle of downtown Ruidoso and even more a little further out. Tall Pines RV-Park in downtown Ruidoso is level, near the action and $39 per-night. I think they are the most expensive but they are also in the shade and close to town. As you move farther from the center of town rates drop quickly. Anyone that is going to spend more than a few nights in Ruidoso really needs to spend some time to locate the park that best suits their needs and pocketbook.
We have actually turned on the TV since arriving in Ruidoso and caught the "local" news coming out of Roswell/Carlsbad the last two nights. The BIG news out here is about water and specifically water in the Pecos River. Texas has gone to court over New Mexico not releasing enough Pecos River water. It also seems that Texas has won and now New Mexico has to release X amount of water. They also talk about the court order saying something about New Mexico must never hold back water that should be flowing to Texas again. New Mexico farmers are faced with a BIG problem. There is not enough water to go around for the farms in the irrigation district. Someone is going to have to go out of the farming business. Those farmers are going to have to be bought out. I wonder who is going to agree to give up their water rights. I also wonder where the money is going to come from "buy these farmers out". There is obviously not enough water flowing in the Pecos to satisfy everyone that has a "claim" to it. Anyway, the local news is saturated with discussion of having to release water to Texas. From what we saw if Texas gets all the water in the Pecos River system they still won't get much. The volume of water under discussion looks to me to be less than a mid-size city's waste water treatment system discharge.
Until next time remember how good life is.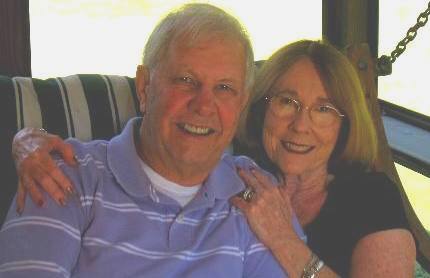 Mike & Joyce Hendrix who we are
We hope you liked this page. If you do you might be interested in some of our other Travel Adventures:
Mike & Joyce Hendrix's home page
Travel Adventures by Year ** Travel Adventures by State ** Plants ** Marine-Boats ** Geology ** Exciting Drives ** Cute Signs ** RV Subjects ** Miscellaneous Subjects
We would love to hear from you......just put "info" in the place of "FAKE" in this address: FAKE@travellogs.us
Until next time remember how good life is.