Places Visited:
California: San Diego

Tuesday, May 3, Carlsbad, California.-- $Free. Boondocking in friends driveway N33° 9.960' W117° 21.015'.
Mike on the waterfront in San Diego, California
Mike wandering around the harbor in San Diego.
Joyce posing next to a San Diego Trolley
After spending an appropriate time walking along the harbor in down town San Diego Joyce had us on one of those narrated sightseeing trolleys that spend several hours meandering around greater San Diego and Coronado where the riders are entertained by vistas as well as non-stop narration of what they are seeing. I have seen and done much of what we saw on the trolley but the new Padre's ball stadium was new to me as was all of the down town area. I had toured the San Diego Zoo but had not seen all of Balboa Park, I still haven't seen all of Balboa Park but I have seen much more of it now that we have taken this tour.
Joyce & Hotel Del Coronado in Coronado, California across the bay from San Diego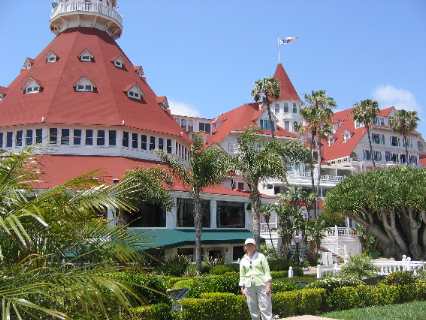 When the trolley got to Coronado we jumped off for lunch and to tour Hotel Del Coronado one of the landmarks not to be missed when visiting San Diego and Coronado. This famous hotel is not only noteworthy for its architecture and landscaping but the setting which has been utilized in numerous movies and TV shows. After a complete tour of Hotel Del Coronado we wandered the streets of Coronado then did lunch at McP's Irish Pub the hang out for Navy Seals who train just down the road before jumping back on the San Diego Trolley and heading back across San Diego Bay to San Diego.
View of and from the San Diego to Coronado bridge across San Diego Bay
Getting to Coronado from San Diego involves a wonderful ride over the Coronado Bridge. Actually one of the "must-do" things in San Diego is this very high sweeping bridge. Joyce took this picture as we were leaving Coronado so you can see San Diego as well as the bridge curving around and dropping into San Diego.
While touring the older downtown area of San Diego our docent pointed out where Wyatt Earp (of Tombstone, Arizona & OK Corral fame) had a gambling saloon in the early days of San Diego. Wyatt moved to Alaska for the big gold rush there before returning to Los Angeles where he advised the early movie makers on "wild-west" matters.
Also not far from there we stopped to view the steep hill where Tom Cruise jumped on his motorcycle and sped away. Remember him getting air on that hill while Kelly (forget her last name) chased him in her porche (at least I think it was a porche) in the movie Top Gun. Then the trolley passed by Kansas City BBQ. This is the place made famous by Goose when he attacked the piano banging out his famous rendition of Great Balls of Fire. I think we all remember those scenes. That movie was shot over 20-years ago according to our docent. My how time flies, it seems like yesterday.
Old Town San Diego, California
We got off the trolley again in Old Town and walked around the old shops, business and Museums that were there in the mid-1800's when California was becoming a state and winning independence from Mexico. We ate in Old Town before boarding the "COASTER" train for our ride back to Carlsbad.
Then we ambled down to the train tracks where we have to locate the loading area for the COASTER train that hopefully will transport us back to Carlsbad. Don't laugh, several tracks run together with several different trains/trolleys running either on the same tracks or adjoining tracks. We asked several of San Diego's finest where the loading area the COASTER was. Mind you we were already at the station we just couldn't locate the exact set of tracks the COASTER ran on. Besides we had to purchase tickets from that machine again. The "officers" in uniform led us in various directions none of which were correct. I suppose I wasn't speaking Spanish or they didn't understand English. In any event we finally located the COASTER loading area and ticket machine. This time, with no help, we were able to negotiate the entire sequence of selections and get our tickets. We even got our tickets validated, an important step when riding the COASTER. Before long we are seated on the COASTER for our hour long journey back to Carlsbad.
Once again we got to view the coastal towns that stretch north of San Diego. This is Padre's country and the Padre's are playing in town this week. Padre shirts and hats seem to be the uniform of the day. I guess they are winning this year.
The weather is so nice. Daytime highs hover in the low 70's while overnight lows make for divine sleeping with the windows cracked. I could get used to this weather, in fact I already have.
Until next time remember how good life is.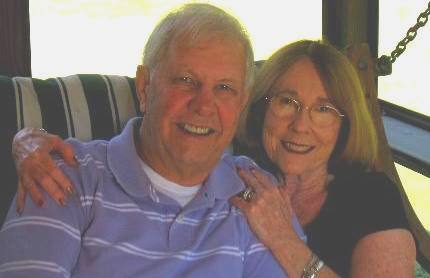 Mike & Joyce Hendrix who we are
We hope you liked this page. If you do you might be interested in some of our other Travel Adventures:
Mike & Joyce Hendrix's home page
Travel Adventures by Year ** Travel Adventures by State ** Plants ** Marine-Boats ** Geology ** Exciting Drives ** Cute Signs ** RV Subjects ** Miscellaneous Subjects
We would love to hear from you......just put "info" in the place of "FAKE" in this address: FAKE@travellogs.us
Until next time remember how good life is.