Ruidoso, Ski Apache, Tularosa Rift, Carrizozo, Valley of Fires BLM Rec Area & White Oak, New Mexico
Places Visited:
New Mexico: Ruidoso, Ski Apache, Tularosa Rift, Carrizozo, Valley of Fires BLM Rec Area & White Oak
Thursday, June 19, 2003
Pine Ridge RV Campground Ruidoso, New Mexico. Elevation 7,000' full hookup 30-amps & cable; $27.86
Weather and temperature is so divine here. There is absolutely nothing that can compare to nights in the 40s and days in the 70s especially when you have just spent a month in Texas. It only takes a nano second to adapt to this simply wonderful cool, crisp air!
We took a scenic drive this morning up to Ski Apache on Sierra Blanca Mountain northwest of Ruidoso. There are scenic drives on virtually every drive out of Ruidoso. However, the drive to Ski Apache is by far the most awesome. Ski Apache is one of the highest and most spectacular ski facilities in New Mexico. The ski area is on the upper slopes of 12,000-foot Sierra Blanca Peak, the highest mountain in southern New Mexico. The mountain is snow-capped for much of the year but no snow was visible today. The peak is above timberline; with its summit bare of trees. Ski Apache has the largest skier capacity of any area in New Mexico. It receives an average of more than 180 inches of snow every winter. It also has a vertical drop of 1,800 feet. I think that is the vertical drop every skier dreams about. I am not sure if snow skiers in North Carolina can drop a total of 1,800 feet in a complete day of skiing.
The drive starts in Alto, a small spot in the road north of Ruidoso. The road is winding and extremely steep with many switchbacks. My Saturn was in second gear for virtually the entire 12-mile climb. Stunning vistas appear around each hairpin turn. Many spectacular, panoramic views of adjacent mountains and valleys can be enjoyed on the way up and down.
Sierra Blanca, Spanish for "White Mountain", was once a volcano active about 38 million years ago. The top 1/3 of the mountain consists of volcanic rock (granite) and ash while the middle elevations are a combination of lava dykes and metamorphized limestone and other sedimentary rocks. In places the lava dykes (granite) metamorphized limestone into (marble) and other sedimentary rocks that have been physically changed by the heat & pressure (slate) are all presented in one dramatic roadcut after another.
If you only have time for one scenic drive when visiting Ruidoso make sure it is the drive to Ski Apache on Sierra Blanca Mountain. You won't be sorry.
We spent the afternoon at Ruidoso Downs watching horse races. This is the first horse racing facility Joyce and I have ever visited. It was fun. We spent all afternoon determining the function of everyone scurrying about with the race horses. There are people in yellow jackets and people in blue shirts. Each have jobs and their shirts are color coded much like the different skill sets on the deck of an air craft carrier.
They featured races where thoroughbred horses ran over longer distances (1/2 to _-mile) and quarterhorse races of only 350 yards. It took Joyce and I some time to determine what was going on as they changed the position of the starting gate for the different races.
Hummingbirds are thick as flies in the RV-Park. Many residents have multiple feeders. One place has 10 feeders and the hummers at those feeders consume over a gallon of mix every day. They have the majority of the hummers in the park much to the chagrin of other residents. One of the other residents told us that the "hummer-hogs" were the first to arrive every summer plus they added some vanilla extract to the regular 4 to 1 water/sugar mix. Some of the long term residents told us that they could put out 3 feeders one with purchased mix, one with regular 4 to 1 water/sugar mix and the other with the regular 4 to 1 mix plus a little vanilla and the only one the hummers would visit was the one with vanilla flavoring. Some of you with multiple hummer feeding stations at your home may want to experiment and see if your hummers like the taste of vanilla. Let me know what you discover.
They say the hummers had been arriving for about a month. They could tell more and more were around the feeders each day. I wonder if these are here for the summer or if they are just transiting on their way to areas further north? I am surprised that they are here since there are virtually no flowers blooming in the area. There may be a few flowers in individual yards but for the most part the countryside is ponderosa pine. The hummers would have to be feeding on insects not nectar if it were not for the feeders. Can anyone shed any light on what they are feeding on other than the feeders?
Fruit trees do well in the valleys around here and roadside stands sell the local fruit. We stopped and purchased some local "Carrizozo" cherry cider and raspberry cider. We have sampled apple cider from time to time but never cherry or raspberry cider. The cherry cider was OK but nothing out of this world. I expected it to be sweet which it was but it was also TART. I will let you know about the raspberry cider later.
I need to revise some information I gave RV'ers the other day. Remember when I advised to not attempt to park in the Wal-Mart super center in Ruidoso? Well when we arrived in town on a Sunday afternoon you could not shoehorn another vehicle in their parking lot. When we stopped by around 8:30 tonight the parking lot was half-empty and 5 RVs were boondocking in the parking lot. So forget my previous advice and play it by ear. There may be room then again there may not. However, I think it would be easier and quieter to boondock or just park for a while in the huge parking lots at Ruidoso Downs almost across the street from Wal-Mart.
And while I am making corrections a friend wrote to gently tell me that "Smokey the Bear" is NOT correct, it is "Smokey Bear". When my friend was out here one of the locals jumped him for putting "the" in between Smokey & Bear. I went back and checked "Official Literature" and sure enough it is Smokey Bear. If you are one of the ones that grew up saying Smokey the Bear do not feel bad, some of the literature around here even has the "goof".
Friday, June 20, 2003 Pine Ridge RV Campground. Elevation 7,000' full hookup 30-amps & cable; $27.86
The weather is still great with 40s at night and 70s during the day.
Joyce planned a day for us back in the Tularosa Rift or Tularosa Valley. The last time we dropped down to the valley it was to Alamogordo (fat cottonwood), to visit White Sands National Monument. This time we are dropping down to the town of Carrizozo, Spanish for reed grass or "Carrizo". Leave it to an Anglo rancher to modify it to Carrizozo adding another "zo" to indicate a "real abundance of reed grass'. The native reed grass was an excellent feed for livestock. I said WAS because the water is gone and so is the reed grass. Today's cattle have to make do on soaptree yucca bushes.
Carrizozo is situated at the crossroads of US 380 and US 54 with a population of just over 1,000 at an altitude of 5,429 feet. Like I said, Carrizozo is at the foot of the mountains in the valley or rift. There is not much in Carrizozo. If it were not the County Seat of Lincoln County with all the government jobs it just may cease to exist.
Three or four miles west of town on US 380 is Valley of Fires, BLM recreation area. I guess it is a recreation area because they have some campsites and picnic facilities and a nature trail. The Valley of Fires is highly advertised and I suppose it is one of the things you should see when in this area. There really isn't much to the "recreation area" but camping and picnic facilities. However, the landscape referred to as Valley of Fires is spectacular if you have never seen a lava flow. Between 1,000 and 1,500 years ago lava oozed out of cracks in the sedimentary rocks in the valley. Instead of blowing like a volcano molten magma just oozed out. The resulting lava flow is four to six miles wide, more than 160 feet thick at the center and 44 miles long. Covering over 125 square miles, the "Malpais", Spanish for Bad Lands, lava flow is the youngest such formation in the continental United States. In my opinion you can see more of the lave flow by driving US 380 through the flow than by visiting the BLM recreation area. In fact there is absolutely NO reason to pay the fee to get in the BLM recreation area unless you intend to camp there. You can see more driving through the lava flow on US 380.
We have seen lava flows in Arizona just north of Flagstaff and again near St. George, Utah. This flow was much the same just larger. Even after 1,000 years very few plants are eking out an existence on the extremely hard lava. As you might suspect you can see the black lava flow from time to time looking west when traveling north and south on US 54.
The Tularosa Valley is a unique and geologically interesting place. The Valley is a rift. Merriam-Webster defines rift-valley as "an elongated valley formed by the depression of a block of the earth's crust between two faults or groups of faults of approximately parallel strike". That precisely defines the Tularosa Rift that dropped 4 to 5 thousand feet between parallel faults on the east and west sides of the rift. Water does not flow out of the depressed valley. Water flowing into the valley from surrounding mountains transports dissolved minerals that accumulate in the valley when the water evaporates. Minerals principally gypsum from the evaporate has created the gypsum dunes at White Sands National Monument and White Sands Missile Range.
Also in the valley is this awesome lava flow located just 40-miles north of White Sands.
I wonder what else we will find in the valley.
After polling everyone willing to share information we decided to eat at the Outpost Restaurant and Bar in Carrizozo. Hamburgers served with green chile is what everyone talks about. One old geezer in the RV-Park we are staying in was driving to Carrizozo, 40-miles one way, to eat one of the burgers for lunch one day this week. It is also supposed to be a "unique" place inside. Few other places are mentioned when questioning locals about eating establishments in Carrizozo. With those recommendations we ate there and had their green chile hamburgers. I thought it would be HOT but it wasn't. The unique part the locals talked about must have been the deer heads and other mounts. If the deer heads weren't the unique part it must have been the waitress. She had an "attitude" and was "coyote-UGLY" to boot. I guess when you are born looking like that you have to develop a "tude" to survive. To us the interior looked like any other grungy cowboy bar might look. The green chile hamburgers were, well______. Hamburgers!
After lunch we headed to Roy's for milkshakes. Roy's was the other place locals recommended when visiting Carrizozo. Roy's is unique because they have an "old-time" soda fountain complete with the little round stools around the marble counter. They also make "old-fashioned" milk shakes. OK, we did Roy's milkshakes and the Outpost Restaurant and Bar's green chile hamburgers. You can easily find both places in downtown Carrizozo on US 54, but don't go out of your way.
After lunch we drove to the old mining town of White Oaks about 12-miles north of Carrizozo. White Oaks has an interesting history.
Gold was discovered in 1879 in an extremely improbable incident. An escapee from a Texas prison stopped near White Oaks to visit two friends. While hiding out he borrowed a pick and went into the mountains "to find gold". When he returned he showed his two friends pieces of gold-flecked rock. His friends were ecstatic and asked him to show them where he had found the rocks. His two friends staked claims and asked the prison escapee if they wanted them to file one for him also. His reply was "I have no use for gold." His friends gave him a pistol and some silver dollars and the prison escapee went on his way. The two remaining gold-miners eventually sold their claims for $300,000 each.
We saw one VERY NICE Victorian home when we visited White Oak. It is known as the Hoyle Castle and like other things around here it has a story to go with it. It was built in the 1890s by the mine superintendent for his Massachusetts fiancée, a mail order bride. It seems that she came as far as Texas, then turned back, apparently disenchanted with the desert landscape. OUCH! That had to hurt. This was a desolate place but she would have been QUEEN of White Oak if she would have only stayed the course. At that time White Oak had a population of 2,000 to 4,000.
The truly elegant Victorian home has been completely renovated and is currently occupied. It must have been a true "castle" back in 1893. Even today it is an impressive residence.
There is a schoolhouse museum and a small miners tools museum in town. We did not stop in either. Eight or ten buildings in White Oak were architecturally significant, some being constructed with sandstone blocks/rocks and others out of adobe.
If you are into historical places and old architecture White Oak is a place you should visit.
Saturday, June 21, 2003
Pine Ridge RV Campground Ruidoso, New Mexico. Elevation 7,000' full hookup 30-amps & cable; $27.86
The weather continues to be in the 40s at night and high 70s during the day.
We went to Ruidoso Downs and spent the afternoon at the horse races. We had a good time again and it was free except for the cokes. Several couples sitting next to us spent the afternoon explaining their betting strategies. Keeping my money in my pocket seemed to be the best strategy and I think we had just as good a time. It seems that everyone is from Texas except us. The combination of cool weather and the race track makes Ruidoso a popular hangout for Texans during the summer.
As far as places to eat in Ruidoso we like the $6.50 buffet at Billy the Kidd Casino next to Ruidoso Downs race track. They have a different selection of entrees every day with a good variety. Prime Rib is available every day. Many locals stop by for lunch so it must be one of their favorites as well.
A week or so ago I asked if anyone knew the definition of calera. It was used to describe "calera pits" around Balmorhea, Texas and is the name of a city in Alabama. Both places are associated with the cement industry. One friend from Pensacola wrote to say that calera in Spanish was "limekiln". That makes sense. The calera pits near Balmorhea, Texas were mentioned in the long ago (1890s) when the kiln may have been a "pit".
Sunday, June 22, 2003
Pine Ridge RV Campground Ruidoso, New Mexico. Elevation 7,000' full hookup 30-amps & cable; $27.86
The weather continues to be great.
We worshiped with the First Baptist Church in Ruidoso this morning. They have a membership of 600 with a brand new facility. It is beautiful!
As we attend church services around the country we can not help but notice the "differences" between Baptist Churches. Most men attending "First Baptist Churches" back east wear a suit or "coat & tie" to church on Sunday. Today out of 300 or so in the contemporary service I counted two gentlemen, both well over 80, in coat and ties. Three of the ushers were in jeans and T-shirts. One of the ushers had a pony tail and big biker's chain looping from his belt to his pocket. I saw two females in hats. One was in her 70s wearing one of those wide-brimmed "Sunday-go-to-meetin" hats the other was around 14 and had a faded blue ball cap with pony tail pulled through the hole in back. Fully 80% of the males older than 18 were in jeans. I asked Joyce "what someone in a tie was"? She replied "either the preacher or a visitor". She missed the correct answer because the visitor would be in shorts! VBG
For those of you back in P'cola the contemporary service was much like the one at FBC P'cola. Their sanctuary looked very much like Chipley Hall, but smaller. Like Chipley Hall it doubled as a dining area. I kept looking at the lead guitar player and wondering if he was a local attorney or possibly the Chairman of Deacons. VBG. One thing is for sure they did not have "Bear" on the drums. Bear would never let praise music slip-slide into the elevator. VBG.
We spent another afternoon enjoying the horse races. Where else can you spend an entire afternoon, having that much fun, and only spend $3.50 on cokes? OK, I also purchased a program for $1.50. Still, that is an awful lot of fun and excitement. We tried to pick the winning horse for each race. It is a hard thing to do! The program only picked one winner out of 10 races today. In fact the odds-on-favorite usually did not even place in the top three at the finish line. Like I said picking a winner is difficult! We are glad our money stayed in our pocket.
Until next time remember how good life is.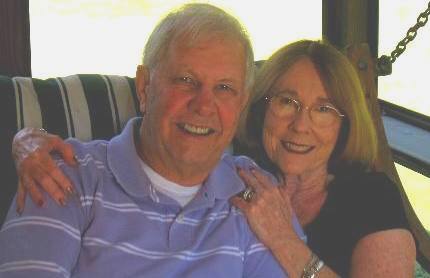 Mike & Joyce Hendrix who we are
We hope you liked this page. If you do you might be interested in some of our other Travel Adventures:
Mike & Joyce Hendrix's home page
Travel Adventures by Year ** Travel Adventures by State ** Plants ** Marine-Boats ** Geology ** Exciting Drives ** Cute Signs ** RV Subjects ** Miscellaneous Subjects
We would love to hear from you......just put "info" in the place of "FAKE" in this address: FAKE@travellogs.us
Until next time remember how good life is.