Our 2005 Interesting Signs
Zen Mountain Center whatever that is
This one caught my fancy but actually in California Zen "stuff" is fairly common.
We saw this store in Desert Hot Springs, California not far from Palm Springs.
I guess the thing I liked best about this sign was the band just down the street welcoming returning passengers back from Catalina Island. One of the songs they performed was --------"Proud Mary". The little restaurant was at the Dana Point Harbor near San Clemente, California.
I guess the gull was under the 6-Ton limit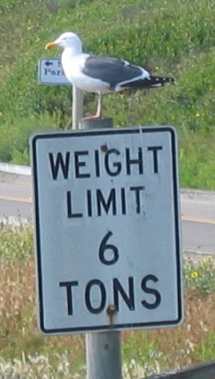 We were wondering if this gull was "legal"?
We just liked this "Mothers Beach" sign, don't you?
We saw this while walking on the extreme south end of the boardwalk on Venice Beach when we saw this sign on a quaint little place overlooking the famous boardwalk. We thought it was a cute play on words. Hope you think it is as funny as I did. mike
This unique sign was in downtown Long Beach amid a dozen or more skyscrapers. The hotel must be a hold over from "the good old days" when a --------bath in every room was the selling point! You gotta love it.
This mural was painted on the side of a public restroom in the small California town of Cambria located on the Big Sur just south of Hearst Castle at San Simeon.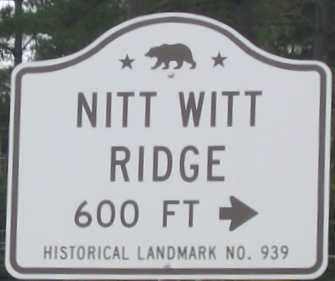 This is another picture from Cambria, California. Note that it is an "official" State of California sign. Nitt Witt Ridge referred to an eclectic house built 600' up the hill from this sign. I suspect that neighbors and residents probably named it "Nit Witt" in the early days and the name stuck.
Mike & Joyce Hendrix
Mike & Joyce Hendrix who we are
We hope you liked this page. If you do you might be interested in some of our other Travel Adventures:
Mike & Joyce Hendrix's home page
Travel Adventures by Year ** Travel Adventures by State ** Plants ** Marine-Boats ** Geology ** Exciting Drives ** Cute Signs ** RV Subjects ** Miscellaneous Subjects
We would love to hear from you......just put "info" in the place of "FAKE" in this address: FAKE@travellogs.us
Until next time remember how good life is.