San Clemente, California
Places Visited:
California: San Clemente

Sunday, May 15, Paradise RV-Resort Oceanside, California: $39.50. FHU with 50-amps, Paved interior roads and sites plus cable and free WIFI. N33° 10.707' W117° 21.993'.
We headed north to San Clemente today. Although we are moving the Motorhome there tomorrow we have so much to see and do while there that we though we should try to get some of those things accomplished today. The only practical way to get to San Clemente from Oceanside is via I-5 or "the-5" in California speak. At one time the Pacific Highway connected the two cities. Now the Pacific Coast Highway has been converted to a State Park. We exited "the 5" at exit 71 and headed south on the "Old Pacific Coast Highway" hoping to get a glimpse of the great surfing spot near the nuclear power plant. Surfers were there in force but we couldn't see them. Camp Pendleton had a Rec area and campground on the coast but it was not open to civilians or so the sign said. We continued south past the nuclear power plant to the entrance to San Onorfe State Beach & campground. The individual on the gate let us drive in to "look" at the Campground without having to pay the $10 day-use fee. As it turned out a parking area has been added too much of the roadside. Further along, where space allowed, larger parking spaces were marked off and numbers assigned. These spaces were "campsites"----with no utilities that command $28 per-night. According to park literature 3-miles of the old road has been converted to a campground. There are several dump stations, they called them "sanitary disposals" scattered along the old highway now a state park. Before reaching the end of the road/campground we turned around and continued our trek to San Clemente.
We were only a few miles south of San Clemente State Beach/Park & Campground where we are moving to tomorrow. We stopped by there to check things out. This is one of the few California State parks that have hookups. We liked the looks of it. From San Clemente State Park we went looking for President Nixon's western White House when he was in office. His old home is now owned by a wealthy Republican. Trees have matured and now block almost all views of the old White House. Close was good enough. One thing I can say is Nixon had a GOOD view. The old grounds consisted of 25-acres. Those 25-acres are now a posh gated community so there is nothing to see of the actual house from Avenida del Presidente the road leading to the "gate".
"Market Days" in San Clemente with vendors selling fresh vegetables and fresh cut flowers
In San Clemente we turned off the El Camino Real toward the San Clemente Pier and ran smack into one of those "Market Days" with vendors selling fresh vegetables and flowers. Naturally we stopped and participated in the fun. The vendors were selling beautiful cut flowers, fruits and vegetables.
The Pier and beach area were so crowded that we could not find a parking place. We will have to return tomorrow or Tuesday and walk on the pier. It just wasn't a possibility today.
Monday, May 16, San Mateo Campground (state park) San Clemente, California: Free but normally $24 with water & 30-amps central dump. Paved interior roads and sites. N33° 24.365' W117° 35.006'.
After spending 15-days in the San Diego area (Carlsbad & Oceanside) we disconnected utility connections and bid farewell to this part of southern California. There was so much that we did not see and get to do but 15-days is a big chunk of the 4-months we are spending in California this summer. We did not make it far up the road. In fact we only moved 23-miles north to a state park in San Clemente. We had a number of things on our list to do in this area. We got some of them accomplished yesterday.
San Mateo State Park Campground is less than a mile east of I-5 on the northern border of Camp Pendleton and in the city limits of San Clemente. We are now in Orange County after having been in San Diego County. San Clemente's claim to fame has to be that President Nixon had a house/compound here. In fact the state park is only a mile away from where the old Nixon compound is located. Other than the Western White House being located here for a time San Clemente has a wonderful beach and pier with a quaint downtown shopping area.
California surfer near the pier in San Clemente
We watched surfers from the San Clemente Pier in San Clemente, California.
Brown Pelican posing on the pier at San Celmente, California
Since the pier area in San Clemente was so crowded yesterday, Sunday, afternoon with beach worshipers that we couldn't get a parking space we headed back to the pier today to see if we could find a parking spot and walk on the pier. Monday afternoon is much more conducive to locating a parking spot. In fact there were plenty of them this afternoon. We enjoyed our walk on the pier where we watched pelicans, lifeguards, surfers and a host of other sights. The beachside cliffs lined with luxury homes and offices are so beautiful. Had we not eaten a big lunch we would have ducked into one of the eateries on the pier for dinner.
San Clemente Pier - San Clemente, California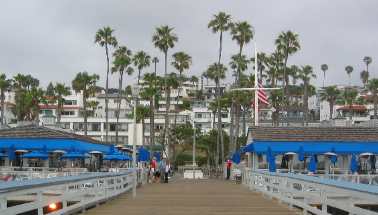 Sunset form San Clemente, California
After spending a mere hour at the motorhome it was nearing time for the sun to fall over the western horizon in its normal blaze of glory. We dutifully jumped in the Saturn and headed to the public beach near the entrance to San Clemente State Park where Joyce recorded the last gasps of today's sun as it sank in the western Pacific.
This was a full day and we have another one scheduled for tomorrow when we head up to Newport Beach to meet a friend for lunch.


Until next time remember how good life is.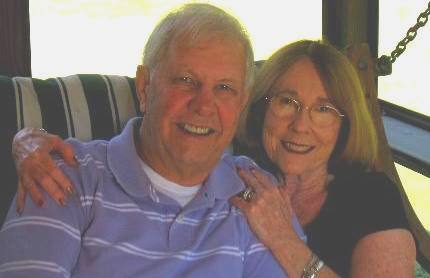 Mike & Joyce Hendrix who we are
We hope you liked this page. If you do you might be interested in some of our other Travel Adventures:
Mike & Joyce Hendrix's home page
Travel Adventures by Year ** Travel Adventures by State ** Plants ** Marine-Boats ** Geology ** Exciting Drives ** Cute Signs ** RV Subjects ** Miscellaneous Subjects
We would love to hear from you......just put "info" in the place of "FAKE" in this address: FAKE@travellogs.us
Until next time remember how good life is.