Coachella Valley in California
Places Visited:
California: Coachella Valley
Wednesday, April 27 Fair Grounds RV-Park Indio, California-- $20.00. FHU - 50-amps, Gated & paved interior streets & sites N33° 42.770' W116° 13.436'. Entrance & office is on Arabia street on west side of fairgrounds, turn in Gate #4 office is in building directly in front of Gate #4.
One of our scenic drive books had a route through the San Bernardino Forest above Palm Springs as one of their favorites. Now that we have taken it we have to agree. This one starts in Palm Desert on SR-74 (Palms to Pines Highway) that takes you to Hemet. However, the "scenic" part stops before you actually get to Hemet. At that time (around the 2,000' elevation) the "scenic" drive backtracks to the small hamlet of Mountain Center where it takes SR-243 to Banning via Idyllwild. Banning is a good size town on I-10 west of Palm Springs.
Climbing SR-74 Palms to Pines Highway into the San Bernardino Forest
There aren't any level spots on this drive. You are either going up or down, either way you are doing it rapidly and with gusto. This isn't a route I would advise taking an RV on. Upon leaving the valley floor in Palm Desert the road makes a steady climb until reaching the 4,900' elevation then there is some give and take for a few miles.
Looking down from the SR-74 Palms to Pines Highway toward the Coachella Valley below
We have just negotiated that highway below us in the picture.
View of the Coachella Valley and Indio from the SR-74 Palms to Pines Highway
At the 4,000' elevation there is a large turnout where travelers stop to admire the valley below.
Sign proclaiming that this popular Hang Glider launch platform is now closed
Hang gliders used to use this spot as a launching platform. No longer! A big sign proclames that laws have been passed to close this area to hang gliding since it "scares the big horn sheep that reside in the rocky craigs above the valley.
Lake Hemet high in the San Bernardino Forest above the Coachella Valley
Lake Hemet appears as a mountain lake at about 4,500 feet. A nice campground surrounds about ¼ of the lake. Several boat ramps are available and we saw some "cleaning-tables" indicating that fish were caught in the lake. At Mountain Center SR-74 bears to the left and heads toward Hemet. Somewhere around Mountain Center the elevation climbs to over 5,000' before the decent into Hemet. We enjoyed the decent down to the 2,000' level before making a U-Turn and heading back to Mountain Center. We could tell the "scenic" part of the drive was above 2,000' of elevation on that part of SR-74 so we did not get to see the town of Hemet. We will save that for another time.
View along SR-74 between Mountain Center, California and Hemet, California
I can't say enough about the drive on SR-74 from Mountain Center toward Hemet. There is enough elevation change and vistas to satisfy the most discerning viewers. The same can be said of the ascent out of Palm Desert on SR-74 the Palms to Pines Highway. The vistas are spectacular as you snake your way up the mountain with sneak peaks of the valley below.
While the palms are in the Coachella Valley the pines are above 5,000' in the mountains high above the Coachella Valley.
View of Banning, California and Coachella Valley from vantage point high in the San Bernardino Forest
Above the 5,000' level we started seeing ponderosa pines and another conifer that I can not yet identify. After dropping down toward Hemet and returning to Mountain Center we took SR-243 through Idyllwild and down to Banning and I-10. Along this route we topped 6,000' in elevation. Shortly after Idyllwild we were able to see vistas looking toward the Pacific. As we topped the mountain crest we began to get vistas of the valley around Banning (north of Palm Springs) and I-10 flowing gracefully through the valley.
That is Banning as we saw it from time to time on our decent. Note I-10 running through the middle of it.
In Banning we connected with I-10 east and headed back to Indio via……. You guessed it SR-111 and Palm Springs, Cathedral City, Rancho Mirage, Palm Desert, 1000 Palms, Indian Wells and La Quinta. But before we got to that part of the drive we passed through all those wind generators, over 3,000 of them. I enjoyed them as much as Joyce enjoyed pointing out all the shopping opportunities available. There must be as many golf courses around here as there are shopping opportunities if that is possible.
Believe it or not we made it back to the motorhome before dark.
Tomorrow we have to move from this cheap site because a big group has booked the fairground with all the RV-spaces. We are going to move about 25-miles west of here to an RV-Park/Spa in Desert Hot Springs.
Thursday, April 28 Desert Springs Spa & RV-Park; Desert Hot Springs, California.-- $25.00. FHU - 30-amps, paved interior streets with gravel sites N33° 55.368' W116° 26.582'.
We had to move the motorhome from the Indio Fair Grounds because some group had it rented for the weekend. We moved about 25-miles down the road to an RV-Park Spa combination in Desert Hot Springs.
We took the day off from our rigorous schedule although we did go into Rancho Mirage for lunch at Mimi's Café then out to the Oasis Date Farm in Thermal. Joyce routed us on a variety of roads other than SR-111 today so that we could see other parts of the Coachella Valley. The entire valley is very upscale except for Thermal and the eastern side of Indio, that remain rooted in agriculture. The posh residential communities are located behind gated walls complete with their own golf courses. It must be against the law in this valley to develop a "sub-division" that does not include a golf course? From what I can see there are two kinds of residents around here: The ones with a ton of money that moved here to play golf, shop and dine in the exclusive restaurants and the plebeians that service them.
Joyce nosed around in the literature from the visitor's center to find "El Pass" street/avenue in Palm Desert. This was something that I was hoping she would overlook, she didn't. El Pass Street, for those of you who are not familiar with it is the "Rodeo Drive" of the "valley". Joyce deftly guided us there with me trying to make wrong turns ------ to no avail. We drove the entire length of El Pass admiring all the shops with exotic French names. At the end we turned around and drove down the strip again. To my surprise and utter delight I was not ordered to stop. However, on our return trip to the area we will spend time there I have been informed. Slowly my sweating subsided as we returned to the more normal world I am comfortable in.

If you don't play golf or treat shopping as a "sport" you best be into desert hiking or eating out if you plan to spend time in the valley.
Joyce trying to blend in with a large bougainvillaea bush
Joyce trying to blend in with a large bougainvillaea bush.
The landscaping is some of the best we have seen anywhere. Weeds don't grow in the desert so that helps. Landscape plants thrive in the intense sun when supplied with abundant water and fertilizer. The landscape plants in the Coachella Valley are supplied with water and fertilizer to excess. There appears to be no plants that do not bloom profusely with bright colors. Bougainvillea, oleander Mexican bird of paradise and lantana are the plants of choice with a large variety of others sprinkled in. Date palm and fan palm trees line every street and decorate every community and golf course.
Until next time remember how good life is.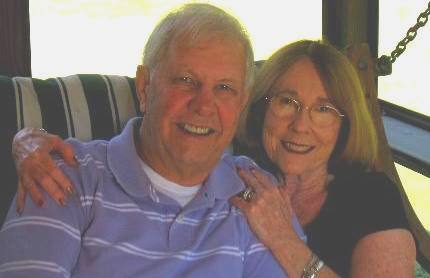 Mike & Joyce Hendrix who we are
We hope you liked this page. If you do you might be interested in some of our other Travel Adventures:
Mike & Joyce Hendrix's home page
Travel Adventures by Year ** Travel Adventures by State ** Plants ** Marine-Boats ** Geology ** Exciting Drives ** Cute Signs ** RV Subjects ** Miscellaneous Subjects
We would love to hear from you......just put "info" in the place of "FAKE" in this address: FAKE@travellogs.us
Until next time remember how good life is.