Our 2010 Interesting Signs part three
This really isn't a sign, yet it just may be. On our Anniversary we stopped in Dusty's on Panama City Beach for dinner before our night out. After sitting down, at our outside dining table, we noticed writing on the decorated table. After studying the writing we realized it was the name of a song that our friend, the late Billy Pearson, made popular.....Don't get no sand in it. That song was headed for the charts when Billy's life was cut short in a tragic auto accident. Billy was a Nashville Country Music Artist that had returned to his home town of Panama City and was a regular performer at Tootsies Orchid Lounge on Panama City Beach. Ironically, we were headed to Tootsies after dining at Dusty's. Tootsies is not the same without Billy.
Butter my butt an' call me a biscuit
This was the name of the band playing at Pineapple Willy's on Panama City Beach. I liked the name.
This is a popular sign in some parts of Florida
Beware of Alligator is a sign that is popular in some parts of Florida.
We saw this one in Pineapple Willy's on Panama City Beach.
Pineapple Willy's is a popular place on Panama City Beach.
Direction Sign on Whitehead Street in Key West, Florida
This sign was on a building on Whitehead Street about 4-blocks north of the Southernmost Point in the United States.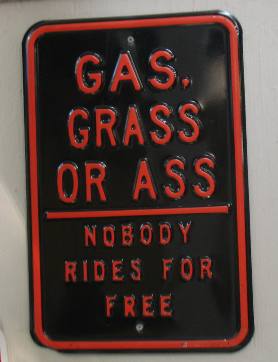 This sign was advertising some sort of ride in Key West. I think it was advertising one of those rickshaw operations where someone pedals you on a 3-wheel tricycle.
Mike & Joyce Hendrix
Mike & Joyce Hendrix who we are
We hope you liked this page. If you do you might be interested in some of our other Travel Adventures:
Mike & Joyce Hendrix's home page
Travel Adventures by Year ** Travel Adventures by State ** Plants ** Marine-Boats ** Geology ** Exciting Drives ** Cute Signs ** RV Subjects ** Miscellaneous Subjects
We would love to hear from you......just put "info" in the place of "FAKE" in this address: FAKE@travellogs.us
Until next time remember how good life is.