Our 2007 Interesting Signs Part Two
Law Office of Stephen L. Schaefer in Bandera, Texas
Some people will not see the humor that I saw in this "Tamale" sign next to the front door of a lawyers office in Bandera. This No Solicitation sign was for real! It was a very professional stainless steel plaque. This lawyer likes Tamales wouldn't you say. I love it. This make my day.
Law Office of Stephen L. Schaefer in Bandera, Texas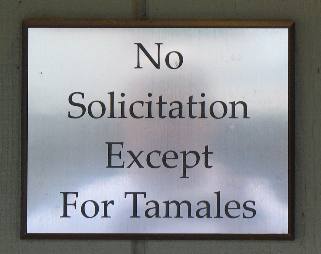 Joyce likes to remind me that it doesn't take much to entertain me. This tamale sign did the trick.
I love warning signs like this one
A friend sent this sign. Even though I didn't take the picture I like the sign. Something tells me this sign is in southern California but I could be wrong.
We saw this advertisement in Oregon off I-84 somewhere northwest of Fairwell Bend State Park in the eastern part of the state.
I love street names like "Dance Hall Road"
We liked the name of this road. I think it was in Richland, Oregon.
A slow speed sign with a warning:
This sign got our attention. Anytime you see a sign mentioning a 30-30 it is time to pay attention. This was on a gravel road in the ghost town of Whitney, Oregon.
Speed checked with a 30-30 was being conducted from under this tin roof in the ghost town of Whitney, Oregon near Sumpter.
I think this is where the person who put up that 30-30 sign lived. It was one of two places in the ghost town of Whitney that looked like they might be occupied.
Note that while it may be occupied it doesn't have electricity or running water.
You can click here to see more pictures from the old ghost town of Whitney, Oregon located in the Sumpter Valley not far from the old gold mining camp of Sumpter and a State Park that displays one of the old Sumpter Gold Dredges.
Lewis & Clark "When Men asked Women for Directions
This cute sign was in the information center in Clarkstone, Washington.
If you don't get it you need to spend some time reading about Lewis & Clarks Voyage of Discovery.
Pick'n & Chick'n Party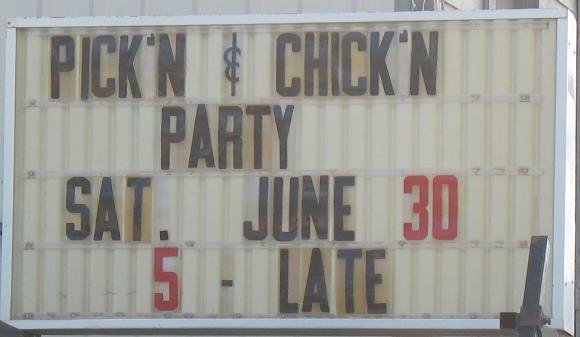 We were heading into Creston, Canada but still in Idaho. Just before entering the border station we turned west and went a few hundred feet down a paved road to get a close up look at hops fields. We passed by a country store with this sign outside. We are within just a few hundred feet of the border station on the US side of the border. I can only imagine what kind of party this was.
Elmira is a small town north of Sandpoint, Idaho on US 95. Both of us like the name but it was especially good as the name for this store.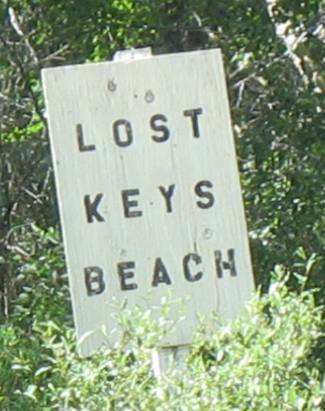 This is an original name for a beach. We saw this "beach" sign on Alberta, Canada's Crows Nest Highway west of Pincher Creek. There was a lake at the summit with a small beach. I doubt if there is much swimming in that lake since the water must be near freezing year around.
Mike & Joyce Hendrix
Mike & Joyce Hendrix who we are
We hope you liked this page. If you do you might be interested in some of our other Travel Adventures:
Mike & Joyce Hendrix's home page
Travel Adventures by Year ** Travel Adventures by State ** Plants ** Marine-Boats ** Geology ** Exciting Drives ** Cute Signs ** RV Subjects ** Miscellaneous Subjects
We would love to hear from you......just put "info" in the place of "FAKE" in this address: FAKE@travellogs.us
Until next time remember how good life is.