Basalt-3
As you drive through the Hagerman Vally and look up at the Basalt wall it is easy to spot many of the Thousand Springs emerging from the pillow basalt.
This spring, in the Hagerman Valley of Idaho, created an immediate waterfall over hard basalt.
Talus slope of basalt that came from the basalt Canyon wall in the Hagerman Valley of Idaho. The Snake River has cut this canyon wall over eons of wear.
This waterfall on the Malad River has created what is know as is the Devils Washbowl a distinct feature carved in this basalt canyon at the base of that waterfall.
How was the Devils Washbowl carved? The waterfall (retreating cataract) that you can see down in the gorge is a much diminished remnant of the great waterfalls that carved the 2 1/2 mile long, 250 food deep canyon now know as Malad Gorge. Can you imagine, looking at the current flow, what the waterfall that created Malad Gorge must have looked like?
The top 200' of basalt is the result of Shield Volcanos. Shield volcanos in this region poured hot molten lava onto the surrounding countryside for miles and miles around. In contrast to explosive volcanos like Mt. St. Helens in Washington shield volcanos ooze hot molten lava from vents in the earth's crust. The type of lava rock found here in southern Idaho is called basalt. Basaltic lava flows are very hot and fluid and flow much like a river until they cool. Over many years the depths of these lava flows increased and gradually the deposits built up in the Malad Gorge area to over 200'-deep.
Pillow basalt is found in the bottom 50-feet of the gorge. Pillow basalt is created when molten lava flows into water. When the hot lava flows into water steam erupts, and changes the usually solid basalt rock into rounded, more porous pillows. Pillow basalts, because of their less compact porous nature, allow spring water from the vast Snake River Aquifer to flow past them into the Malad River and into the Snake River in an area know as 1,000 springs around Hagerman.
Columnar basalt cools more slowly. Columnar basalt is a harder more dense rock. When it ages and weathers if forms cracks in the form of columns.
This picture is looking down into Malad Gorge with the very hard basalt canyon walls and talus slopes on either side.
Fallen rock, from the basalt cliff walls, forms the talus slopes that you can see lining both sides of this gorge. Joyce took this picture form Malad Gorge State Park in southern Idaho near Hagerman. The Malad River shown in this photo empties into the Snake River less than 2-miles from here.
Click here for another Basalt - 2
Click here for more Miscellaneous Subjects
Mike & Joyce Hendrix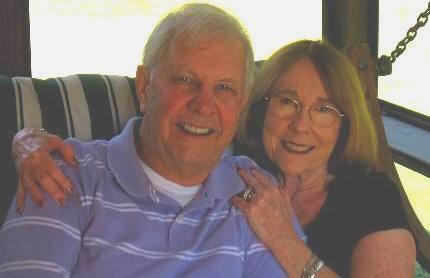 Mike & Joyce Hendrix who we are
We hope you liked this page. If you do you might be interested in some of our other Travel Adventures:
Mike & Joyce Hendrix's home page
Travel Adventures by Year ** Travel Adventures by State ** Plants ** Marine-Boats ** Geology ** Exciting Drives ** Cute Signs ** RV Subjects ** Miscellaneous Subjects
We would love to hear from you......just put "info" in the place of "FAKE" in this address: FAKE@travellogs.us
Until next time remember how good life is.