Party Cat Sunset Cruise Key West
The DJ and American Flag flying off the stern of the Sunset Cruise boat Party Cat off Key West, Florida
The DJ was playing music for our listening enjoyment the entire trip.
Jolly Rover sailing past the Party Cat on their sunset cruise
The Jolly Rover is one of the favorite sunset cruise sail boats operating out of Key West. The bright red sails on the Jolly Rover make it easy to pick out.
The extremely fast America 2 sailing schooner is passing off the Party Cat's stern in this picture taken off Key West in February of 2012.
Mike chatting with the bar tender on the Party Cat during our sunset cruise
Mike enjoyed a short conversation with the bar tender while others were downstairs dining on the Party Cat.
Mike with a delightful Navy Couple enjoying their anniversary onboard the Party Cat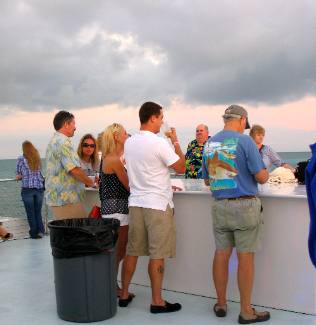 This Navy couple was stationed on the USS Bataan a Navy helicopter carrier. It was our pleasure to meet and talk with them on the Party Cat Sunset Cruise.
A Key West sunset as viewed from the Party Cat sunset cruise boat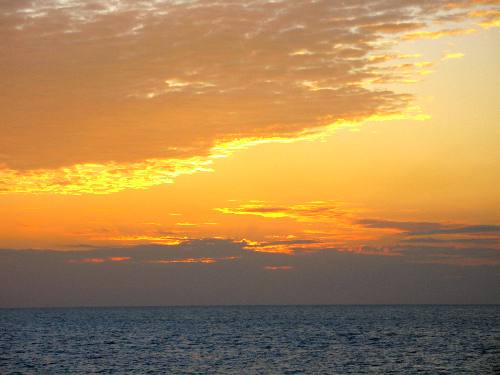 What a beautiful sunset we enjoyed onboard the Party Cat's sunset cruise out of Key West. We highly recommend a cruise aboard the Party Cat. It is smooth sailing and fun!
Until next time remember how good life is.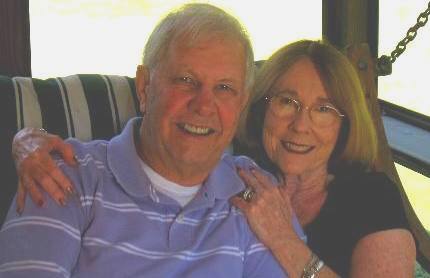 Mike & Joyce Hendrix who we are
We hope you liked this page. If you do you might be interested in some of our other Travel Adventures:
Mike & Joyce Hendrix's home page
Travel Adventures by Year ** Travel Adventures by State ** Plants ** Marine-Boats ** Geology ** Exciting Drives ** Cute Signs ** RV Subjects ** Miscellaneous Subjects
We would love to hear from you......just put "info" in the place of "FAKE" in this address: FAKE@travellogs.us
Until next time remember how good life is.