Sunset Cruise on the Party Cat in Key West
Joyce posing with the US Flag flying on the Party Cat Sunset Cruise
Joyce posing with the US Flag flying off the stern of the Party Cat sunset cruise boat off Key West, Florida.
Joyce can not resist taking a picture of a US Flag. This one is flying on the Party Cat Sunset Cruise out of Key West, Florida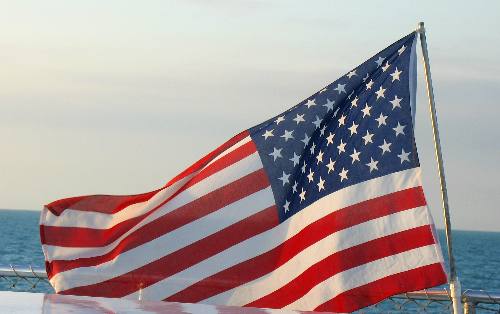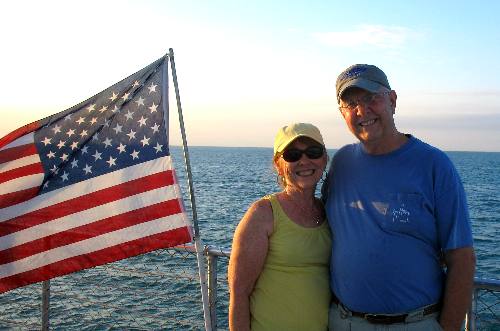 Joyce and I posed for this picture aboard the Party Cat early in our sunset cruise.
Mike with a Navy couple enjoying an Anniversary on the Party Cat Sunset Cruise in Key West
This couple were both in the Navy and both worked together on the flight deck of the USS Bataan a helicopter carrier. They had one child and had experienced some exciting deployments, including hurricane Katrina relief off Louisiana and off Puerto Rico and Haiti.
The USS Bataan provided relief to the victims of Hurricane Katrina. She was located near New Orleans prior to Katrina making landfall, and began relief operations almost immediately. The USS Battan's helicopters were among the first to provide damage assessment.
As the relief/rescue effort continued they were able to transport over 1600 displaced persons. Bataan delivered more than 100,000 pounds of cargo and 8,000 gallons of fresh water to the area. The Battan served as a base for two flyaway medical teams, consisting of 84 medical professionals, who provided emergency medical care in New Orleans.
In January of 2010, the Bataan was ordered to assist in the humanitarian relief efforts following the 2010 Haiti earthquake. The Battan was deployed there until April.
In March of 2011 the USS Bataan was deployed to Libya to assist in enforcing the no-fly zone over Libya and we all remember that.
The USS Bataan has also served as a prison ship. The USS Bataan was one of those places President Bush described as: a "secret network of 'black sites' in which terrorist suspects were held and subjected to what he called enhanced interrogation techniques". John Walker Lindh, the "American Taliban", was escorted back to the United States aboard the USS Bataan.
One thing is certain, if you are in the Navy stationed on the USS Bataan you are truly going to see the world.
Joyce took this picture of the Key West waterfront as seen from the Gulf of Mexico near Wisteria Island.
This is the sunset that we paid for. Pretty impressive if I do say so.
Until next time remember how good life is.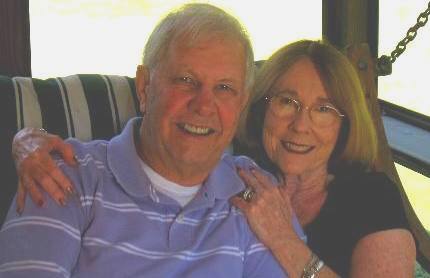 Mike & Joyce Hendrix who we are
We hope you liked this page. If you do you might be interested in some of our other Travel Adventures:
Mike & Joyce Hendrix's home page
Travel Adventures by Year ** Travel Adventures by State ** Plants ** Marine-Boats ** Geology ** Exciting Drives ** Cute Signs ** RV Subjects ** Miscellaneous Subjects
We would love to hear from you......just put "info" in the place of "FAKE" in this address: FAKE@travellogs.us
Until next time remember how good life is.