February, 2010
We are dry camping along with some 700 other RV'ers at the Navy Base here in Key West. Actually, there are two bases within the NAS Key West complex that make up the 700-plus campsites. The two locations are at Sigsby and Trumbo Point. Sigsby is located 3 to 4 miles from "Duval Street" in Key West while Trumbo Point Campground is located 6 to 8 blocks from "Duval Street". We are staying at Trumbo Point, an easy walk to Duval-Street. But remember this is Dry Camping. There is central dump station and fresh water. Generators can run from 6am to 10PM. Life is good.
Commercial Campgrounds in Key West start at $100 a night and are located about 5-miles from Duval Street. Parking in Key West starts at $13 a day and goes up. The $13 parking site is about 6 blocks from Duval Street. The closer you get to Duval Street the more expensive the parking site.
When visiting Key West you can not help but notice the different "unique" signs. It seems everyone has a special way to send a message. Enjoy the following signs and laugh along with us.
Sanity Check sign on private residence in Key West, Florida
I liked the humor in this sign "Sanity Check". What better name for an exclusive address here in Key West. This sign was on a small home on Caroline Street across the street from the old West Marine store if you are familiar with Key West.
Bullshit Blvd sign on private residence in Key West, Florida
I do not know if that is the name of the street or just a cute sign. However, it did catch my eye.
The name on this place caught our eye.
Cookies sign in a Key West business window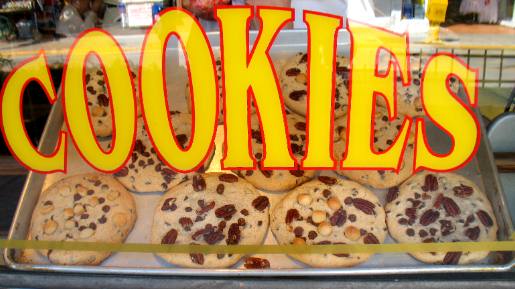 Key West seems to be all about eating, drinking and having a good time. At least that is why the tourist are here. Key lime pie is the main temptation, followed by seafood and Cuban or Caribbean Island foods. Cookies fall somewhere on the list but certainly not at the top.
Note that the "Heartbreak Hotel" is on LONELY ST. The entrance is down a narrow alley (Lonely Street). Heartbreak Hotel is located at the end of Lonely Street alley off Duval Street in Key West, Florida.
This sign was attached to one of those rickshaws ---- the tricycles (pedicycle) used to peddle lazy folks up and down Duval Street. Joyce would say Mike is too cheap to pay for a ride and she would be correct. We walk everywhere, but it is a great option if your feet are hurting. Of course I thought this was a funny sign. I am sure some will not find it funny. Please forgive me if you are one of those.
It's Five O'clock Somewhere only in Key West, Florida
It appears "It's Five O'clock Somewhere" in Key West around the clock!
You have got to love the name on this piece of art work!
Note: Land yacht!
This is a great name for a boat. The Captain had better know how to catch fish!
I would like to name my motorhome Reel Lucky or Wheel Lucky. What do you think? VBG
Look for this "direction sign" near the entrance to Mel Fisher's Museuem in Key West, Florida
I believe this directional sign is near the The Tropical Cafe (which has key lime pie for only $3.95 a slice). The Key Lime Factory Stores sell it for $4.95 a slice! At any rate Joyce remembers taking this photograph near the Tropical Cafe which is located at the entrance to Mel Fisher's Museum.
Yea, we are in Key West on South Duval Street but here is the Bourbon Street Pub and everyone knows that is in New Orleans. Or it was before Katrina. Has it moved to Key West?