February, 2010
We take daily walks through the residential neighborhoods of Key West. I have started keeping an eye out for iguana. I have found that if I am looking for them I can spot some. They are really difficult to see.
Iguana, imported as pets, have escaped and or been released, and are now established throughout South Florida and the Keys including Key West. Adult iguana are herbivores feeding on foliage, flowers, and fruit. I guess that is why we see so many in trees.
We are dry camping along with some 700 other RV'ers at the Navy Base here in Key West. Actually, there are two bases within the NAS Key West complex that make up the 700-plus campsites. The two locations are at Sigsby and Trumbo Point. Sigsby is located 3 to 4 miles from "Duval Street" in Key West while Trumbo Point Campground is located 6 to 8 blocks from "Duval Street". We are staying at Trumbo Point, an easy walk to Duval-Street. But remember this is Dry Camping. There is central dump station and fresh water. Generators can run from 6am to 10PM. Life is good.
Commercial Campgrounds in Key West start at $100 a night and are located about 5-miles from Duval Street. Parking in Key West starts at $13 a day and goes up. The $13 parking site is about 6 blocks from Duval Street. The closer you get to Duval Street the more expensive the parking site.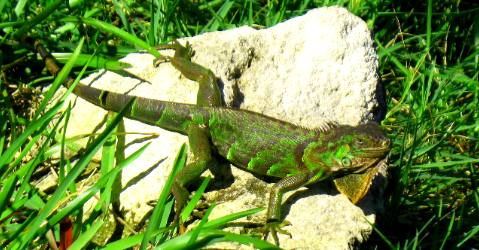 This small iguana was sunning on a piece of limestone. This iguana was no more than 2-feet long. This is the smallest iguana we have seen. As you will see we are getting good at spotting iguana.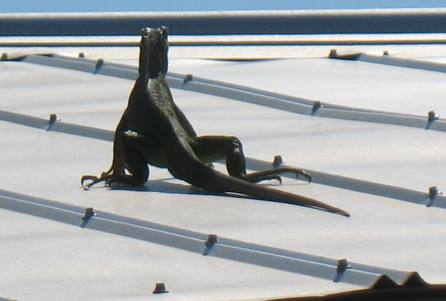 I spotted this good size iguana on a tin roof where he was sunning. He was a good 3-feet long. These large lizards like to bask in open areas; sidewalks, or open mowed areas. This one chose an exposed roof.
I was taking the picture into the sun so his colors do not show up.
This iguana was in the grass and extremely hard to spot. He blended in so well that it was hard to find him in the view finder to take this picture. He was every bit of 3-feet long.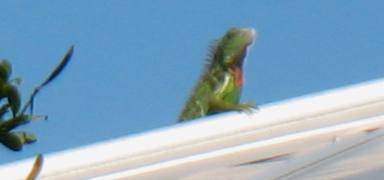 I spotted this iguana peaking over the roof of a house. He was probably a 3-footer. We are getting pretty good at spotting iguana. We can not take a picture of every one we see because many are high in a tree and the pictures just do not come out. I could probably make some of them come out if I used a tripod and had a good zoom lens ---- but, that ain't going to happen. VBG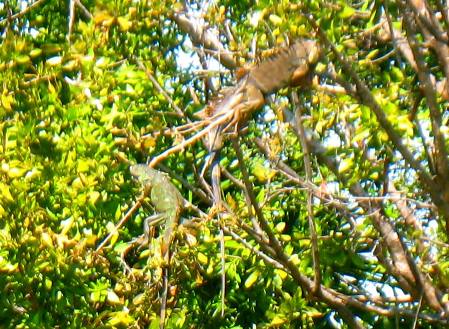 These are large iguana. They are high in trees above a small pond. They are about 100-yards from us so this is an extremely long distance picture and that is why it is so fuzzy. Both are over 3-feet long. I suspect the big male (the brown one) is over 4-feet long. The trees on the other side of this pond were full of iguana. At times we could count 12 to 15 at any one time. All were sunning themselves high in the canopy.
When you visit Key West keep your eyes alert for iguana. You may step one that is sunning on a sidewalk, no joke.