Nashville Musicians
May 19, 20 & 21, 2008
We are staying at Poole Knobs COE Campground near Smyrna, TN.: $9 a night with elect & water (we have the National Park systems 1/2 price geezer pass) so if you aren't 62 years old or disabled yet it will cost you $18. Smyrna and Poole Knobs COE Campground, is about 20-miles SE of downtown Nashville. We are on site # 41 and it is a beautiful site but there are many wonderful sites.
When a wonderful COE Campground like Pool Knobs is not available we look for a 1/2 price PPA Campground.
This fine musician is Craig Curtis. He was playing in one of the honky tonks. Look for him when you visit Nashville. Not only was he a good musician he was an accomplished comedian. I remember one time when he was being heckled by an alcohol influenced patron who wanted Craig to sing a song that no one had ever heard of -- after a bit of heckling Craig calmly told him to "be quiet or we will pull your library card".
The crowd laughed so hard that the heckler realized that he had lost that exchange. Such is life in Nashville's honky tonks.
Later another patron purchased a round of drinks for Craig and the entire band to which Craig responded, "I feel like hugging you but you got a better chance of seeing Jesus".
During the next week or so we heard him tell the audience that his mother nick named him Maytag since he had a built in agitator!
Now look at his face. You just know he is a comedian playing music. VBG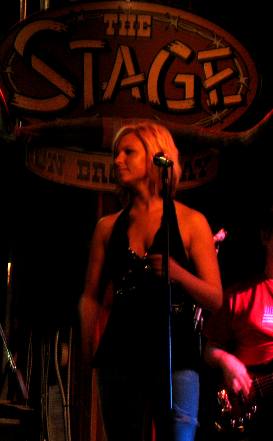 This performer was with the band Wide Open another good group playing in the Stage on Broadway one of Nashville's premier honky tonks..
This is another picture of the lead singers with the group Wide Open again performing at The Stage on Broadway honky tonk.
Tuesday turned out to be another "home run", what could be better than a day "honky tonkin" in Nashville with your best friend?
Wednesday found us on Nashville's honky tonk row again. The music starts in the early afternoon and the places aren't as crowded. It is hard to beat this entertainment.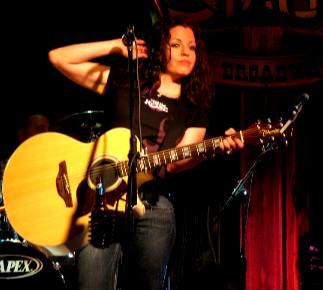 This artist is Sarah Montgomery. This little song bird was getting married to her base player in 10-days. Her fiancé, the base player, plays in a band that opens for Hank Jr. and Leonard Skynard. Those concerts are normally on Friday and Saturday nights. During the week the band members are in Nashville. They rent a bus with a driver and head to those weekend gigs. During the week he plays with Sarah and her band here at The Stage on Broadway one of the premier honky tonks in Nashville.
Steve Stokes
Another member of Sarah Montgomery's band includes Steve Stokes a fiddle player that has done the Muppets but most recently has been touring with John Michael Montgomery. Steve is the fiddle/mandolin/acoustic guitar player/vocalist of Tory Barnett's band, The Alley Dawgs, who play on Sundays and Thursdays at the Fiddle Bar honky tonk, when he's not on the road playing fiddle for Trace Adkins.

You might like to check out Steve's website at: http://www.fiddleandsteel.com/steve/
Sarah Montgomery was a sassy little song bird performing regularly at The Stage on Broadway honky tonk, you can learn more about her at:
http://profile.myspace.com/index.cfm?fuseaction=user.viewprofile&friendID=70594742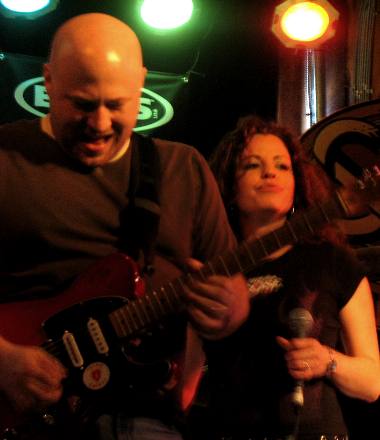 Sarah Montgomery's lead guitar player, Kevin Key, tours with Mark Wills. When Mark is off the road Kevin joins Sarah's band and a number of other bands.
You can usually find Kevin Key and Sarah Montgomery performing at The Stage on Broadway one of our favorite Nashville honky tonks.
Kevin is big time accomplished. You can check him out here:
http://profile.myspace.com/index.cfm?fuseaction=user.viewprofile&friendID=52892968
The performers we are able to sample here on honky tonk row are simply incredible.
That pretty much sums up this honky tonkin experience on Broadway in Nashville.
Click here for more of our Tennessee Travel Adventures
Until next time remember how good life is.
Mike & Joyce Hendrix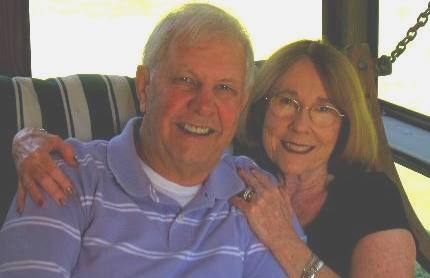 Mike & Joyce Hendrix who we are
We hope you liked this page. If you do you might be interested in some of our other Travel Adventures:
Mike & Joyce Hendrix's home page
Travel Adventures by Year ** Travel Adventures by State ** Plants ** Marine-Boats ** Geology ** Exciting Drives ** Cute Signs ** RV Subjects ** Miscellaneous Subjects
We would love to hear from you......just put "info" in the place of "FAKE" in this address: FAKE@travellogs.us
Until next time remember how good life is.