We normally look for 1/2 price PPA Campgrounds COE Campgrounds or National Park Campgrounds. But in Nashville, over the Memorial Day weekend Two Rivers Campground is our choice.
Tim McDonald performing vocals & key board in Legends Corner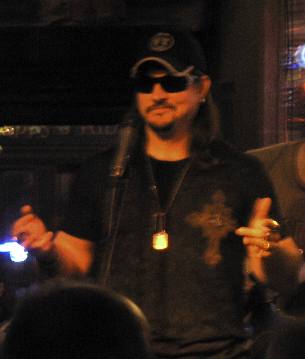 This is Tim McDonald. Tim is a keyboard player that plays in a number of bands we listen to here on honky tonk row in Nashville. We have enjoyed his music and on stage humor in several venues along Broadway in Nashville.
Here he is performing one of his funny songs "Snake Farm" with one of the bands he was not playing with. Tim was filling in while band members took a potty break.
Tim has been on tour with Mark Chesnutt, Cory Morrow, Josh Gracin, Steve Holy, Katrina Elam, and Blake Shelton. He has also performed with, Montgomery Gentry, Brett Michaels, Chris Cagle, Trent Tomlinson, Billy Currington, Miranda Lambert and has shared the stage with some greats including: Hank Williams Jr., The Kentucky Headhunters, Keith Urban, Tracy Byrd, Carrie Underwood, Brooks and Dunn, Phil Vassar, Billy Currington, Craig Morgan, Trent Tomlinson, Keith Anderson, Jake Owens, Chris Young, Julie Roberts, Trick Pony, Buddy Jewel, and Little Texas just to name a few.
Tim has some good/fun/funny songs that he does, if your are interested in Tim McDonald & his music try this:
http://profile.myspace.com/index.cfm?fuseaction=user.viewprofile&friendid=4643256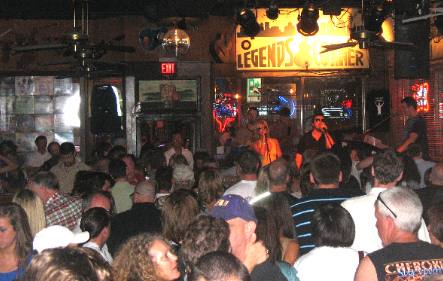 This is a shot of the crowd in Legend's Corner as we exited the place around 10pm Saturday night. It did not start getting this crowded until after 9pm. We are getting more savvy about what to do and how to do it. Instead of working our way through this crowd to the front door under that exit sign we exited out the back door which empties out near the back side of the old Rhyman Auditorium on 5th street. That way we avoided having to walk back to our Saturn along Broadway Street which by this hour has turned into a churning mass of bodies moving between the honky tonks.
Two Rivers Campground, Nashville
When in Nashville proper we stay at the Two Rivers Campground. First, they are the most inexpensive of the options, second they have a great staff, and the owners sponsor good entertainment in the park several times a week. All those things combine to make this our CAMPGROUND of choice when visiting Nashville.
.While the honky tonks on Broadway are a wonderful place to visit they are not all Nashville has to offer.
One day we went for an afternoon cruise on the General Jackson Showboat that boards jusd down the road from where we are staying at Two Rivers Campground. Check these links to read about our adventure on the General Jackson Showboat: Peking Acrobats, Delta Queen, General Jackson, Joyce touring the wheelhouse on the General Jackson.
Click here for more Nashville Attractions
Click here for Nashville Honky Tonks
Click here for Nashville Musicians
Click here for more of our Tennessee Travel Adventures
Mike & Joyce Hendrix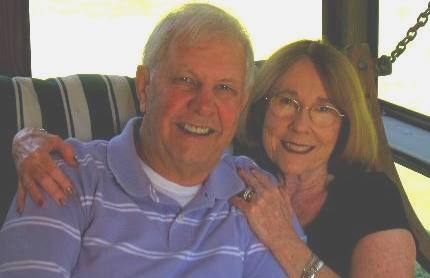 Mike & Joyce Hendrix who we are
We hope you liked this page. If you do you might be interested in some of our other Travel Adventures:
Mike & Joyce Hendrix's home page
Travel Adventures by Year ** Travel Adventures by State ** Plants ** Marine-Boats ** Geology ** Exciting Drives ** Cute Signs ** RV Subjects ** Miscellaneous Subjects
We would love to hear from you......just put "info" in the place of "FAKE" in this address: FAKE@travellogs.us
Until next time remember how good life is.