June 22, 2008.
We are camping at Presnell's Fish Camp, Marina & Campground on beautiful St. Joe Bay near the Florida Panhandle town of Port St. Joe. Water & 30-amps on beautiful St. Joseph's Bay $30 for 30-amps & water. 850 229 2710. Keep in mind this is a fish camp not an RV Resort. If you have to have 50-amps and a sewer connection you need to keep on motoring to one of those RV Resorts. Web site: http://www.campingwithaview.com/Z_Campgrounds/Private/FL/Presnells/Home_Presnell.htm
If you can't find a special camping spot like Presnell's you want to be looking for a 1/2 Price PPA Campground.
Severe thunder storms rolled through the area last night and weather reports indicated more were on the way. When we checked weather radar we could see a line of heavy weather stretching to the west of where we were and is was all headed our way. Boating was out of the question with that weather headed our way so we decided to take a ride out to Cape San Blas and the peninsula created by the Cape. St. Joe Bay is the bay formed by the Cape and peninsula. Cape San Blas is a unique spot, due to the Apalachicola River that empties into the Gulf of Mexico a few miles east of the cape and westward currents, the cape has developed and grown forty miles out into the Gulf of Mexico. Close to the point of Cape San Blas where the mainland finally slopes into the Gulf, to the south, shoals extend many more miles out into the sea. To the north of the cape, between the peninsula and the coast lies St. Joe Bay. Presnell's Fish Camp, Marina & Campground is situated about thirteen miles south of the mouth of St. Joe Bay.
Jeff, Stephen & Bennett on Cape San Blas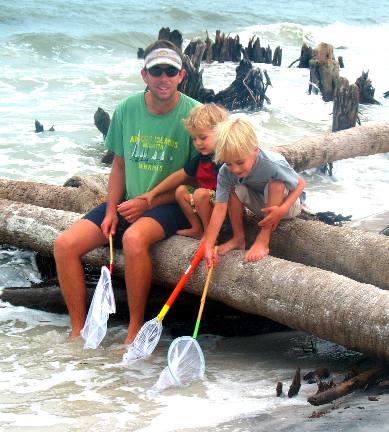 We saw an opening in the clouds while visiting the cape and decided to chance a walk on the beach to look for driftwood and shells. Jeff and the boys stopped for a picture on these downed palm trees. We came here to walk on the beach near the Cape San Blas light house. We normally find a lot of shells when walking toward the cape from this spot. However, the approaching storms on top of a high tide had pushed water over the beach so we couldn't walk on the beach much less find any shells. As you can see from this picture the gulf has encroached on the cape felling pine and palm trees.
This is the storm that was blowing all the water our way. There was a lot of lightning and wind with this storm.
This is a small section of Cape San Blas where the road had to be protected from the ever encroaching gulf. Every strong storm in the gulf sends water crashing into this area destroying the road. This time it appears they did a better job of protecting the road. The next strong hurricane in this section of the gulf will be the test.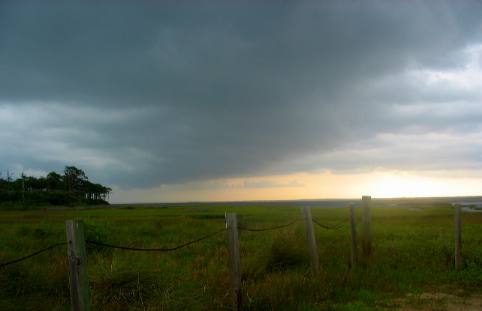 From the other side of that road we watched the storm front as it made its way across St. Joseph's Bay. Along this section of the Cape San Blas Peninsular the road is on a very narrow strip of sand. In fact if that strip of sand wasn't protected by those rocks in the picture above, the peninsular on the other side of the rocks could very well be an island.
These wading birds,on Cape San Blas, were totally ignoring the storm front that was passing overhead.
Angry surf and sea oats on Cape San Blas
On the gulf side of Cape San Blas the wind was blowing these sea oats and whipping the Gulf of Mexico into a white froth.
These sea oats are just beginning to make a seed head. They will turn golden and be beautiful later in the year turning Cape San Blas into a harvest season wonderland.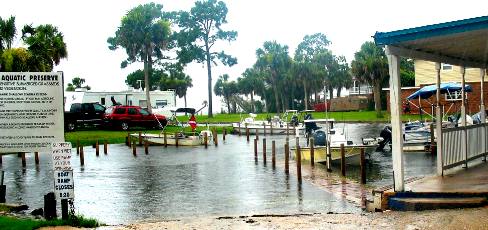 Back at Presnell's Fish Camp and Marina the docks are all under water from all the water pushed in by that storm earlier today.
All the docks in the marina have disappeared under a foot or more of water.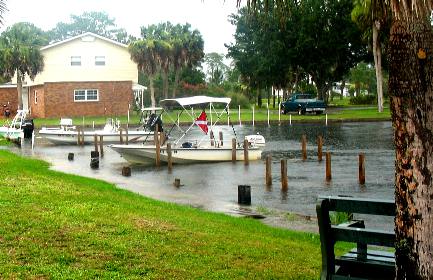 This is the boat we were having fun on. Note that the docks at Presnell's Fish Camp and Marina are all under a foot or so of water. From this marina we are only 100 yards from St Joe Bay.
Black's Island in St Joe Bay not far from our campground at Presnell's Fish Camp

Later in the day we got in the boat and went sightseeing in St Joe Bay. This is Black's Island a very small island in St. Joe Bay. Until a few years ago this 7-acre island was used as a boy scout camp. Now it has been developed. I do not care who you are this little island is a small piece of paradise. There isn't a bridge to this island. Visitors arrive by boat. I guess a few might arrive by sea plane. This picture shows about 1/2 the island. It is my guess that there aren't any automobiles on the island. If you are interested in something like this try googling Blacks Island Port St. Joe, Florida. Black's Island is only about a mile from Presnell's Fish Camp.
Stephen and Blacks Island on St Joe Bay
Stephen is giving us his opinion of those that would develop this beautiful piece of paradise. The structures you see on Blacks Island are called "bungalows" by the developers. I may be wrong but island properties are being marketed as a "membership" package according to the information at this site:
Keep in mind that Black's Island, in St Joe Bay, is just a short boat ride from our Campground at Presnell's fish camp.
Black's Island in St Joe Bay not far from our Campground at Presnell's Fish Camp
While the buildings are beautiful -- as much as possible the island has been left natural as can be seen in this photograph.
For a house on the water this is about as beautiful as it gets and located on St Joe Bay makes it all that much more awesome.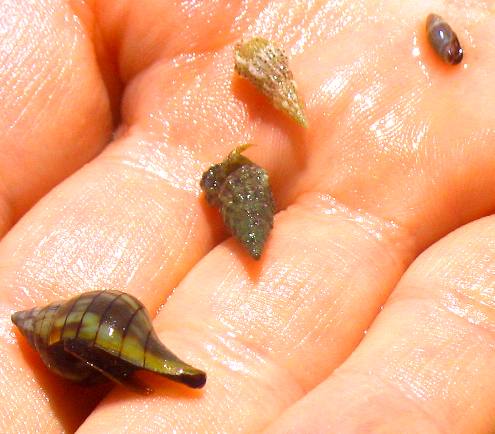 When we find empty conch and pin shells and put them on the boat small shellfish such as these would come crawling out of the inner recesses of those "empty" shells. Shown here are a variety of live shells that we quickly returned to St Joe Bay. The olive shell in the top right corner of this picture has to be the smallest olive shell any of us has seen. The tulip shell in the bottom left hand corner of the picture is as small a tulip shell as I can remember. For those that are interested these shells were found at the shore line in front of our campground at Presnell's fish camp.
Pa Pa and Bennett having a good time on St Joe Bay.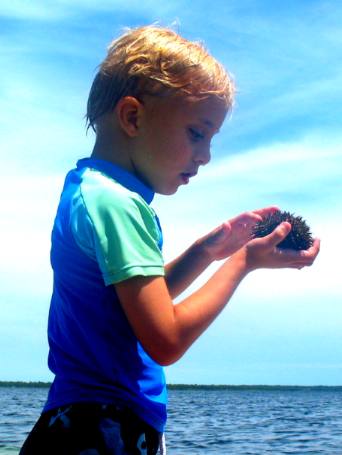 Stephen inspecting a sea urchin's spines. For those of you not familiar with sea urchins they have a fragile, hollow shell the size of a tennis ball except this tennis ball has spines like a porcupine except the spines are much smaller. This sea urchin had spines that were possibly an inch long. Other sea urchins have spines that are much longer. By the way sea urchins are easily found in St Joe Bay.
Jeff & Bennett with a large horse conch they pulled from St Joe Bay
We spotted this large horse conch and pulled it out of St Joe Bay for inspection and a few pictures before returning it to the water.
Jeff, Stephen & a large horse conch with St Joe Bay in the background
Stephe
n is fully understanding how much this large horse conch weighs before returning it to St Joe Bay. You will need a boat to find horse conchs if you are camping at Presnell's fish camp.
This week has been special. We never have enough time to spend with family.
Until next time remember how good life is.
I can't think of a better place to spend quality time with our son and grandsons & I am sure they will remember their time at Presnell's on St. Joe Bay.
Until next time remember how good life is.
We hope you liked this page. If you do you might be interested in some of our other Travel Adventures:
We would love to hear from you......just put "info" in the place of "FAKE" in this address: FAKE@travellogs.us
Until next time remember how good life is.