Lightning Whelk
August 20 thru 22nd
This travellog covers some of the 3-day adventure we enjoyed with our son's family at Presnell's Fish Camp on St. Joe Bay near Port St. Joe, Florida.
Campground info: Presnell's fish camp on St. Joseph Bay "rustic" sand sites, 30-amps and water with central sewer and the most beautiful sunsets anywhere for $33.30. This was during scallop season so I suspect the price would be much cheaper during other times of the year.
When we are not at a campground like Presnell's we are looking for 1/2 price camping opportunities at PPA Campgrounds.
Bennett is our 3-year old grandson. I think Bennett is going to be our scientist.
He is searching for the hermit crab in this small lightning whelk shell.
Hermit crabs occupy vacant shells. As they grow larger they abandon the smaller shells and take up residence in larger shells. This is a "big" hermit crab that has taken up residence in this old whelk shell.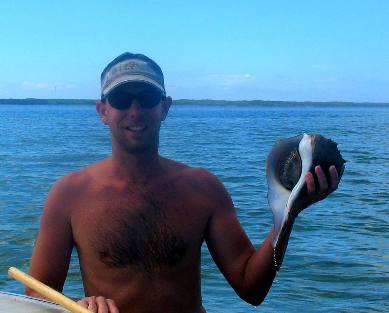 Jeff showing us one of the live lightning whelks that we found in St. Joe Bay.
Bennett is wondering if we know how much this big shell weighs.
This live, full-grown whelk is very heavy especially for such a little feller.
Jeff with a horse whelk. If you are wondering why they do not look like the ones you see in shell shops these are alive and have algae and other marine growth attached to their shells. When displayed in shell shops or shell collections the algae and other stuff are scrubbed off.
Stephen is our our 6-year old grandson.
Stephen showing us another large lightning whelk he pulled from St Joe Bay.
Meanwhile, back on the bay the boys are enjoying our search for sealife in St. Joe Bay.
Bennett is helping me show off this large horse conch. Notice the difference in colors and the shape of the shell when comparing this horse conch with the lightning whelk.
It is a tough life, but someone has to document it. VBG
Click here for more Florida Travel Logs
More Panhandle Florida Travel Adventures
More Travel Adventures around St Joe Bay and the Forgotten Coast
Until next time remember how good life is.
Mike & Joyce Hendrix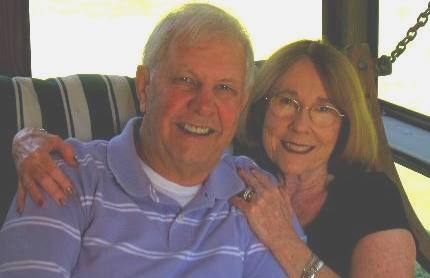 Mike & Joyce Hendrix who we are
We hope you liked this page. If you do you might be interested in some of our other Travel Adventures:
Mike & Joyce Hendrix's home page
Travel Adventures by Year ** Travel Adventures by State ** Plants ** Marine-Boats ** Geology ** Exciting Drives ** Cute Signs ** RV Subjects ** Miscellaneous Subjects
We would love to hear from you......just put "info" in the place of "FAKE" in this address: FAKE@travellogs.us
Until next time remember how good life is.