Cuero, Texas
Cuero, Texas
April 12, 2007.
We stayed in a small "locals" RV-Park for the one night we were in Cuero. It was clean and adequate with a 50-amp and 120V connector at the park post but no 30-amp it did have water and sewer and cable all for $15---Rivercrest RV-Park Cuero, TX 830-591-6022
Upon entering Cuero from the south on US-77A (US-183) we started looking for a roadside rest area that Texas provides along most highways. We wanted to drop the motorhome and do several wildflower loops in the Saturn. We spotted one less than 7-miles south of Cuero that was perfect for our need. Within minutes of pulling into that rest area Joyce and I had the Saturn disconnected and we were off to discover the area.
This is the motorhome sitting in the rest area just south of Cuero, Texas. It was a good place to drop the motorhome while we enjoyed ourselves on the wildflower loops.
This is the Guadalupe River taken from a bridge near Cuero.
Hunt stand in field near Cuero, Texas
Hunt stands like this one are a common sight in rural Texas.
DeWitt County Court House Cuero, Texas
Texas has many old historical buildings constructed of limestone. I would like to know the history on this beautiful building. Once again Sharry, my friend from Vanderpool, identified this picture as the DeWitt County Court House. Not only did she identify the building she provided a link:
http://www.texasescapes.com/TRIPS/GreatAmericanLegendTour/DeWittCountyTx/DeWittCountyCourthouse.htm
According to the above article this 1897 Romanesque Revival DeWitt County Courthouse in Cuero is built of brown sandstone and pink granite quarried from near Marble Falls. Again, my thanks go to Sharry for coming to the rescue and answering the question.

Lindenau, Texas a German farming community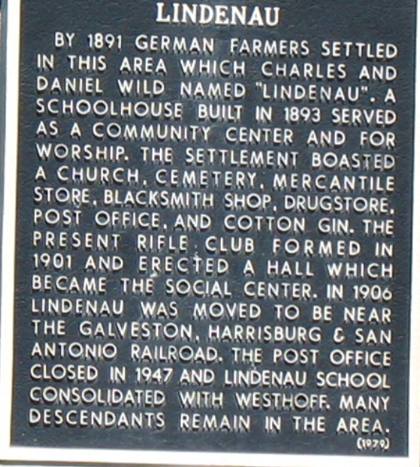 This historical marker provides information on the building pictured below. While it mentions hunt club it serves mostly as a community meeting place and dance hall.
Lindenau, Texas dance hall
Historic building in the old town of Lindenau, Texas.
We are headed to Fredericksburg, Texas tomorrow. Tomorrow happens to be Friday and "you know who" wants to be there for the weekend action that starts Friday afternoon. Actually, we are staying in Frederickisburg but the "action and excitement" will be at Luckenbach, which will never be the same. VBG
Another Wildflower drive out of Cuero, Texas (part 2)
Another Wildflower drive out of Cuero, Texas (part 1)
Wildflower Drive out of Cuero, Texas (part 3)
Mike & Joyce Hendrix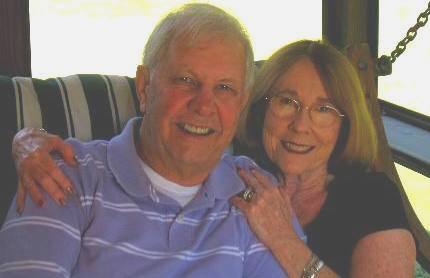 Mike & Joyce Hendrix who we are
We hope you liked this page. If you do you might be interested in some of our other Travel Adventures:
Mike & Joyce Hendrix's home page
Travel Adventures by Year ** Travel Adventures by State ** Plants ** Marine-Boats ** Geology ** Exciting Drives ** Cute Signs ** RV Subjects ** Miscellaneous Subjects
We would love to hear from you......just put "info" in the place of "FAKE" in this address: FAKE@travellogs.us
Until next time remember how good life is.