May 5, 2007
We are staying in the Blue Spruce RV Park $13.50 for 50-amps, water & Cable TV with central dump. Blue Spruce is located on the south west corner of the I-40 exit 81 intersection.
In travellog 28aa we drove south on NM-53 to view the Ice Cave, Bandera Crater and the western side of El Malpais National Monument. As you will recall it was all about volcano activity and what they left behind. Today we are traveling south on NM-117 along the eastern edge of El Malpais National Monument. The view from here consists of rugged sandstone cliffs that border the "Badlands" of El Malpais. Along this route we are riding along the edge of a rift zone with the sandstone cliffs on our east side and a huge lava flow on the valley floor.
Hoodoos beginning to form on this sandstone outcropping in New Mexico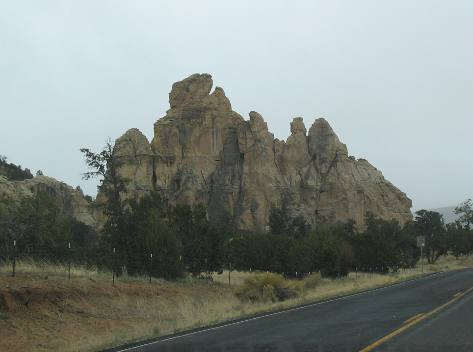 This bed of sandstone is weathering into what is called hoodoos. Hoodoos are eroded pieces of exposed rock that take on shapes.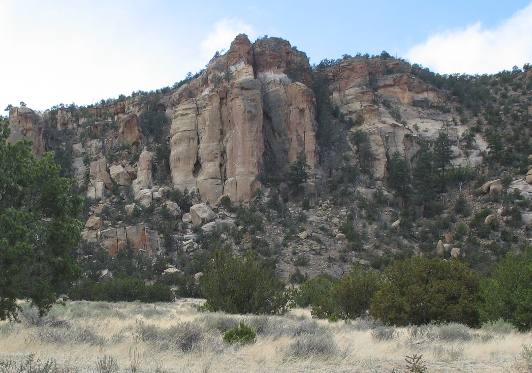 Here you can see the beginnings of hoodoos at the top and a talus slope of rubble at the bottom. Desert varnish is the dark stains on the side of the sandstone cliff wall.
Hoodoos are beginning to form on this deteriorating sandstone cliff in New Mexico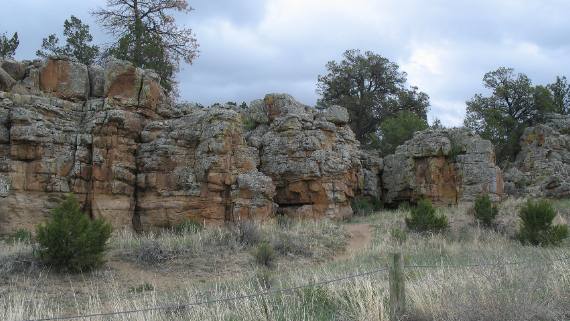 This relatively low sandstone wall is showing multiple levels of sediments plus weathering is taking its toll. This section of sandstone looks like it might have formed when this area was a shallow sea. I say that because of the small size of the sedimentary levels at least as compared to the very large areas of sediment that can be seen in other strata. Hoodoos are beginning to form on this weathered section of sandstone.
I took this picture through the window out my side of the Saturn. Snow is visible on the window. This looks like someone has tenaciously held on to this property. The windmill tower is standing but no windmill. A metal tank indicates someone was here in the recent past. You can see some hoodoos beginning to take shape along the canyon wall.
Even in this hostile region with little rain Native Americans eked out an existence. Zuni Indians found ways to conserve rainwater whenever it came, just as their ancestors had. They built mud walls to direct runoff and planted corn in the silt behind check dams that helped conserve soil. Down by the Zuni River, they laid out gardens in small squares and rectangles, surrounding them with low mud walls to capture and hold water. These "waffle gardens" grew specialty crops that required extra moisture.
Volcanic eruptions and flows, which created hot water underground, were extensive in New Mexico. As this hot water rose to the surface, it deposited what later became much of the state's mineral wealth-copper, silver, gold and molybdenum. Hundreds of cubic miles of ash erupted from these volcanoes, and a large part of New Mexico was covered by ash flows and ash falls. One can still see the McCarthy's lava flow today, covering 119 square miles, just east of Grants. To see this lava flow you do not even need to stop if you are traveling on I-40 through Grants, New Mexico. I-40 cuts through and over around 8-miles of this lava flow. The lava field is easily seen from the interstate.
Mt. Taylor, northeast of Grants, is dated at 3.5 million years, and was one of the most active volcanoes in the Grants region. Keep Mt. Taylor in mind because it is one of the major landmarks in this area and I will talk more about it in a later travelogue.