Mesa Falls and Henrys Fork of the Snake River
Mesa Falls and Henrys Fork of the Snake River
Aug 2, 2007.
We are staying in Grizzly RV-Park in West Yellowstone, Montana just out the west gate of Yellowstone National Park. We stayed in a different site every night because we did not have reservations and at this time of year they are FULL. The only way we got to stay there for 4-nights was to move into cancellation sites. The rates range from around $37 to $47 depending on a variety of things but generally back in sites were cheaper than pull-thru sites. Then they charge $4 for wifi. I suppose the pull-thru sites are a bit larger so the BIG rigs would probably be forced into one of them. Grizzly is a nice park, the nicest campground in the area. Bottom line is if you are planning to visit WEST YELLOWSTONE during July thru Aug-15 you need a reservation as every campground in the area is FULL. After August 15 you can have your choice of campgrounds with no reservations.
Upper Mesa Falls
Upper Mesa Falls cascades 114 feet over compressed volcanic ash that dates back 1.1 million years. More recent volcanic eruptions moved the river to its present location where, for the past half-million years the river has carved the canyon.
Upper Mesa Falls, the falls you are looking at here, is the largest undisturbed waterfall in the entire Columbia River system. If you aren't impressed you should be. VBG
The lower canyon walls on the far side is tuff (volcanic ash fused together by heat). If this picture reached to the top you could see that this tuff was covered by lava flow (basalt). Basalt is the harder of the two.
Upper Mesa Falls on Henrys Fork of the Snake River
Upper Mesa Falls is on Henrys Fork of the Snake River. It is 114 feet high and 200 feet wide. The volume of water flowing over the falls varies between 600 and 1,500 cubic feet per-second. This equates to 387 million to 967 million-gallons per-day.
Upper Mesa Falls is on Henrys Fork of the Snake River
Henry's Fork of the Snake River was named for Andrew Henry, who led a trapping expedition through the area in 1810 (note that date --- it is only 4-years after Lewis & Clark completed their journey across the continent in 1806). The primary source of the Henrys Fork is Big Springs, one of the largest freshwater springs in North America. The springs and upper river remain ice-free year round.
Andrew Henry played a significant role in opening the West. Born and raised in Pennsylvania, Henry moved to Missouri in 1799. In 1808, a group of influential friends persuaded Henry to invest his money, talents and time in the St. Louis Missouri Fur Company.
From 1809 to 1811, Henry, with his company, trapped beaver in Wyoming and Idaho. A natural leader, Henry led a group of trappers into the Snake River Valley in the spring of 1810, camping along the Henrys Fork and wintering near present-day Anthony, Idaho.
In 1811, Henry returned to St. Louis, sharing knowledge gained through his explorations with those eager to experience the untamed west.
Basalt walls of the canyon carved by Henrys Fork of the Snake River
This is the volcanic rock wall of the canyon carved by the Henrys Fork of the Snake River. It is basalt and is hardened lava flow. The lava flow visible on this side of the river looks to me to be 60 to 80 feet thick.
Henrys Fork of the Snake River below Upper Mesa Falls
This is the river flowing below Upper Mesa Falls on its way to Lower Mesa Falls a mile or less down river.
Two separate volcanic events combined to create Upper Mesa Falls. A volcanic eruption, 1.3 million years ago, covered the area with a thick layer of volcanic ash. Over time the ash compressed into tuff, forming the rock seen across the canyon.
Over hundreds of thousands of years, the river eroded a wide canyon through the tuff. Eventually, basalt lava flows filled the canyon and today provide the resistant rock layer over which the river flows. As the falling water erodes the softer tuff below the basalt, large portions of basalt tumble into the river and Upper Mesa Falls slowly recedes upstream.
We visited Mesa Falls Park about 10-days later, with our Son and Grandson. Here they are clowning around with one of the stuffed bears on display at the information center.
Lower Mesa Falls
Lower Mesa Falls is visible from Grandview Overlook located several miles south of Upper Mesa Falls on SR 47. The Grandview Overlook was built by the Civilian Conservation Corps during the 1930's. From this overlook you can see the Henrys Fork of the Snake River squeeze between basalt columns and plunges 65 feet creating Lower Mesa Falls.
I am sorry about the quality of this picture. A severe thunder storm accompanied by high winds, hail, rain and lightening stopped us from getting anything better. When this picture was taken we were in gusty winds with rain and small hail. We took this picture and ran for the Saturn.
In the next few days we saw the damage caused by this line of thunder storms. Downed trees knocked out power to Fishing Bridge Campground in Yellowstone National Park for over 5-hours. Downed trees were visible throughout Yellowstone National Park for days. Crews were busy removing the downed trees from highways and parking lots all over the park.
If you are looking for Mesa Falls (Upper and Lower) they will be difficult to locate on a map. Locate the small towns of Anthony and Island Park, Idaho. Mesa Falls (both of them) are located between Anthony and Island Park on SR 47. Upper Mesa Falls is part of the National Park system--- it may be operated by the Forest Service.
Until next time remember how good life is.
Mike & Joyce Hendrix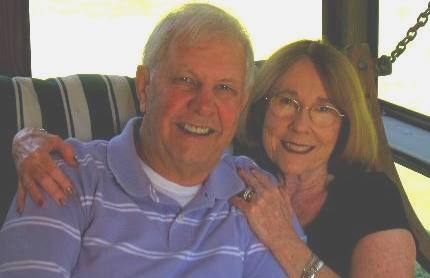 Mike & Joyce Hendrix who we are
We hope you liked this page. If you do you might be interested in some of our other Travel Adventures:
Mike & Joyce Hendrix's home page
Travel Adventures by Year ** Travel Adventures by State ** Plants ** Marine-Boats ** Geology ** Exciting Drives ** Cute Signs ** RV Subjects ** Miscellaneous Subjects
We would love to hear from you......just put "info" in the place of "FAKE" in this address: FAKE@travellogs.us
Until next time remember how good life is.