Cooper's BBQ in Junction, Texas
Places Visited:
Thursday, June 16: Lady Bird Johnson City Park Fredericksburg, Texas. $20 -- 50-amp FHU including, cable TV; paved interior roads & sites: N30° 14.355' W98° 54.573' --- 830-997-4202
We were traveling from Balmorhea, Texas to Fredericksburg, Texas along I-10 today. Anytime we pass a Cooper's B-B-Q we have to stop and enjoy and that is what we did in Junction, Texas.
Cooper's B-B-Q in Junction, Texas
We stopped for lunch in Junction at the world famous "Cooper's Bar-B-Q" located in the northwest corner of the intersection at exit-456. It is the perfect place to stop with an RV since it is adjacent to a truck stop with plenty of parking in a paved lot.
Every wall in the restaurant is lined with deer heads. A big moose head is front and center.
Cooper's B-B-Q in Junction, Texas
The pic to the right shows the big "barrel" used to burn the oak wood down to charcoal that is removed and placed in the three cookers under the shed where the meat is actually cooked. One can only imagine how hot it must be when preparing this Bar-B-Q in the summer when Texas really gets hot.
We both had BBQ brisket sandwiches. It was all I could do to eat mine. Joyce has half of hers in the refrigerator. Truckers carry Cooper's BBQ out by the pound and they all seem to know about Cooper's.
Wind Generator Tower section in Junction, Texas
This picture is of a huge section of a wind generator tower in the truck stop next to Cooper's B-B-Q in Junction, Texas. Three sections of this tower and the three blades also stopped for the night in the truck stop while we were eating at Cooper's. Cooper's BBQ is the building you see under the gas pump roof. If this picture of the wind generator tower being transported interest you I took a series of pics of the trucks hauling and maneuvering these giant loads. Click here Transporting Wing Generator Towers.
Until next time remember how good life is.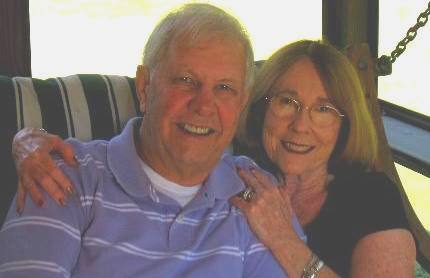 Mike & Joyce Hendrix who we are
We hope you liked this page. If you do you might be interested in some of our other Travel Adventures:
Mike & Joyce Hendrix's home page
Travel Adventures by Year ** Travel Adventures by State ** Plants ** Marine-Boats ** Geology ** Exciting Drives ** Cute Signs ** RV Subjects ** Miscellaneous Subjects
We would love to hear from you......just put "info" in the place of "FAKE" in this address: FAKE@travellogs.us
Until next time remember how good life is.