Places Visited:
Thursday, April 7 Sonora Best Western RV-Park Sonora, Texas $18-30-amp FHU dirt/gravel interior streets and pads N30° 34.564' W100° 38.957' with high speed wireless available in the lobby. This place isn't a destination campground but in this part of Texas it isn't a bad place to stop for the night.
It was time to leave Kerrville. We could stay here all summer but we would never get to California and that is our destination. Our son is constantly kidding us about not making it out of Texas, at the end of every phone conversation he has this routine he goes into about us still being in Texas then ends it with a wicked giggle. Hopefully, we will only hear that wicked giggle for a few more days. We headed for Sonora about 110-miles west of Kerrville on I-10.
View along I-10 between Kerrville & Junction, typical Texas Hill Country
The drive west on I-10 consists of wide open spaces. Undulating limestone hills formed over eons by erosion. We are relentlessly climbing. Each successive hill is at a greater elevation. This pic is taken from a service road paralleling I-10 as we head west. We thought we could see more wildlife and other things from this stretch of service road. This scene is typical of the Hill Country on I-10 between Kerrville and Junction.
I-10 road cut between Kerrville & Junction, typical Texas Hill Country
Just as common are roadcuts such as this one.
Road cut as we drop down to the South Llano River at Junction, typical Texas Hill Country
This pic is of the descent into Junction from the east. The road drops dramatically down to the bridge crossing the South Llano River into Junction. This is a magnificent view of Junction and the valley.
We stopped in Junction for lunch because we like the city. It was easy to park the motorhome at the large city park and take the Saturn to Sunshine Café & Bakery one of Joyce's favorite places. Joyce so wanted a piping hot cinnamon roll to compliment her lunch. They had sold out of the cinnamon rolls. Joyce had spent the morning drooling over the thought of those piping hot sweet cinnamon rolls. Joyce retaliated by not getting anything from the bakery ----------- "If I can't have a cinnamon roll I am not going to get anything". I guess she showed them. VBG! We enjoyed lunch anyway.
While we are on the subject of food let me tell you that there is a great BBQ place in Junction called Cooper's BBQ. We normally eat lunch at Cooper's BBQ, but Joyce was craving that cinnamon roll. Now you know why we didn't do lunch at Cooper's.
Deer horn tree in front of the Kimble Processing facility in downtown Junction, Texas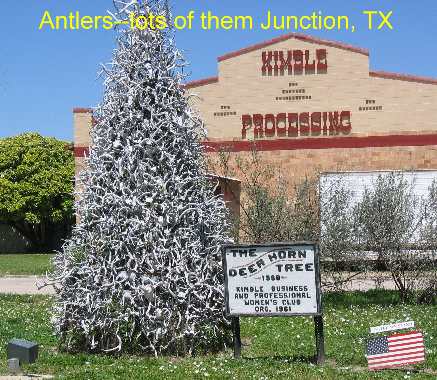 After lunch I dropped Joyce at an upscale knickknack shop she likes to visit when in Junction. The lady watching the store today had lived in Pensacola for 25-years and only lived a few blocks from our house. She knew our Daughter in Law and her family from Church. We had many friends in common. It is such a small world. While Joyce was in that doodad shop I ambled across the street and took a picture of Junction's famous "Antler" Christmas tree. To say Junction is one of this countries premier white tailed deer hunting areas is an understatement. The critters are as thick as pigeons in New York City.
Free RV-Camping & parking along the South Llano River at City Park in Junction, Texas
The City Park on the banks of the Llano River in downtown Junction provides free RV-Parking for those wishing to boondock/dry camp. It is a beautiful setting beside the river under huge pecan trees. There is room for 15 to 20 RV's and many take advantage of the park. There were about 6-RV's enjoying the park while we were there.
Grocery store parking lot in Junction, Texas with "feeders" on display
Junction is a town with small town charm. This is a "hunting" town specifically deer and turkey plus a plethora of exotics. In order to grow the magnificent horns and antlers that hunters so desperately seem to demand requires the animals to be supplied with supplements in their diets. Feeders supply this demand. Consequently, feeders and hunting stands are as much of the fabric of life here as a pickup truck. Everyone seems to sell feeders and hunting stands. Joyce snapped this pic in a grocery store parking lot. Ya gotta love it.
For those not familiar with Junction, Texas there is a wonderful State park just south of town called South Llano River State Park. It is full of deer and turkey with a great campground. There is free "dry" camping along the river in downtown Junction at City Park. There is also a commercial FHU campground in town on the South Llano River called Morgan Shady RV-Park. We like all of them.
Junction, Texas is where the legendary football Coach, Paul Bear Bryant, got his start coaching high school football.
Until next time remember how good life is.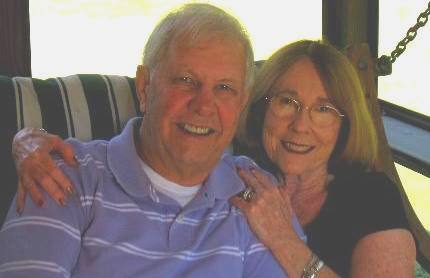 Mike & Joyce Hendrix who we are
We hope you liked this page. If you do you might be interested in some of our other Travel Adventures:
Mike & Joyce Hendrix's home page
Travel Adventures by Year ** Travel Adventures by State ** Plants ** Marine-Boats ** Geology ** Exciting Drives ** Cute Signs ** RV Subjects ** Miscellaneous Subjects
We would love to hear from you......just put "info" in the place of "FAKE" in this address: FAKE@travellogs.us
Until next time remember how good life is.