Places Visited:
Thursday, December 15 through Wednesday December 21: Lake Manatee State Recreation area 15-miles east of Bradenton on Florida's west coast-- $17 water & 30-amps with central dump station, paved interior roads with dirt sites N27° 28.87' W82° 20.70'
Several years ago a discussion about unique dining establishments on one of the RV discussion lists mentioned the Roaring 20's Pizza and Pipes in Ellenton, Florida. Several times over the years others have mentioned the place as something to see and experience when in the Bradenton area. I have that note on my Street Atlas program and we finally got around to trying it.
What fun. The Roaring 20's Pizza and Pipes turned out to be a real fun experience. The pizza place isn't your normal pizza restaurant. This one features a Wurlitzer Theater Pipe Organ ----- yea, a real full blown pipe organ on steroids. This mighty Wurlitzer Organ was originally installed in 1931 for $20,000 in the Paramount theater in Oakland, California. By 1932, the theater was closed. In the late 50's, the organ was sold and placed in storage. Around 1960, it was installed in Ken's Melody Inn, Los Altos, California.
It was later purchased for the Paramount Music Palace in Indianapolis, Indiana where it was greatly enlarged and rebuilt. When the Paramount Music Palace closed in 1995, it was purchased to be installed in a musical museum located in Germany. When plans for this fell through, it was purchased for use at the Roaring 20's Pizza and Pipes in Ellenton, Florida. In addition to eating a decent pizza we spent several hours listening to a master put this organ through its paces. This thing pounded drums, symbols, tambourines, blocks and bells while tooting horns, pipes upon pipes and more pipes and dinging on row upon row of tinkey tinks all designed to make a slightly different sound with a distinct tone and pitch. Part of the show included lights that blinked where each gadget (pipe, drum, bell, etc.,) was making music.
One of the fun things to do while there was locating which of the myriad gadgets were making each of the unique sounds. The hundred or so heads enjoying the recital were snapping around, up and down as different sounds emanated from every area of the room.
We will visit the Roaring 20's Pizza and Pipes again as well as recommend that others looking for a good time do the same.
Joyce in front of the Gamble Plantation Historic State Park north of Bradenton, Florida
We stopped by Gamble Plantation Historic State Park just north of Bradenton. Gamble Plantation on US-301 in Ellenton, Florida is the site of the oldest building in the area. The mansion is a fine example of antebellum Greek Revival Vernacular construction. The "Vernacular" part of that Greek Revival construction refers to the building being constructed out of available materials. The Plantation house is designated the Judah P. Benjamin Confederate Memorial because of its connection with a dramatic episode in the last days of the War Between the States. More on Judah P. Benjamin and the Plantation house later. Moreover, the plantation house is a memorial to a way of life and a system of economy that were swept away by the war.
The Second Seminole War ended in 1842, thus opening the area for settlement. Keep in mind that this is 20-years before the Civil War. To encourage settlers to move to this area the government offered 160-acres to anyone who would settle and live on the land for 6-years. Major Robert Gamble left his father's sugarcane plantation near Tallahassee, Florida to seek his fortune with the government deal on 160-acres. Supported in this venture by his father Major Gamble increased his holdings until he had a plantation of 3,450-acres with 1,500 acres under cultivation of sugarcane. Since this was wilderness slaves had to clear the land of trees, by hand, before it could be converted into sugarcane production. Needless to say that was a slow, labor intensive process.
In 1856 gamble sold the entire estate for $190,000 to two men from Louisiana and returned to Tallahassee to run his father's plantation.
The ubiquitous brown pelican can be spotted anywhere around the water
.
Great blue herons, like the on on the right, are almost as common as pelicans.
Joyce likes to wander through the shoppes catering to the denizens of this tropical paradise.
We stayed in the Sarasota area until karaoke started at Sun N Fun then stayed until that was over. Monday night karaoke was a bit off tonight as some of the regulars did not show. Since this is the Monday before Christmas performers must have been busy with other activities. Don't get me wrong the karaoke was still great tonight but there were only about 6-performers that took turns in rotation. It is better when there are 10 to 12 performers in the rotation.
Brick in Manatee Village Historical Park
While in the Manatee Village Historical Park we noticed old bricks that had been recovered from old structures in the area. We found many had been imported from Birmingham, Alabama. Some of you from that area may remember a brick manufacturer by the name of Copeland-Inglis B'Ham ALA. I guess that it was standard practice to stamp the manufacturers name on each brick. When did that practice stop?
From the Manatee Village Historical Park we headed west to the De Soto National Memorial that is part of the National Park system. This park memorializes the spot where Hernando de Soto stepped ashore to begin his ill fated search for gold. You will recall from your grade school days the ditty about Christopher Columbus sailing the ocean blue and discovering America in 1492. In the wake of Columbus, other adventurers sailed to America to see what could be made of it. As you will recall Spanish Conquistadors went into Central & South America conquering the native populations and plundering their gold. At age 19 Hernando de Soto was a commander in one of those expeditions resulting in great wealth. The "New World" at that time existed as almost a myth. Maps showed a vague outline of unknown size inhabited by subhumans. Spanish soldiers learned of small bands of Spaniards whose horses and guns had defeated armies of native warriors, opening the way to great caches of silver and gold.
After returning to Spain a rich man but grew bored with the idle life, chafing to go to La Florida at the head of his own army. De Soto invested his entire fortune in this expedition as did several others including Spanish rulers. This is the background for De Soto's expedition to America searching for gold in 1539. He could not fail. His mission was not to colonize but to plunder the riches --- the gold and silver. Thus the way his expedition went about things.
Upon arriving at this spot of land on the southern shores of Tampa Bay De Soto adopted the predatory methods of his mentors on previous campaigns. On reaching a village, he took the chief hostage to ensure he would supply food, women, and guides and porters to the next village. He appropriated whole towns as winter quarters. If a village resisted, the army terrorized the people, looting, burning houses and fields, raping, enslaving, and cutting off noses and hands. The defiant were burned alive or thrown to the "war dogs" that accompanied his army. De Soto's tactics kept him and half of his army alive for three years, but they gained him nothing but the hostility of Native Americans.
The Native American societies that De Soto encountered were mostly agrarian societies with cities but no accumulation of wealth in the form of gold and silver. These Natives were no match for horse mounted cavalry and armored infantry wielding crossbows, lances and other weapons.
While De Soto's land expedition started in Tampa he quickly turned north into present day Georgia and the Carolinas before dropping deep into Alabama then to the northwest through Mississippi and into Arkansas. De Soto was ruthless in his quest for gold and silver. Yet it was a futile mission. Driving his army relentlessly, De Soto killed and enslaved large numbers of Indians and lost half his soldiers to sickness and Indian retaliation. Three years and 4,000-miles after landing in Florida, De Soto was felled by fever and buried in the Mississippi River somewhere near present day Arkansas. De Soto's second in command spent the next 16-months floating down the Mississippi River then making their way along the coast to a Spanish settlement in Mexico.
In terms of the expeditions mission De Soto's efforts were a complete failure. He had found no riches and started no settlements. However, the real treasure brought out of the New World was the rich store of information about the American land and its native population. That is NOT the way De Soto felt about the expedition. De Soto could not return to Spain having squandered his entire fortune along with that of other investors including the King. He could have been put to death. That is why he kept pushing his army on and on. His troops had long realized that to continue searching for gold and silver in this area was sheer folly. They wanted to return to Spain. Enough was enough. At one time nearly two years into the expedition De Soto received word that Spanish supply ships would be in Mobile Bay. De Soto did not tell his men for fear they would mutiny and sail back to Spain on those ships. Instead he led his men through northern Mississippi and across the Mississippi River into present day Arkansas where he finally succumbed to a fever. Immediately upon De Soto's death his second in command took charge and held a meeting of the troops to decide on a way to make it back to Spain. They decided their best chance to return home would be to link up with one of the Spanish settlements in Mexico. From Arkansas this group started marching for Mexico but in the harsh, arid west Texas desert decided to turn back. Back at the Mississippi River they fashioned boats and floated down the Mississippi River and made their way to Mexico and finally Spain. When the remnants of De Soto's army took to boats they abandoned 500 slaves leaving them to fend for themselves in a hostile environment. It took them 16-months from the time De Soto fell to the fever for these troops to finally make it to Mexico. It is from these survivors that the world heard first hand accounts of what was to be expected in the New World.
As we stood in the De Soto National Monument listening to an excellent docent recount the details of De Soto's remarkable expedition that started at this spot it finally occurred to us the significance De Soto had on the eventual settling of Florida and indeed the rest of the "New World". Several things I did not find a way to include in the above include; When De Soto set out from this Tampa Bay location he directed 100 of his 622 troops to stay in this spot and operate as a supply depot which they did. We never learned what happened to these troops. In one place I read that De Soto's army marched with war dogs, 600 head of hogs and something like 200 horses. At times De Soto's army including conscripts & slaves numbered 1,000 or more.
Joyce with huge gumbo limbo tree in De Soto National Monument Bradenton, Florida
Other than the historical significance of the De Soto National Monument they also have one of the largest gumbo limbo trees around. Gumbo limbo trees are also known locally as "tourist" trees. It is easy to see why they carry that moniker: they stay out in the sun, turn red, and peel.
Migrant workers harvesting strawberries near Lake Manatee State Park Bradenton, Florida
About a mile west of Lake Manatee State Park is a huge strawberry operation. When we pass the fields are alive with activity. What backbreaking work that must be to spend the day stooped down picking strawberries.
Peacock roaming the parking lot at the huge flea market in Bradenton, Florida
We stopped by the big flea market in Bradenton to get some fresh vegetables and watch the peacocks that strut through the parking area. It is so strange to see peacocks wandering around the parking lot.
Until next time remember how good life is.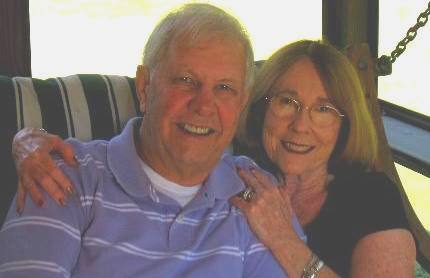 Mike & Joyce Hendrix who we are
We hope you liked this page. If you do you might be interested in some of our other Travel Adventures:
Mike & Joyce Hendrix's home page
Travel Adventures by Year ** Travel Adventures by State ** Plants ** Marine-Boats ** Geology ** Exciting Drives ** Cute Signs ** RV Subjects ** Miscellaneous Subjects
We would love to hear from you......just put "info" in the place of "FAKE" in this address: FAKE@travellogs.us
Until next time remember how good life is.