January, 6th, 7th & 8th 2009
We are camped at Lake Manatee State Park located on SR 64 about 10-miles east of Bradenton, Florida. where we are paying $18 a night for water and 30-amps. The campground has paved interior roads with sand/shell sites and a central dump station. The main attraction for us is the $18 rate. Campgrounds in the area are generally full during the winter *snow bird* season and run around $50 a night.
We have been following US 19 as we made our way south. After passing through St Petersburg we headed across Tampa Bay. That is where we start this travel log.
As we headed south across Tampa Bay Joyce took this picture of the Sunshine Skyway Bridge. The bridge is unique in that it is the world's longest bridge with a cable-stayed main span. From this direction the *cable stays* are difficult to see but the cables are attached to that mast you see rising from the hump or main span. Actually there are two masts but the second mast is invisible because it is located directly behind the mast you do see.
A large freighter struck this bridge years ago causing six automobiles and a Greyhound bus to fall 150 feet into Tampa Bay, killing 35 people.
You can read more about the bridge and the disaster caused by the freighter that took out one of the main spans at:
http://en.wikipedia.org/wiki/Sunshine_Skyway_Bridge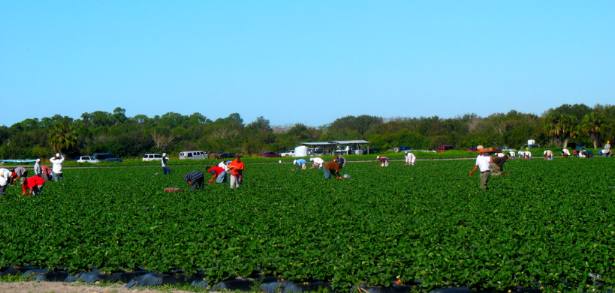 This strawberry field was located near Lake Manatee State Park east of Bradenton.
Each day when we passed this field migrant workers were actively working the field.
Rows of strawberries in field near Lake Manatee State Park.
Bougainvillea, showing off in a Bradenton, Florida yard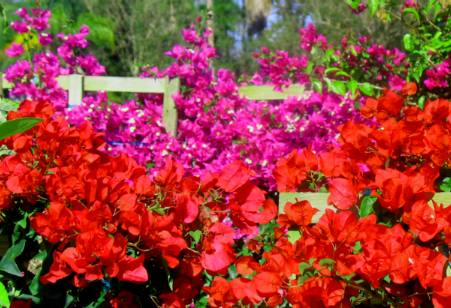 Bougainvillea is in full bloom in Bradenton, Florida.
I think this is called a caterpillar plant because the bloom looks like a caterpillar. That is what I thought but my good friend Cheryl Porter wrote to inform me that this is a chenille plant or red hot cattail. I Googled chenille plant and Cheryl is correct. Thanks Cheryl. You win the prize. VBG
I do not recall what this flower was but it was pretty. It is just one of the sights that make Bradenton so special.