Key West Brown Pelicans
The large birds are immature brown pelicans the smaller birds are gulls.
By the way, these are juvenile brown pelicans. I will show you the difference later.
Joyce took this picture behind a fish market on Stock Island which is a small "working" island near Key West.
Brown Pelican
This is a juvenile brown pelican that has not yet obtained the bright colors of the adults.
Adult brown pelican showing off winter plumage in Key West.
Huge Tarpon and brown pelicans at "cleaning table" in Key West

These large tarpon and brown pelicans are waiting patiently for the scraps thrown to them from the fish cleaning process. This picture was taken from behind the 1/2 day bottom fishing boat Tortuga IV located at Conch Harbor Marina in Key West. Conch Harbor Marina is located behind Dantes if you are interested.
Brown Pelicans gathered behind a "cleaning table" in Key West
We watched this spectacle several times while in Key West this winter. It is a regular event that takes place every time the Tortuga IV party boat comes to the dock after a 1/2 day fishing trip. They always have fish and the deck hands clean everyone's fish. The heads, backbones, entrails, skin and other parts not destined for the frying pan are flipped to the waiting birds and tarpon waiting under these pelicans. The Tortuga IV fishing boat docks behind Dantes.
We were watching this show shortly after noon one afternoon.
When the fish are cleaned and the morning customers scatter to the wind they load another group on the Tortuga IV for an afternoon trip so you can also watch this same event take place when the afternoon trip gets back to the dock around 5PM.
Until next time remember how good life is.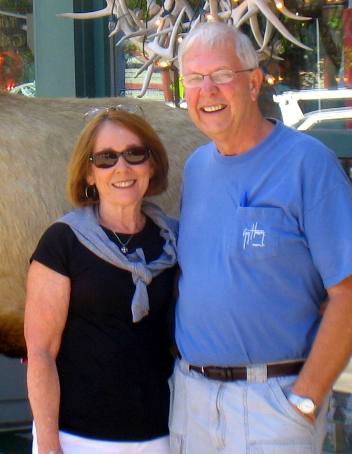 Mike & Joyce Hendrix who we are
We hope you liked this page. If you do you might be interested in some of our other Travel Adventures:
Mike & Joyce Hendrix's home page
Travel Adventures by Year ** Travel Adventures by State ** Plants ** Marine-Boats ** Geology ** Exciting Drives ** Cute Signs ** RV Subjects ** Miscellaneous Subjects
We would love to hear from you......just put "info" in the place of "FAKE" in this address: FAKE@travellogs.us
Until next time remember how good life is.