Gamble Plantation State Park Bradenton, Florida
Places Visited:
Florida: Gamble Plantation State Park near Bradenton
Thursday, December 15 through Wednesday December 21: Lake Manatee State Recreation area 15-miles east of Bradenton on Florida's west coast-- $17 water & 30-amps with central dump station, paved interior roads with dirt sites N27° 28.87' W82° 20.70'
Thursday morning found us packing up and heading south west to Lake Manatee State Recreation area located about 15-miles east of Bradenton on Florida's west coast. There is a Lake Manatee State Park and a Lake Manatee State Recreation area. Don't get them confused if you decide to camp here. I think both have campgrounds.
Joyce in front of the Gamble Plantation Historic State Park north of Bradenton, Florida
We stopped by Gamble Plantation Historic State Park just north of Bradenton. Gamble Plantation on US-301 in Ellenton, Florida is the site of the oldest building in the area. The mansion is a fine example of antebellum Greek Revival Vernacular construction. The "Vernacular" part of that Greek Revival construction refers to the building being constructed out of available materials. The Plantation house is designated the Judah P. Benjamin Confederate Memorial because of its connection with a dramatic episode in the last days of the War Between the States. More on Judah P. Benjamin and the Plantation house later. Moreover, the plantation house is a memorial to a way of life and a system of economy that were swept away by the war.
The Second Seminole War ended in 1842, thus opening the area for settlement. Keep in mind that this is 20-years before the Civil War. To encourage settlers to move to this area the government offered 160-acres to anyone who would settle and live on the land for 6-years. Major Robert Gamble left his father's sugarcane plantation near Tallahassee, Florida to seek his fortune with the government deal on 160-acres. Supported in this venture by his father Major Gamble increased his holdings until he had a plantation of 3,450-acres with 1,500 acres under cultivation of sugarcane. Since this was wilderness slaves had to clear the land of trees, by hand, before it could be converted into sugarcane production. Needless to say that was a slow, labor intensive process.
In 1856 gamble sold the entire estate for $190,000 to two men from Louisiana and returned to Tallahassee to run his father's plantation.
Gamble Plantation Historic State Park north of Bradenton, Florida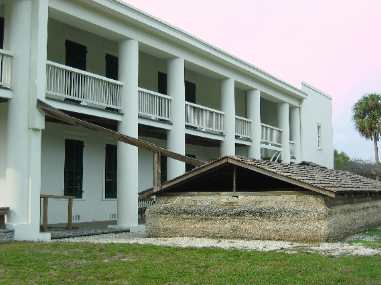 The Plantation home that Gamble constructed was as you recall a "vernacular" Greek Revival. Gamble constructed the plantation with tabby. Tabby is a mixture of shells, sand and "lime". The docent explained that "lime" was made by crushing oyster shells then firing it. The crushed & fired oyster shell was mixed with equal parts sand and shells & water then poured into molds the size of large bricks. It appears that firing the crushed oyster shells produced crude cement. It is certainly a good construction material since this building is still standing.
The tabby outer walls of the Gamble Plantation are nearly two feet thick. I think I remember the docent saying there were 18 massive columns but don't hold me to that number. Anyway, the columns were constructed of tabby as well. However, instead of square bricks the columns were made of round "bricks" about 3' in diameter and 12" thick. These round tabby bricks were placed one on top of each other to form the 2-story columns that give the plantation that Greek Revival look.
Closeup of the cistern wall at Gamble Plantation Historic State Park north of Bradenton, Florida
This is a close-up of a portion of the cistern wall. The bottom part is tabby while there is two layers of locally made bricks. The tabby cistern walls are not "finished" since they are not coated with a layer of protective lime or what we would now call stucco or cement.
Closeup of tabby on the cistern wall Gamble Plantation Historic State Park north of Bradenton, Florida
This is a real close-up of the shells in the tabby on that cistern wall.
Now it is time to return to the Judah P. Benjamin story. Judah P. Benjamin, was probably the most prominent 19th century American Jew, lawyer, plantation owner, U.S. Senator, and Confederate Cabinet member. In 1818 Benjamin's family moved from the British Island of St. Thomas to Charleston, South Carolina. At age 14, Benjamin entered Yale where he studied law; and was admitted to the bar in 1832 at the age of 21. A year later he married a French-Catholic Creole. That is what took him to Louisiana. In Louisiana Benjamin owned a sugar plantation "Bellechase" near New Orleans. As an attorney he helped form what is now the Illinois Central Railroad system. In 1852, he was elected to the U.S. Senate as a Whig. In 1854, he declined President Pierce's nomination to the U.S. Supreme Court. He was reelected to the Senate as a Democrat in 1858.
When Louisiana seceded from the Union, Benjamin resigned from the Senate and served under Jefferson Davis for the four years of the War Between the States as Attorney General, Secretary of War, and from March of 1862 as Secretary of State. When Lee surrendered Jefferson Davis and Judah Benjamin fled Richmond (Capital of the Confederacy) with a $40,000 Federal Reward on their head. The victorious Union wanted to hold the "leaders" of the Confederacy accountable. You can say Davis and Benjamin were running for their lives. With the help of Confederate supporters Benjamin made his way to Tampa and finally here to the "Gamble" Plantation house where he spent a few days before making his escape by boarding a boat from here to Bimini. From Bimini he hopped a boat to Cuba and then another to England where he became a barrister and was admitted to the bar.
Now you know --------------the rest of the story as Paul Harvey would say.
Until next time remember how good life is.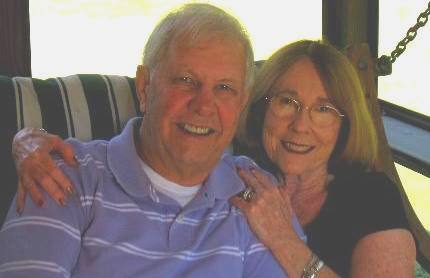 Mike & Joyce Hendrix who we are
We hope you liked this page. If you do you might be interested in some of our other Travel Adventures:
Mike & Joyce Hendrix's home page
Travel Adventures by Year ** Travel Adventures by State ** Plants ** Marine-Boats ** Geology ** Exciting Drives ** Cute Signs ** RV Subjects ** Miscellaneous Subjects
We would love to hear from you......just put "info" in the place of "FAKE" in this address: FAKE@travellogs.us
Until next time remember how good life is.