Places Visited:
Florida: Lake Manatee State Park near Bradenton, Florida
Thursday, December 15 through Wednesday December 21: Lake Manatee State Recreation area 15-miles east of Bradenton on Florida's west coast-- $17 water & 30-amps with central dump station, paved interior roads with dirt sites N27° 28.87' W82° 20.70'
Thursday morning found us packing up and heading south west to Lake Manatee State Recreation area located about 15-miles east of Bradenton on Florida's west coast. There is a Lake Manatee State Park and a Lake Manatee State Recreation area. Don't get them confused if you decide to camp here. I think both have campgrounds.
From the Lake Wales area we took State Road 60 to the small hamlet of Mulberry where we turned south on State Road 37. As we approached Mulberry we started noticing huge mounds of sand that resembled mine tailings we are used to seeing out west. Sure enough that is what they were, mine tailings or the residue from phosphate mine operations in the area. As we continued south on SR 37 we continued to see a steady line of these phosphate mines and their telltale tailings. I wonder if phosphate mines have to return their open pits to natural areas like the open pit coal mines have to. If they do we did not see any evidence of it. At one mine they were operating close enough to the highway that we could watch giant cranes in operation. The buckets on these huge earth movers were large enough to easily hold a 15-passenger van.
Unlike most of our journeys in this area we did not see any unusual wildlife today. That really is strange since we avoided congested highways and stuck to "blue-highways". Cattle ranches, phosphate mines and orange groves made up the vast majority of roadside activity until we got to the south end of SR-37 where we encountered an enormous tomato farm with staked plants stretching for miles. I suspect that tomato farm was several thousand acres. They must have been irrigating that tomato field with a drip system since we did not see any evidence of a sprinkler system. The field was flat as if it had been sculpted with a laser level and the land was extremely low, as in just above the water table.
It was so warm today that we had to wear shorts and could have easily turned on the air conditioner but the news says a cold front is headed our way that could put us back into jeans before it gets dark.
Thursday, December 15 through Wednesday December 21: Lake Manatee State Recreation area 15-miles east of Bradenton on Florida's west coast-- $17 water & 30-amps with central dump station, paved interior roads with dirt sites N27° 28.87' W82° 20.70'
Last night a little front came through that dropped the night time temperatures into the mid-50's. Day time temperatures for the next week are predicted to be in the high 60's and low 70's. National news last night had a piece on an ice storm in Atlanta that downed power lines while that same front plunged the eastern seaboard in freezing temperatures. Bottom line, I don't guess we can grouse about day time temperatures in the low 70's.
This being Friday Joyce decided we were going to enjoy karaoke at Sun N Fun RV-Resort in Sarasota. This venue is like karaoke on steroids. Performers are traditionally on the professional level. Some are retired lead singers while others are just incredibly talented. Tonight karaoke was held by the pool with a hundred or so partiers in attendance. Sun N Fun RV-Resort has some 2000 plus sites so attracting 100 or so partiers is relatively easy. The crowd grew even larger after 9PM when a large group arrived that had been at a park sponsored Christmas party. Some karaoke partiers were in shorts and short sleeves others were swimming in the pool. Those folks in the pool were not in the majority as most of us had on jackets. The evening temperature was in the mid-50's for this outdoor event. I call that chilly, especially with a breeze. Throughout the evening a full moon popped in and out as a thick band of low-level clouds streamed north. Several new performers were on hand tonight while some of our favorites from previous years have yet to arrive. Joyce got enough of the "dancing-bug" out of her system until Monday night------at least I hope she did. VBG
We stopped by a neighborhood farmer's market on Friday and picked up some plantains. For several years we have been enjoying sautéed plantains when dining in restaurants specializing in Cuban or Caribbean dishes. We have tried on many occasions to cook our own but they were just not the same. We finally got everything right and the ones we sautéed today were divine. One of the things we did this time was waiting until the fruit was 50% black and 50% yellow. Of course a little brown sugar on the sautéed pieces didn't hurt. The caramelized bite size pieces were out of this world. Friends back home can expect to sample this in the future.
Our weather continues to be in the low to mid-70's but overcast. We'll take the overcast as long as the temperatures stay decent. Today took us north up US-301 to check out Little Manatee River SP. The ride was through field after field of mega tomato fields and citrus groves. We found the campground at Little Manatee River SP to be a bit rustic in comparison to most Florida State Park campgrounds. This campground had dirt interior roads and sites but did have the normal 30-amps and water at each site. Not many of Florida's State Parks have dirt interior roads, thus why we thought this campground was a bit rustic. The up side of our visit was the availability of sites in February. We might have to visit this campground in February when things get tight in south Florida.
Several years ago a discussion about unique dining establishments on one of the RV discussion lists mentioned the Roaring 20's Pizza and Pipes in Ellenton, Florida. Several times over the years others have mentioned the place as something to see and experience when in the Bradenton area. I have that note on my Street Atlas program and we finally got around to trying it.
What fun. The Roaring 20's Pizza and Pipes turned out to be a real fun experience. The pizza place isn't your normal pizza restaurant. This one features a Wurlitzer Theater Pipe Organ ----- yea, a real full blown pipe organ on steroids. This mighty Wurlitzer Organ was originally installed in 1931 for $20,000 in the Paramount theater in Oakland, California. By 1932, the theater was closed. In the late 50's, the organ was sold and placed in storage. Around 1960, it was installed in Ken's Melody Inn, Los Altos, California.
It was later purchased for the Paramount Music Palace in Indianapolis, Indiana where it was greatly enlarged and rebuilt. When the Paramount Music Palace closed in 1995, it was purchased to be installed in a musical museum located in Germany. When plans for this fell through, it was purchased for use at the Roaring 20's Pizza and Pipes in Ellenton, Florida. In addition to eating a decent pizza we spent several hours listening to a master put this organ through its paces. This thing pounded drums, symbols, tambourines, blocks and bells while tooting horns, pipes upon pipes and more pipes and dinging on row upon row of tinkey tinks all designed to make a slightly different sound with a distinct tone and pitch. Part of the show included lights that blinked where each gadget (pipe, drum, bell, etc.,) was making music.
One of the fun things to do while there was locating which of the myriad gadgets were making each of the unique sounds. The hundred or so heads enjoying the recital were snapping around, up and down as different sounds emanated from every area of the room.
We will visit the Roaring 20's Pizza and Pipes again as well as recommend that others looking for a good time do the same.
Migrant workers harvesting strawberries near Lake Manatee State Park Bradenton, Florida
About a mile west of Lake Manatee State Park is a huge strawberry operation. When we pass the fields are alive with activity. What backbreaking work that must be to spend the day stooped down picking strawberries.
Until next time remember how good life is.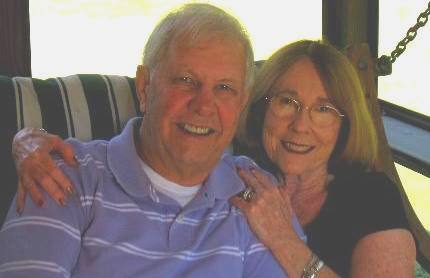 Mike & Joyce Hendrix who we are
We hope you liked this page. If you do you might be interested in some of our other Travel Adventures:
Mike & Joyce Hendrix's home page
Travel Adventures by Year ** Travel Adventures by State ** Plants ** Marine-Boats ** Geology ** Exciting Drives ** Cute Signs ** RV Subjects ** Miscellaneous Subjects
We would love to hear from you......just put "info" in the place of "FAKE" in this address: FAKE@travellogs.us
Until next time remember how good life is.