LAX, Los Angeles International Air Port
Places Visited:
California: LAX, Los Angeles International Air Port

Monday, May 23 Golden Shore RV Resort-- Long Beach, California: $45.90 with GS discount FHU-50amp. Paved interior roads gravel sites. N33° 45.919' W118° 12.210'
Upon returning to the motorhome yesterday we realized that we had left one of our cell phones at Donna's yesterday. Oh, what a headache this is going to be! Neither one of us is willing to hazard that drive back through LA to get that cell phone. We will just have Donna Fed X it to us when we get to an RV-Park where we will stay for a few days. What a bone head thing to do.
Today portends to be a down day. Not totally down but we had no plans other than to sleep late. We did need a few things from Wal-Mart and that experience was a hoot. The Long Beach Wal-Mart is like none we have ever seen. It doesn't have a parking lot. There is public parking in a garage next door. They are exactly like every other Wal-Mart in the country in that they do not have enough cashiers manning the check out booths. Company policy must mandate at least 4 in line at each check out.
I used the time to post two travelogues to the web site. It takes time to create HTML document and copy the written travelogue into it then add pictures, (pictures have to be edited, as in cut & cropped and the .jpg file added to the website) then edit the web pages that access that travelogue. It is nothing really hard but it takes time.
Tomorrow we are heading north along the coast toward Morro Bay.
Tuesday, May 24: Evergreen RV Park Oxnard, California: $35 FHU-30amp. Paved interior roads & sites. N34° 13.475' W119° 10.686'
Joyce is as nervous as a long tail cat in a room full of rocking chairs. To say she is not excited about our trip across LA in the motorhome would be an understatement. However, like a good trooper she assumed her duties as navigator and we headed out around 9:15 this morning. We were hoping that the morning rush would be over by that time and for all practical purposes it was. The first two miles of our journey was on I-710 the interstate spur that services the container ship docks. For those two miles we just mingled with the container trucks as they headed east then we exited onto CA-1 and headed north. That small stretch of I-710 was the only interstate we traveled on as we made our way through LA.
Our first order of business once on CA-1 was to get diesel fuel at a Mini-truck stop that we located the other day. Not only could we get in and out of the place they had diesel fuel for $2.27 instead of $2.89 like most of the places we see. We got in and out of that place like clock work. By now Joyce was calming down. Things were no where near as bad as she had anticipated. We were on the Pacific Coast Highway heading north through LA on surface streets. Our route would take us through some communities with familiar names like Redondo Beach, Hermosa Beach, Manhattan Beach, LA International Airport, Playa del Rey, Marina Del Rey, Venice, Santa Monica and Malibu all before we actually exited greater Los Angeles. After Joyce settled down she started taking pictures that will be on the web site and actually do a good job of "telling the story" of traversing LA on the Pacific Coast Highway.
Marina Del Rey, California
This is Marina Del Rey. The big marinas are to the left behind those big buildings.
Aircraft landing at LAX in California
By the time we got to LAX, Los Angeles International Air Port Joyce had settled down and shot these two pics. Note the aircraft taxiing across CA-1 in the pic to the right.
Aircraft at LAX on top of the highway we are about to drive under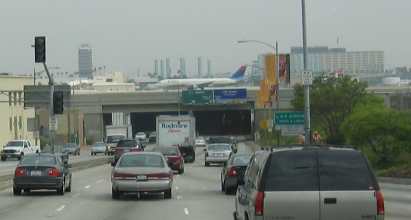 It took a little time but the traffic really wasn't bad. One thing different about LA is the total lack of RV-traffic on surface streets and interstates. We don't know where they are but they aren't in LA. Joyce actually spotted two motorhomes on the Pacific Coast Highway during the 40-miles or so we were in the greater Los Angeles metro area.
View of home on cliff above CA-1 in Malibu

These pics are taken by Joyce from the motorhome as we drove north on CA-1 in Malibu.
Until next time remember how good life is.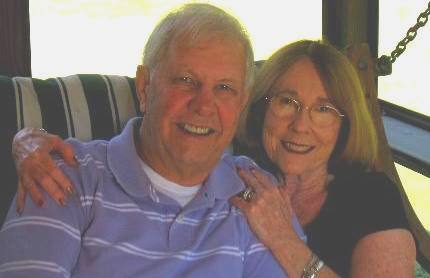 Mike & Joyce Hendrix who we are
We hope you liked this page. If you do you might be interested in some of our other Travel Adventures:
Mike & Joyce Hendrix's home page
Travel Adventures by Year ** Travel Adventures by State ** Plants ** Marine-Boats ** Geology ** Exciting Drives ** Cute Signs ** RV Subjects ** Miscellaneous Subjects
We would love to hear from you......just put "info" in the place of "FAKE" in this address: FAKE@travellogs.us
Until next time remember how good life is.