Malibu, California
Places Visited:
California: Malibu

Tomorrow we are heading north along the coast toward Morro Bay.
Tuesday, May 24: Evergreen RV Park Oxnard, California: $35 FHU-30amp. Paved interior roads & sites. N34° 13.475' W119° 10.686'
Joyce is as nervous as a long tail cat in a room full of rocking chairs. To say she is not excited about our trip across LA in the motorhome would be an understatement. However, like a good trooper she assumed her duties as navigator and we headed out around 9:15 this morning. We were hoping that the morning rush would be over by that time and for all practical purposes it was. The first two miles of our journey was on I-710 the interstate spur that services the container ship docks. For those two miles we just mingled with the container trucks as they headed east then we exited onto CA-1 and headed north. That small stretch of I-710 was the only interstate we traveled on as we made our way through LA.
Our first order of business once on CA-1 was to get diesel fuel at a Mini-truck stop that we located the other day. Not only could we get in and out of the place they had diesel fuel for $2.27 instead of $2.89 like most of the places we see. We got in and out of that place like clock work. By now Joyce was calming down. Things were no where near as bad as she had anticipated. We were on the Pacific Coast Highway heading north through LA on surface streets. Our route would take us through some communities with familiar names like Redondo Beach, Hermosa Beach, Manhattan Beach, LA International Airport, Playa del Rey, Marina Del Rey, Venice, Santa Monica and Malibu all before we actually exited greater Los Angeles. After Joyce settled down she started taking pictures that will be on the web site and actually do a good job of "telling the story" of traversing LA on the Pacific Coast Highway.
Aircraft at LAX on top of the highway we are about to drive under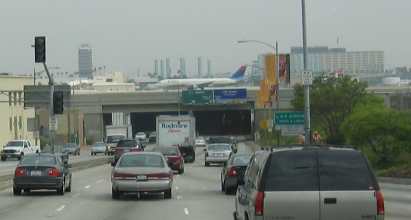 It took a little time but the traffic really wasn't bad. One thing different about LA is the total lack of RV-traffic on surface streets and interstates. We don't know where they are but they aren't in LA. Joyce actually spotted two motorhomes on the Pacific Coast Highway during the 40-miles or so we were in the greater Los Angeles metro area.
View of home on cliff above CA-1 in Malibu

These pics are taken by Joyce from the motorhome as we drove north on CA-1 in Malibu.
View of home on cliff above CA-1 in Malibu
View of home on cliff above CA-1 in Malibu
Still in Malibu.
View from CA-1 in Malibu
It took us about an hour and a half to go 40-miles. Neither of us is complaining. Once we settled in (after getting the diesel fuel) we made a sightseeing excursion out of it.
North of Malibu CA-1 runs along the coast unobstructed for the most part by buildings. Parking was available for surfing beaches and we passed the beach near El Matador where major pieces of Bay Watch were filmed. The wide expanse of sandy beach was virtually empty this morning. Of course this is Tuesday morning not a weekend.
The coastline changes dramatically as we head north. Long Beach, 5 and Santa Monica are all in the relatively flat alluvial plain created eons ago by the Los Angeles River. That all abruptly changes between Santa Monica and Malibu. Mountains appear along the coast in Malibu. Entertainment industry personalities have homes perched on the sides of these mountains with commanding views of the ocean. While Malibu is but a few short miles north of the gridlock of Santa Monica and Hollywood things change dramatically. Across CA-1 from the Pacific we see feed stores and equestrian facilities.
North of Malibu the property must become government because there are no buildings. The drive is easy and pleasant as CA-1 snakes along the rugged coast with beautiful mountains rising to the east and rocky shoreline to the west accented by the pounding Pacific surf. Small sand beaches dot the area. Surfers congregate in areas known to produce good waves. We really enjoy this part of the drive.
It is not long before we passed through the small Navy Community of Port Hueneme, (pronounced Waneme). That name brought back memories from my working days at CNET (Chief Naval Education and Training). As a headquarters command we were responsible for funding infrastructure needs for Training facilities at Port Hueneme. The comptroller there was a "pistol-ball" to work with if you get my drift, and I think you do.
Until next time remember how good life is.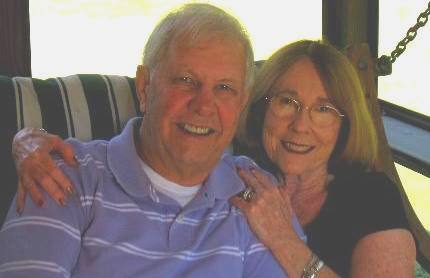 Mike & Joyce Hendrix who we are
We hope you liked this page. If you do you might be interested in some of our other Travel Adventures:
Mike & Joyce Hendrix's home page
Travel Adventures by Year ** Travel Adventures by State ** Plants ** Marine-Boats ** Geology ** Exciting Drives ** Cute Signs ** RV Subjects ** Miscellaneous Subjects
We would love to hear from you......just put "info" in the place of "FAKE" in this address: FAKE@travellogs.us
Until next time remember how good life is.