Places Visited:
California: Long Beach
Thursday, May 19, Golden Shore RV Resort-- Long Beach, California: $45.90 with GS discount FHU-50amp. Paved interior roads gravel sites. N33° 45.919' W118° 12.210'
Our plan was to take a harbor cruise. The harbor cruise dock in Shoreline Village was just a short distance from our RV-Park in Long Beach. Thankfully, it was very close because the harbor cruise boats were not running until June. Instead of the harbor cruise we toured the marina facility in our Saturn.
Shoreline Village Marina in Long Beach, California
Shoreline Village is a gigantic marina, housing a thousand boats or so all 30' to 80' vessels too large to fit comfortably on trailers. Every slip is full. The only people on the boats are the mechanics and those responsible for wiping up the sea gull poop before it dries. It seems such a shame to see all this "investment" just sitting idle. Some might say Shoreline Village is a charming shopping village featuring colorful boardwalk ships & restaurants amid scenic harbor views.
Shoreline Village Marina in Long Beach, California
Why have these toys if you aren't using them? Some things my mind just does not comprehend. The road and parking area servicing this marina must be a mile or so. It takes a lot of parking to service that many boats. The size of these marinas makes my head spin.
Princess Joyce posing with the Queen Mary in Long Beach, California
Joyce Hendrix posing with the Queen Mary in Long Beach, California.
Container ship being unloaded at Long Beach as seen from Shoreline Village
This marina was situated across a body of water from the Queen Mary and one of the container ship docks where we were yesterday. We finally exited Shoreline Village and headed south on Ocean Boulevard.
Within two miles we had stopped along the beach at Bluff Park and the 3 or so miles of public beach. This strip of wide beach comes complete with concrete boardwalk stretching the entire length. Bluff Park runs along the "bluff" above the beach and consists of a 300' greenway between Ocean Boulevard and the edge of the 50' cliff dropping to the flat sandy beach area below. Sidewalks ran along the cliff and along Ocean Boulevard in addition to the myriad sidewalks connecting the two. The cliff itself was covered with blooming ice plant. Ice plant seems to be California's answer to the south's kudzu. It grows everywhere maintenance free corrosion control system is needed. That is not to say kudzu is maintenance free, but you certainly don't need to water it.
Boardwalk at Long Beach, California
We were impressed with the wide "boardwalk" with markings that resembled a highway system. Bikes had 2-lanes to ride in divided by a dotted line just like automobile traffic. Walkers had one dedicated lane. Roller blades and skates were using the bike lanes. I would expect to see one of LA's finest standing in the middle with a whistle in his mouth frantically waving both arms. It doesn't take much to amuse us and watching the activity on this boardwalk is just one example.

Until next time remember how good life is.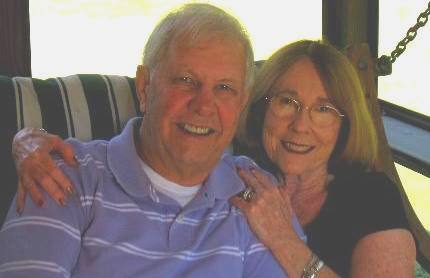 Mike & Joyce Hendrix who we are
We hope you liked this page. If you do you might be interested in some of our other Travel Adventures:
Mike & Joyce Hendrix's home page
Travel Adventures by Year ** Travel Adventures by State ** Plants ** Marine-Boats ** Geology ** Exciting Drives ** Cute Signs ** RV Subjects ** Miscellaneous Subjects
We would love to hear from you......just put "info" in the place of "FAKE" in this address: FAKE@travellogs.us
Until next time remember how good life is.