Venice Beach, California
Places Visited:
California: Venice Beach, Redondo Beach, Marina Del Ray
Thursday, May 19, Golden Shore RV Resort-- Long Beach, California: $45.90 with GS discount FHU-50amp. Paved interior roads gravel sites. N33° 45.919' W118° 12.210'
We headed up the Pacific Coast Highway to Redondo Beach where we located Redondo State Beach. Redondo State Beach like Bluff Park yesterday is several miles long with a concrete boardwalk complete with bike lanes and walking lane. Redondo State Beach does not have a park at the top of the bluff but they do have a bluff running the entire length of the beach.
Then it was on to International Boardwalk and Pier Sea Food Restaurant near the harbor in Redondo Beach. With that completed we headed a few blocks up the coast to King Harbor where we again stopped to watch the lack of activity in the marina. Millions upon millions of dollars invested in those shiny white objects tied to the docks. It must be against the law to use a recreational boat during the week.
Back on the Pacific Coast Highway our next stop was Marina Del Ray the largest small craft harbor in the world. The eponymous town of Marina Del Ray is located near the Marina. Huge condominiums and yacht clubs are strategically placed around the Marina in such a way that the maximum number of people and boats can enjoy the boats and water although I think they enjoy them from their balconies.
Venice Beach, California
With one last push north we finally made it to Venice Beach. Venice Beach has to be the quintessential California Beach. It has virtually everything one considers necessary when beaching it for the day. Traffic problems, parking problems, oodles of people, sand, water, a boardwalk, T-shirt shops, and street musicians, beggars, in a word everything. We first walked to the end of the Venice Beach Pier noting that is was a concrete structure unlike the other piers with wooden decking.
Muscle Beach in Venice, California
Then it was time to walk from one end of Venice Beach to the other on the boardwalk taking in the extreme diversity of the individuals parading up and down that runway. On the way up the boardwalk we encountered the section known as muscle beach where bodybuilders hang out showing off their physique. It was late in the afternoon and the selection of wanna-bees was lacking. We will have to come back and see what this place has to offer on the weekend.
The strip has a vast array of imaginative beggars. One had a 2-gallon galvanized bucket with a cardboard note taped to it asking for "weed" contributions. It is funny enough that he actually is making money with his gig. Another scroungy looking young person is holding a sign that says to "Tell him off, $1.00" while another requests that you put your quarters in his bucket to "lighten your load". I was particularly amused by one homeless individual that was strumming a guitar and singing rather poorly. He sign promised that he would stop singing for a donation while yet another was frantically working the crowd for 35-cents so he could make a phone call. It wasn't long before his desperate plea netted him 35-cents then it was on to another crowd to work.
Grassy area along the Boardwalk at Venice Beach, California
In addition to sandy beaches and the infamous boardwalk there is a large expanse of grass making the area into a nice park.
We returned to Long Beach via I-405 around 7PM. The traffic was horrendous! I-405 was stop and go for much of our way back to Long Beach. How can people fight this traffic day in and day out?
Until next time remember how good life is.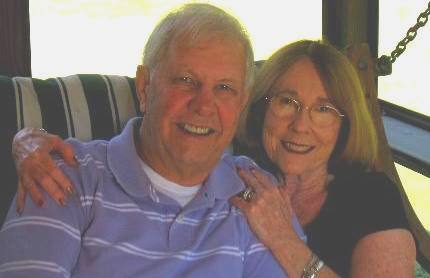 Mike & Joyce Hendrix who we are
We hope you liked this page. If you do you might be interested in some of our other Travel Adventures:
Mike & Joyce Hendrix's home page
Travel Adventures by Year ** Travel Adventures by State ** Plants ** Marine-Boats ** Geology ** Exciting Drives ** Cute Signs ** RV Subjects ** Miscellaneous Subjects
We would love to hear from you......just put "info" in the place of "FAKE" in this address: FAKE@travellogs.us
Until next time remember how good life is.