Places Visited:
Mexico: Tijuana


Saturday, May 14, Paradise RV-Resort Oceanside, California: $39.50. FHU with 50-amps, Paved interior roads and sites plus cable and free WIFI. N33° 10.707' W117° 21.993'.
This morning we picked up Ken in our Saturn and headed to Tijuana (Katharine had other obligations). The traffic was horrible (in my opinion) on I-5 heading into San Diego. For most of the 35-miles to San Diego we were only able to run about 35-mph.
The Coronado Bridge over San Diego Bay connecting San Diego with Coronado, California
South of "the 805" (that is how Californians identify I-805) things mysteriously cleared up and we were able to maintain normal interstate speeds for the remainder of our ride to the Mexican border.
Joyce snapped this pic of the bridge from San Diego to Coronado out the window as we zipped past on I-5.
We stayed on I-5 until the LAST exit in the US. We took that exit and pulled into the Border parking lot paying $7.00 to park. We took the bus that enters the parking lot and for $2.50 each took us to downtown Tijuana ----- about a 5-mile walk otherwise.
Lunch in Tijuana, Mexico at Cafe La Especial
Ken found a neat restaurant for lunch. I had their carne asada a dish I would not have even thought twice about if it had not been brought to my attention by Helen Montgomery. Thanks go to Helen for introducing me to carne asada, even though it was the most expensive dish on the menu. The carne asada came with a bean soup. When the waiter delivered the bean soup he brought along a side dish heaping with shredded white cheese, finely chopped onions, finely chopped tomatoes and cilantro then made hand motions that I should put these items in the bean soup. After discussing this with both Ken and Joyce they agreed that the waiter had indeed indicated that I should add these items to the soup so that is what I did except for the cilantro. I only put a little of it the soup. I don't know about you but a little bit of cilantro goes a LONG way. I added about a teaspoon of the cilantro and left 4 or 5 tablespoons on the dish. The soup was great with all these ingredients. To bad, I will probably never see bean soup on a Mexican menu again.
Ken Keranen showing how to eat hot peppers
This is Ken showing us how "folks out here" eat hot peppers. As you can see he is eyeballing that hot baby before taking his second bite. In all fairness to Ken he ate several of them, much to our amusement. I got the biggest kick out of the sweat that popped out on his brow and upper lip area.
Shopping in Tijuana, Mexico
We went in a number of pharmacies looking for a specific medication that my Brother in Law wanted me to look for in Mexico. We were able to find his medication and got it for a good price.
Shopping in Tijuana, Mexico
Joyce purchased a leather backpack. I think she likes bargaining with the vendors.
Tijuana, Mexico donkey painted with zebra stripes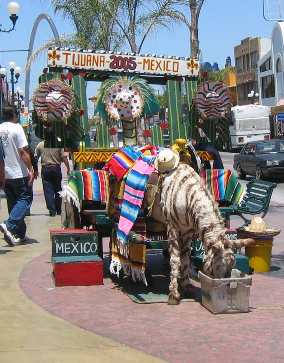 One addition to the Tijuana scene that I have never seen before was donkeys painted to look like zebras. I guess they have taken a white donkey and died stripes on it so that it looks like a zebra. There was one on every corner along with someone to take your picture with it or on it. There were 10 or more of those funny looking critters. They must be a money maker for so many of them to be there but I couldn't understand the attraction. As you can see it doesn't take much to amuse me. VBG
Taxi ride back to the US/Mexican border crossing
We took a taxi back to the border and walked across because customs was being particularly picky with bus passengers. Busses returning to the US were being detained in customs for over 2-hours. Although we had to walk a short distance to the border from where the taxi let us off we cleared customs in less than 15-minutes then had a half-mile walk across I-5 to the parking lot. The border crossing inconvenience was just part of the experience of visiting Tijuana. The bicycle lane was even faster than walking. One small Mexican boy was hawking a bicycle to the "walking" line. While we did not grasp the significance of the boy hawking that bicycle when we saw him it dawned on us the significance of that bicycle when we saw people on bikes whizzing past us and the horrendous line of automobile and bus traffic.
That is the Mexican boy hawking the bicycle in the pic you can make him out on the right side of the pic between two of the poles.
Once back in the Saturn we decided to return to San Diego up CA-75 and the Silver Strand into Coronado rather than take I-5. This was Saturday afternoon and the parking lot at the Silver Strand State Park was packed with automobiles as was the RV-Park. The RV-Park appears to be nothing more than a parking lot with RV's stacked like cordwood in parking lot spaces barely large enough for the RV itself to fit. There did not appear to be room to extend an awning. With that said the place was jam packed so it must be a "deal".
In Coronado we drove past the Hotel Del Coronado then down Ocean Boulevard along the public beach then through some of the residential neighborhoods with impeccably manicured yards before heading across the Coronado Bridge and back to I-5 for our return trip to Carlsbad where Katharine joined us for dinner at a Chinese place Ken knew about in Encinitas.
Again today we went hard at it from can to can't and we have a heavy schedule tomorrow. I guess those slow days earlier in the week were preparing us for this.

Until next time remember how good life is.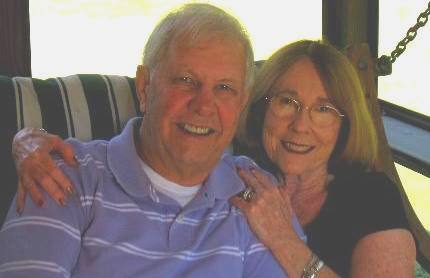 Mike & Joyce Hendrix who we are
We hope you liked this page. If you do you might be interested in some of our other Travel Adventures:
Mike & Joyce Hendrix's home page
Travel Adventures by Year ** Travel Adventures by State ** Plants ** Marine-Boats ** Geology ** Exciting Drives ** Cute Signs ** RV Subjects ** Miscellaneous Subjects
We would love to hear from you......just put "info" in the place of "FAKE" in this address: FAKE@travellogs.us
Until next time remember how good life is.