Places Visited:
California: Oceanside


Thursday, May 12, Paradise RV-Resort Oceanside, California: $39.50. FHU with 50-amps, Paved interior roads and sites plus cable and free WIFI. N33° 10.707' W117° 21.993'.
How can we pack so much into one day and so little into another? I don't fully understand it but between sleeping late and goofing off today just whizzed past us. We didn't really get a lot of exciting exploring done. However, we did go looking for a grocery store. The first one we found was an upscale grocery store with a huge fresh vegetable and fruit area with all the produce being organically grown. Virtually everything in this supermarket was "earth-friendly"/organically grown or something of that nature. We enjoyed walking around the store since it was so different than the supermarkets we are used to. Even the drink section and ice cream area had "unconventional" items and none of the regular supermarket fare.
Joyce cooking in the motorhome
Between what we purchased at "Market Day" yesterday in Carlsbad and what we picked up in this organic yuppie store we had enough for a GOOD meal so Joyce cooked. We had a great meal in the motorhome. Getting a meal of vegetables is right next to divine since we have been eating out so much. I am getting addicted to Haas avocados. If I lived out here there would be several avocado trees in my yard. I actually have an avocado tree in my back yard in Pensacola but it freezes back every year and never produces any fruit. Joyce is devouring fresh strawberries.
The pic to the left is "documentation" providing PROOF that our motorhome has pots and pans and that the stove does work. Note the blue flame under the center pot. Also note fresh tomatoes and avacados on the table. Talk about miracles and this one is caught on film.
The famous Oceanside Pier at sunset
We rode down to the beach to watch the sun set tonight. Joyce wanted to get the famous Oceanside pier in her sunset pictures tonight. I think we got in the right area. Her pictures will be available with this travelogue when it is posted to our website.
Oceanside Pier in Oceanside, California at sunset
It just doesn't get any better than this.
Friday, May 13, Paradise RV-Resort Oceanside, California: $39.50. FHU with 50-amps, Paved interior roads and sites plus cable and free WIFI. N33° 10.707' W117° 21.993'.
This was another lazy day in anticipation of tomorrow when we are going to drive down to Tijuana with Ken. It promises to be a jam packed day full of excitement.
Sunset at Oceanside Harbor in Oceanside, California
But back today we took care of clothes washing and motorhome cleaning duties in addition to sampling the RV-Parks Jacuzzi and walking along the beach. As has become routine we headed to the beach to watch the sun sink over the western Pacific. Joyce is getting more sophisticated with this ritual. To begin with we would just go to the beach but that produced the same old sunset pictures day after day. Then we graduated to driving to different spots on the beach so that the sunset pictures would have different objects in them. Tonight was no different we decided to partake of the sunset ritual at the Oceanside harbor where a huge dredge is doing their annual maintenance dredging.
Sunset at Oceanside Harbor in Oceanside, California
The sun is setting behind the rock jetty protecting the entrance to the harbor (Oceanside Marina).
Dredge operating in channel at Oceanside, California
It was getting late when we arrived back in Oceanside and made a swing around the Oceanside Marina to see the dredge perfroming maintenance dredging to the channel out of Oceanside Marina and to check on the RV's spending the weekend in the Marina Parking lot.
Small Class C motorhome outfitted for the beach life at Oceanside Beach
Some people enjoy life more than others. These people obviously "enjoy life". This Class "C" motorhome is dedked out to the "9'es" so to speak. Racks on the other side of this motorhome held several surf boards. This picture was taken around 6PM on Sunday afternoon after 95% of the weekend campers had long departed. It is obvious to even the casual observer that these folks will not depart until after the sun goes down. They are going to squeeze everything possible out of this weekend. You gotta love it.
After enjoying the sunset Joyce had me head to Coyote's in Carlsbad. Coyote's is a trendy eatery & bar in Carlsbad with live entertainment. We could hear the entertainment a block or so away and just followed the crowd. The band was outside as was most of the action. The band had attracted an eclectic bunch of people, there were older couples (40's & 50's) some obviously "dating" I say obviously by the way they are trying to impress the other. Stodgy old married couples are light years away from trying to impress their mates. Oh, I am so thankful that I am not in the dating game……. Just the thought of that should deter even the thought of divorce. VBG Several pairs of "dating" women---was that a descriptive term or what--- were having a good time in the dancing area. There was the usual assortment of single men and single women on the prowl. The mix continued to change as the night wore on. The older set wandered away after the dinner hour only to be replaced by beer drinking younger set.
The outdoor setting at Coyote's was unique at least for us it was. The weather in Southern California is so nice that dining and entertaining outdoors is chic. While some tables and chairs were scattered about most of crowd was in chairs around what might be referred to as a fire pit. These "fire-pits" were bricked enclosures about 3' tall with the wall being several bricks across so they acted as a counter for plates of food and beverages. The interior of these pits was filled with sand nearly up to the top. Burning wood was placed on the sand providing both warmth and ambience. Actually, I thought it was burning wood but Ken told me that those were gas logs. Now I really feel dumb. I could not for the life of me see how they could get those logs burning just right and not pop and crackle like wood fires do. There wasn't any smoke. I should have gotten a clue somewhere along the line but NO. I had to have Ken tell me they were gas logs.
Sitting around these burning gas logs was a unique yet very appealing arrangement. However, this type arrangement would only be conducive in certain geographic areas were the weather would allow. Southern California is one of those places.
We enjoyed the music and stayed long after most of the other 50's couples had departed the scene. The band was playing a variety of music from the 60's and 70's that the younger people were enjoying. Some of those old Beach Boys and Beetles tunes must be timeless.
Does it get any better?
Until next time remember how good life is.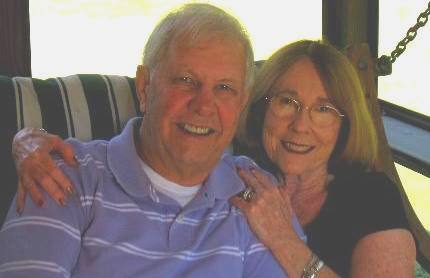 Mike & Joyce Hendrix who we are
We hope you liked this page. If you do you might be interested in some of our other Travel Adventures:
Mike & Joyce Hendrix's home page
Travel Adventures by Year ** Travel Adventures by State ** Plants ** Marine-Boats ** Geology ** Exciting Drives ** Cute Signs ** RV Subjects ** Miscellaneous Subjects
We would love to hear from you......just put "info" in the place of "FAKE" in this address: FAKE@travellogs.us
Until next time remember how good life is.