Places Visited:

California: El Centro & the Imperial Valley
Friday, April 22 Rio Bend RV & Golf Resort near El Centro, California--- $27.00. Full hookup paved interior streets gravel sites N32° 45.962' W115° 41.557'.
We headed west out of Yuma, Arizona in the motorhome today. The first leg was on I-8 for about 20-miles because there was no other highway that paralleled I-8 in that area. During that 20-mile stretch we crossed over the Imperial Dunes a natural occurrence with the dune field running north and south across I-8. Vegetation is scarce in the shifting sands of the dune system. The ubiquitous fence that parallels all interstates was covered with shifting sand in many areas. In many ways this desert dune system looks a lot like the dunes we see on TV where Arabs are riding camels over the Sahara Desert dunes.
California agricultural inspection on I-8 west of Yuma, Arizona
While on I-8 we also went through a California agricultural inspection. They wanted to know where we had been. Then they wanted to know what kinds of fruit and vegetables we were bringing into California. Where did we purchase these items? We had apples and lemons that they were interested in. I passed the mesh bag of 3 or 4 lemons along with a plastic bag containing several apples. The agriculture inspector looked at the label on the lemons and said they were OK since they were California lemons. Da! Those lemons are seasoned travelers. They were grown in California shipped to Florida where they were sold to us and here we are bringing them back to California. What a hoot. The apples were from Washington and declared OK. The fruit was returned to us and we were on our way.
At mm-144 we exited I-8 onto SR-98 and continued west only much closer to the Mexican border. Along this route the desert quickly gave way to irrigated fields. There was a lot of alfalfa but other things like onions and some corn was in evidence.
Along the Mexican border in southern California east of El Centro
We stopped in an RV-Park about 8-miles southwest of El Centro, California located at exit 107/108 of I-8. The 70-mile drive today was interesting. Upon leaving Yuma this morning we were in typical southwestern/Sonoran desert terrain then we transitioned quickly to the Imperial Sand Dunes a relatively narrow dune field with shifting sand. From I-8 we could see recreational use of the dunes by individuals in dune buggies and one individual riding a wheeled "gizmo" being propelled by a para-sail. I wanted to see this contraption up close but could not find a way to exit I-8. The dune field was in our rear view mirror before an exit appeared. The dune field disappeared into normal Sonoran desert terrain as rapidly as it appeared.
When we exited I-8 onto SR-98 we were following the All American Canal, the main artery providing lifeblood to the Imperial Valley. Although the Imperial Valley only receives 3-inches of rain a year the 2.9 million acre-feet of water-about one-fifth of the Colorado River's entire flow flows down the All American Canal where about 700 prosperous farmers generate a billion dollars a year in produce, grain, and livestock.
Bougainvillea beside tractor shed along the Mexican border in California
The bougainvillea in this area is stunningly beautiful. This was just several bushes planted beside a tractor shed near the highway.
It did not take long before the desert on both sides of SR-98 became cultivated fields. Alfalfa was the predominant crop along SR-98 although a few fields of corn, wheat and onions were scattered about. Along SR-98 we started spotting burrowing owls. Some were on high ground while others were perched on power lines. We have never seen this many burrowing owls and we have spent time looking for them in south Florida. Kestrels were still patrolling the fields although these stragglers should be migrating north any day.
Colony of cliff swallows nesting under an irrigation canal overpass in southern California
At one road overpass near an irrigation canal we stopped to watch a colony of cliff swallows hard at work building mud houses from the wet mud found on the side of the drainage canal. There were hundreds of nests under this overpass and all the birds were getting their mud from the same small stretch of canal. The place was a mad-house of activity. We pulled up next to the melee to watch the industriousness of these birds that would but a honey bee to shame.
Cliff swallows gettinb mud to construct their nests
The RV Park is located a mile south of I-8 and probably about 7-miles from the Mexican border. It is one of those fancy parks billing themselves as a "resort". "Resorts" have someone to escort you to your site and back you in. I just hate when they do that because 90% of the nincompoops you have to follow are dumber than a sack of rocks and couldn't guide a car onto a freeway. The nincompoop assigned to me was one of the 90%, nice as he could be but his brain long ago fried on excesses of the 60's. To begin with we wandered around the streets of the "resort" looking for my site which ended up being about 200' from the office. When he did find the site the motorhome was pointed in the wrong direction so we had to go around the block again so I could back in. When we started back into the site he lined up on the WRONG side of the motorhome to give me directions and stood where I could not see him in the mirrors. I put the motorhome in park and waited for him to come to my window where I calmly explained that he was standing where I could not see him, that is why I was not backing up. I calmly explained to him that if he could not see my face in the mirror I could NOT see him. It is a simple concept, yet oh so hard for some people to comprehend. With that hurdle behind us I started backing again when he started waving his hands in a spinning motion like he was trying to create a whirlwind. I put the motorhome in park again and waited for him to come up and communicate. I explained that I did not understand helicopter. If he would just point in the direction he wanted the back end of the motorhome to go I would do as he said. It was hard for him to do but we did it………….. Well almost. After walking around looking at both sides of the motorhome he thought it would be better if the motorhome was over about 18". I said OK and pulled the motorhome forward then started rolling back 18" from the original spot. He was standing in front lining me up with the concrete patio giving me thumbs up when I felt the motorhome shake like I had hit something. I immediately put the motorhome in drive and started pulling forward --- but the motorhome struggled, I applied more power and it finally surged forward. The right rear wheel had fallen into their sewage system. I put the motorhome in park and got out to take a look. Thankfully, I had not run into something and was not in the sewer system. Several neighbors came to gawk at the hole while the dufus frantically scratched his head like he had cooties. After a frantic phone call back to the office he said he would lead us to a new site. Good idea, only lets pick one that is not located on top of the sewer system.
I followed half-wit to the new site and went through his backing routine. Thankfully, we got backed in and dufus headed back to the office. Finally, we were free from park authority, and dim-wit was off to bestow confusion on his next victim.
It didn't take long for us to head out to see what the Imperial Valley was all about. South of I-8 the predominant crop was alfalfa while north of I-8 sugar beets seemed to be the leader. Cotton is also grown in abundance but we did not see any. It is certainly possible that cotton will be planted on the fields being plowed now or possibly on the sugar beet fields after the sugar beets have been harvested. There is still plenty of alfalfa north of I-8 but there appeared to be more sugar beets.
Sea level marker on agricultural elevator in the Imperial Valley north of El Centro, California
North of El Centro we passed a sugar beet processing facility. A large mark on the side of a silo noted where "sea level" was. It indicated that we were about 30' below sea level. About 10-miles south of El Centro we saw another sign indicating we were at sea level. Water from Mexico, including water from the All American Canal, flows north through the Imperial Valley to the Salton Sea which is 235' below sea level. If you can visualize this large almost flat plane with a steady yet gradual decent toward the Salton Sea then you have a mental picture of the Imperial Valley.
Next to the sugar processing plant we saw two things that interested me. A HUGE pile of gray stuff was stacked out back. I wonder if it was sugar. If so how do they keep blowing sand out of it? It was not white like the sugar cane we have seen in Florida plants processing sugar cane. If anyone knows what that huge pile of stuff behind the Sugar Beet factory is please share it with me.
-------- A reader wrote to tell me that the gray pile out back was probably lime rock which is used to burn in the lime kiln in sugar beet processing.
Then next to the sugar beet factory we spot a 100-acre "parking lot"-------well not really a parking lot but it looked like one. An 18-wheeler tractor was slowly pushing a street sweeper around the lot. The street sweeper was "sweeping" something off the "parking lot" onto a conveyor belt that was loading whatever it was into the hopper behind the 18-wheeler tractor. As we watched the operation we decided that the sugar company must be spreading sugar beet residue on the pavement to dry. This "sweeper" was coming along and picking up the dried stuff. I suppose the dried pulp, if that is what it was, is sold as cattle food. Again, if someone knows what that sweeper was doing I sure would like to know.
-------- A reader wrote to tell me that they were indeed drying the beet pulp to be used for livestock feed.
Until next time remember how good life is.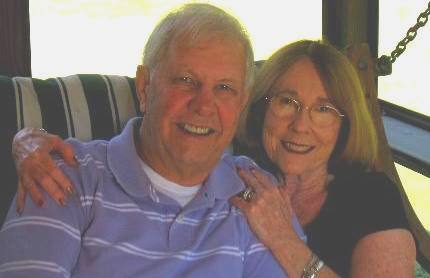 Mike & Joyce Hendrix who we are
We hope you liked this page. If you do you might be interested in some of our other Travel Adventures:
Mike & Joyce Hendrix's home page
Travel Adventures by Year ** Travel Adventures by State ** Plants ** Marine-Boats ** Geology ** Exciting Drives ** Cute Signs ** RV Subjects ** Miscellaneous Subjects
We would love to hear from you......just put "info" in the place of "FAKE" in this address: FAKE@travellogs.us
Until next time remember how good life is.