Places Visited:

Mexico: Algodones

Wednesday, April 20 Desert Holliday RV Park; Yuma, Arizona--- $19.00 located on 4th street. Full hookup paved interior streets gravel sites N32° 39.692' W114° 37.352'.
This was our day to experience Algodones, Mexico. Algodones is a special border town in that it has loads of dentists, opticians, orthodontists and pharmacies that provide services and products for a fraction of what those services/products cost in the U.S. I needed new lenses for my glasses and got new lightweight plastic progressive bifocals for $70
Joyce at Border Crossing into Algodones, Mexico from California just west of Yuma, Arizona
.
Joyce standing in front of the border crossing.......the Mexican side. Yes, Joyce is in Algodones, Mexico.
Market place in Algodones, Mexico where Joyce is having the time of her life
This was Joyce's first excursion into a Mexican border town and she was having a good time with all the jewelry vendors. She came away with a lifetime supply for herself and her friends. I got a new leather belt. We admired some beautiful stained glass windows and display boxes but didn't purchase any. Joyce looked at leather purses but resisted the temptation.
Joyce picking our al fresco dining spot in Algodones, Mexico
This pic is proof that I have adult supervision with me on this trip.
Al fresco dining at Rincon Tapatio in Algodones, Mexico
We found a restaurant (Rincon Tapatio) situated in a courtyard under a big shade tree with a good band playing oldie but goodie songs. I thought for sure we would have to settle for Mariachi music & entertainment. This was a pleasant surprise. The band was good. Most songs they sang in English just like the original. However, with "Under the Boardwalk" they did it in Spanish. We enjoyed that rendition. Waiters danced with the ladies everyone was having a good time.
Al fresco dining at Rincon Tapatio in Algodones, Mexico
.
We shared our table with a couple from Coeur d'Alene, Idaho. They were originally from Seattle where she retired from Boeing. They winter in Palm Desert, California and were down here on a day trip.
Until next time remember how good life is.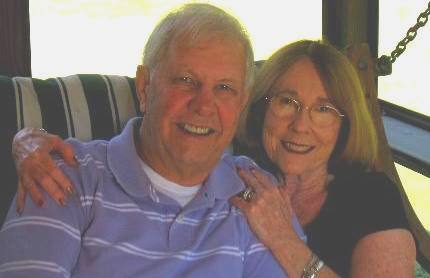 Mike & Joyce Hendrix who we are
We hope you liked this page. If you do you might be interested in some of our other Travel Adventures:
Mike & Joyce Hendrix's home page
Travel Adventures by Year ** Travel Adventures by State ** Plants ** Marine-Boats ** Geology ** Exciting Drives ** Cute Signs ** RV Subjects ** Miscellaneous Subjects
We would love to hear from you......just put "info" in the place of "FAKE" in this address: FAKE@travellogs.us
Until next time remember how good life is.