Wednesday, April 20 Desert Holliday RV Park; Yuma, Arizona--- $19.00 located on 4th street. Full hookup paved interior streets gravel sites N32° 39.692' W114° 37.352'.
After leaving Algodones, Mexico we took a drive through the California valley surrounding Bard and Ross Corner inspecting crops and farming techniques. I can't distinguish oats from wheat but I suspect the fields of grain around here are Durum wheat. East of here in Arizona they are growing a lot of "animal-food" like alfalfa and oats. The Arizona desert farming was being watered by the Gila River and a series of irrigation canals. Here in California the water is being provided by the Colorado River via the All American Canal.
All American Canal near Yuma, Arizona
This is the All American Canal within a few miles of Yuma.
Day time temperatures have subsided from last week when a few days got into the 90's. Today was a mild 80 or so. We enjoyed the weather today and hope that it holds since we want to do some of the desert areas in California.
Thursday, April 21 Desert Holliday RV Park; Yuma, Arizona--- $19.00 located on 4th street. Full hookup paved interior streets gravel sites N32° 39.692' W114° 37.352'.
As usual Joyce had a full day planned. We headed north out of Yuma on US-95 in the Saturn to inspect some of the Recreation Areas on the Colorado River that are advertised in most tourist information.
The old Gila River Bridge or McPhaul "Swinging Bridge to Nowhere" 18-miles north of Yuma, Arizona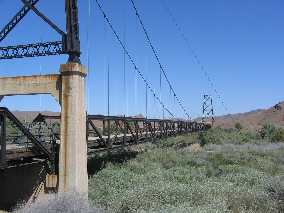 Our first stop was an old bridge across the Gila River that is no longer in service. The McPhaul "Swinging Bridge to Nowhere" is located 18 miles North of Yuma on US-95. Once bridging the great Gila River, this oddity now spans only shifting sands of the desert. An engineering feat, it was completed in 1929. The Golden Gate Bridge over San Francisco Bay follows this style.
Irrigated onion field ready for harvest near Yuma, Arizona
Onions ready for harvest.
Before we got to the bridge we stopped to inspect some irrigated fields. One contained poppies in full bloom. I guess these aren't the cocaine poppy! They may be growing them for "poppy-seeds". That field was the only poppy crop we saw. We did see fields with cantaloupe, potatoes, melons, corn, alfalfa and sugar beets. We know that cotton grows in the area but we did not see any. We did see a cotton gin.
A few more miles north on US-95 and we turned west heading to the Imperial Dam. Imperial Dam Road just happens to run through YPG Yuma Proving Ground a sprawling army base. Big artillery pieces decorate the corner of US-95 and Imperial Dam Road along with signage informing you that the Imperial Dam Road is passing through the army base. Not far down Imperial Dam Road is a display of tanks and artillery pieces that have been tested here since WWII. Then we slow down to pass over a "tank-crossing". I have never heard of a "tank-crossing" but a dirt road leads away from both sides of the highway. The crossing looks to me like it is a thick patch of reinforced concrete. Off in the distance we can see trails of dust in the desert. Something is moving about 5-10 miles away out in the desert. We continued on to the Colorado River and the Imperial Dam. As we neared the riparian area signaling water is nearby we see fancy signage for Hidden Shores Village and decided to see what it was all about. It is a huge RV-Resort with access to the Colorado River. The security guard told us that most of their business was with people from San Diego who came here on weekends and on vacation. Many of them owned their lots and left their RV on the lot full-time. In addition to Travel Trailers most of these owners had a 20' or so go fast boat, several jet skis, and a pontoon boat. Some even had a golf cart in addition to the boats. This looked like a fun, upscale place to visit in the summer. There was a small golf course and upscale restaurant. If you don't eat here you have to drive to Yuma.
The Imperial Dam that creates the All American Canal north of Yuma, Arizona
After touring Hidden Shores we continued west on Imperial Dam Road and visited the actual dam. This was exciting for me. The dam is the start of the All American Canal. Several other irrigation canals are also fed from this source.
Army tank crossing highway in Yuma Proving Grounds army base
On our drive back out to US-95 we spotted a cloud of dust heading toward the road we are on only some distance in front of us. We just thought it was some army vehicle running around out in the desert. It appeared that we were heading on a collision course with us heading east and the vehicle heading north. Then we got close enough to realize it was a modern tank flying down that dirt road toward that "tank-crossing" we saw earlier. We stopped to take pictures. The tank rolled up to the "tank-crossing" like it was a 4-way stop and would not proceed across the road until we had moved across his path. We did, then promptly made a U-turn so we could get a picture. As soon as we got across the "tank-crossing" the tank gunned it and roared across the highway and down the dirt road on the other side in a cloud of dust. It all happened so fast.
We turned north on US-95 again for 5 to 10 miles then turned west on Martinez Lake Road heading to Fisher's Landing on the Colorado River/Martinez Lake. Martinez Lake road runs through YPG Yuma Proving Grounds army base also. Seven or 8-miles down the road we passed a gate into the base. A few more miles and we passed a 100-acre cleared area with a small covered shelter and parking area. We wondered what the military was using this for but kept going.
Fisher's Landing was another area to access the Colorado River plus an area for RV's and homes. There was a little bar & grill that catered to people staying in the area and using the facilities. We could see a large area for dry camping where snow birds must have recently been because we could still see their tracks in the sand. There were only about 10 or 12 dry campers scattered about mostly under selected shade trees. Something tells me that the summer users of Fisher's Landing are going to want full hookups with as much electricity for air conditioning as they can get.
Special-forces training for free fall insertion behind enemy lines north of Yuma, Arizona
On the way back to US-95 we spotted parachutes falling out of the sky. As we neared we could see they were landing in that clearing we had passed on the way in. These were not the normal army parachutes; they were the kind you see at special events where sky divers land on the 50-yard line at football games and such. We stopped on the road to snap a few pics when one of the men motioned for us to come join them and get some good pics. The signs said military only but this guy was motioning for us to come on so we did. It turns out this was a training class in free fall entry into enemy territory.
Special-forces training for free fall insertion behind enemy lines north of Yuma, Arizona
The school was training "special-forces" from all branches of the military. Navy Seals, Army Rangers, and Air Force Special Ops were all represented. They were landing with 70-pounds of equipment so it was not exactly like the performers who land on the 50-yard line. Upon landing these men & women (yes there were women) stowed their parachutes then picked up their 70-pound packs and headed back to the shelter where we were. A bus stopped by and picked them all up for the ride back to base. How exciting! We first saw the tank cross the road then these special-forces training for free fall insertion behind enemy lines.
Our last stop if the day was at the Yuma Crossing State Historic Park across the river from the old Territorial Jail. In the early years of this country crossing the Colorado River was a major obstacle for settlers and others heading west. The Colorado River was narrower at this spot than anywhere else upriver.
Yuma Crossing is also where the army had a supply depot. Buildings on the property are remnants of the old supply depot but they aren't the most interesting thing to me. The State Park had magnificent displays explaining the irrigation systems, how they were constructed along with pictures. These canals were constructed in the early 1900's and improved upon in later years. It is too hard to explain the engineering in these canals but needless to say it is complex.
Friday, April 22 Rio Bend RV & Golf Resort near El Centro, California--- $27.00. Full hookup paved interior streets gravel sites N32° 45.962' W115° 41.557'.
We headed west in the motorhome today. The first leg was on I-8 for about 20-miles because there was no other highway that paralleled I-8 in that area. During that 20-mile stretch we crossed over the Imperial Dunes a natural occurrence with the dune field running north and south across I-8. Vegetation is scarce in the shifting sands of the dune system. The ubiquitous fence that parallels all interstates was covered with shifting sand in many areas. In many ways this desert dune system looks a lot like the dunes we see on TV where Arabs are riding camels over the Sahara Desert dunes.
Until next time remember how good life is.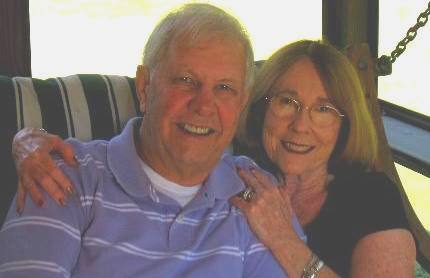 Mike & Joyce Hendrix who we are
We hope you liked this page. If you do you might be interested in some of our other Travel Adventures:
Mike & Joyce Hendrix's home page
Travel Adventures by Year ** Travel Adventures by State ** Plants ** Marine-Boats ** Geology ** Exciting Drives ** Cute Signs ** RV Subjects ** Miscellaneous Subjects
We would love to hear from you......just put "info" in the place of "FAKE" in this address: FAKE@travellogs.us
Until next time remember how good life is.