Venice Beach, Malibu, & Santa Monica, California
Places Visited:
California: Santa Monica, Malibu, Venice Beach

Saturday, May 21, Golden Shore RV Resort-- Long Beach, California: $45.90 with GS discount FHU-50amp. Paved interior roads gravel sites. N33° 45.919' W118° 12.210'
Today portends to be a special day for us. We have friends living in Hollywood that are going to take us sightseeing today. All we have to do is drive from Long Beach to their home in Hollywood where will leave our Saturn and take their car for a tour of the city. We got up early and were on our way to "Hollywood" by 8AM. It is 35-miles from where we are in Long Beach to their place in Hollywood and traffic is supposed to be "LA" so we allocated 1-hour to navigate that 35-miles. Surprisingly we make better time than expected. Without any problem we pull into Mark and Amber's place.
Mark & Amber Osborne Friends from Pensacola, Florida
Mark is our son's best friend so Mark practically grew up at our house. Amber is Mark's new bride. We spent a few minutes getting a tour of their new pad in Hollywood before jumping in Mark's vehicle for a guided sightseeing adventure.
Santa Monica Harbor
Not long after that we were heading west on Santa Monica Boulevard to Santa Monica Beach and the world famous pier, Hotel California (everyone remembers the Beach Boys song) and beaches.
View from Malibu where Bay Watch was filmed
In giving us the GRAND tour Mark then headed north on the Pacific Coast Highway past Will Rogers Beach State Park and into Malibu where they filmed scenes from the Bay Watch Series. In Malibu Mark finally turns around and headed us toward Venice Beach located a bit south of Santa Monica Beach.
Boardwalk at Venice Beach, California
Even though Joyce and I strolled up and down the boardwalk at Venice Beach yesterday things were different today. This was mid-afternoon on Saturday and the place was pulsating with throngs of people of all makes, colors and shapes. The thing that changed from yesterday was the sheer volume of people. Blending in is NOT one of the fashion statements in California. In fact the object is to wear something that will call attention to one's self or to decorate one's body in such a way as to call attention. In any event, this is a target rich environment for people watching.
Mel's Drive in Hollywood, California where we ate a late lunch
After Venice Beach we headed back to Hollywood for a late lunch at Mel's Drive-in. If you remember the movie American Graffiti --------- Mel's is the Drive-in. Mark thinks the filming for American Graffiti was done at the Mel's in San Francisco. None the less we ate lunch there and enjoyed the music, memorabilia and food.
Mark and Amber have shown us a wonderful day. We said good-by to them and head to Mark's Sister's house less than 8-miles away where we are going to spend the night. We have been invited to dine with Donna and Don and their Children tomorrow and they knew that the drive back to Long Beach tonight and return trip to their place tomorrow would be brutal------and they were right, so they invited us to spend the night with them. It is amazing how well friends are treating us. They have also invited us to park our motorhome on the street in front of their home. There is NO-WAY I am going to drive my motorhome up the windy road to their house high on a hill/mountain above Hollywood.
Don is a successful corporate attorney servicing the movie industry and appropriately their house sits on a mountain high above east Hollywood. For those of you that are familiar with the area it is the mountain that separates East Hollywood from Brentwood.
Sometime after 9PM Donna and Don took us for a walk in their back yard that is flat for about 60' then abruptly climbs up the extremely steep face of the cliff their home is built on. They have constructed a walkway up that cliff to a deck near the top. From that deck to the west they can see the pulsating lights of West Hollywood all the way to Santa Monica and the Pacific. To the south they see lights in sky scrapers of downtown LA. What a view and the cool night air is so refreshing. A haze hangs over the downtown area slightly blurring those lights but the view toward West Hollywood and the Pacific is crystal clear.
To say this was a full day would be an understatement. There is absolutely nothing better than good friends, AMEN!
Until next time remember how good life is.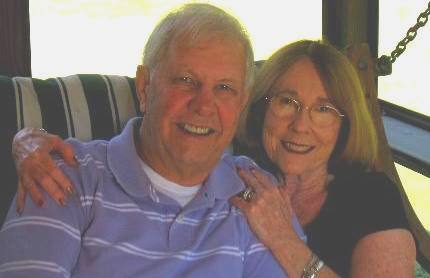 Mike & Joyce Hendrix who we are
We hope you liked this page. If you do you might be interested in some of our other Travel Adventures:
Mike & Joyce Hendrix's home page
Travel Adventures by Year ** Travel Adventures by State ** Plants ** Marine-Boats ** Geology ** Exciting Drives ** Cute Signs ** RV Subjects ** Miscellaneous Subjects
We would love to hear from you......just put "info" in the place of "FAKE" in this address: FAKE@travellogs.us
Until next time remember how good life is.