Places Visited:
California: Hollywood, Rodeo Drive

Saturday, May 21, Golden Shore RV Resort-- Long Beach, California: $45.90 with GS discount FHU-50amp. Paved interior roads gravel sites. N33° 45.919' W118° 12.210'
Today portends to be a special day for us. We have friends living in Hollywood that are going to take us sightseeing today. All we have to do is drive from Long Beach to their home in Hollywood where will leave our Saturn and take their car for a tour of the city. We got up early and were on our way to "Hollywood" by 8AM. It is 35-miles from where we are in Long Beach to their place in Hollywood and traffic is supposed to be "LA" so we allocated 1-hour to navigate that 35-miles. Surprisingly we make better time than expected. Without any problem we pull into Mark and Amber's place.
Mark & Amber Osborne Friends from Pensacola, Florida
Mark is our son's best friend so Mark practically grew up at our house. Amber is Mark's new bride. We spent a few minutes getting a tour of their new pad in Hollywood before jumping in Mark's vehicle for a guided sightseeing adventure.
View of the famous HOLLYWOOD sign from up close
Mark and Amber were excellent tour guides. They drove us up in the hills to the HOLLYWOOD sign then through a maze of narrow roads high on the hill accessing all the amazing houses on the hill.
View of Hollywood and Los Angeles from a vista point on that Hollywood mountain
Then we headed to a vista point where we got out to view Hollywood and Los Angeles.
Kevin Costner's Star on the Hollywood Walk of Fame
Then it was back to Hollywood where we stopped at the 101 Coffee Shop on Franklin Avenue. The 101 Coffee Shop is one of the Hollywood hangouts especially with up and coming actors. We enjoyed the breakfast but didn't make any "star-sightings". If you are into "star-sightings" you might want to try the 101 Coffee shop at 6145 Franklin Avenue in Hollywood.
Our next big stop was the Walk of Fame with all the "stars" in the sidewalk. The sidewalks go on and on with all the stars. I think everyone has a star but me. We didn't see but a fraction of those stars before we stopped at Man's Chinese Theatre where famous actors have their hand and feet prints in the concrete.
Extreme fans dressed like their favorite characters all along the Walk of Fame in Hollywood
We are not Star War fans but I have two BIL's (Brothers in Law) that are. Mark & Van would have loved being here since this is a big weekend for Star Wars fans. Extreme Star Wars fans were dressed-up/made-up as Star Wars characters and mingling with the crowd in front of Man's Chinese theatre and up and down the sidewalk for that entire block. People were getting their pictures made with these characters that were enjoying the adoration of the crowd.
Extreme fans dressed like their favorite characters all along the Walk of Fame in Hollywood
Caracters from other movies were in evidence as well. We don't watch enough TV or movies to know who these folks are dressed up as do you?
Extreme fans dressed like their favorite characters all along the Walk of Fame in Hollywood
I have no clue who this character is but others in the crowd know exactly which character he is and in which movie he starred. I guess we need to get out more. :-)
Clint Eastwood's hand prints in concrete outside Man's Chinese Theatre in Hollywood
Crowds just gather in front of Man's Chinese Theatre where movie and TV stars have been immortalized with their hand prints in concrete.
Then we inspected the Kodak theatre where "Oscar" presentations are made. Joyce and I walked where the "red-carpet" is laid out. Of course it goes without saying---- there was no red carpet for us.
We could see the Capitol Records building from nearly everywhere in Hollywood as well as the ubiquitous "Hollywood" sign on the mountain.
Rodeo Drive in Hollywood
I think my favorite stop of the day was Rodeo Drive. Mark found a parking garage at 2-Rodeo Drive where we stopped for a short stroll. That way we could get up close and personal with the place. I was fascinated by the shops but infinitely more intrigued with the Wiltshire Hotel that is situated on Wiltshire and Rodeo Drive. If you remember the Wiltshire Hotel was made famous in the movie "Pretty Woman". We didn't go in to see the lobby area where many scenes were filmed but Mark and Amber pointed out the balcony where "Julia Roberts" was in the final scene of the movie when Richard Geer returned for her.
I encouraged Mark & Amber to find the dress shop where Julia Roberts had been snubbed by the sales people. You remember the one where Richard Geer walked in to tell the sales people they had ---- "made a mistake ------- a HUUUUUUUGE mistake". Everyone who saw "Pretty Woman" can remember that line…………. And what a "HUGE" mistake it was indeed.
We had a good time walking around and window shopping on Rodeo Drive.
From Rodeo Drive Mark introduced us to Bell Air and Brentwood then to his "favorite-cookie shop". He really did stop by a cookie shop where we went in and got some absolutely divine chocolate chip cookies, mine was white chocolate.
Just when we think it can't get any better, it does. VBG
Until next time remember how good life is.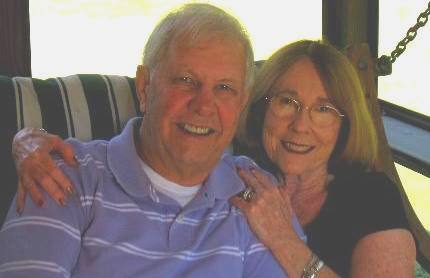 Mike & Joyce Hendrix who we are
We hope you liked this page. If you do you might be interested in some of our other Travel Adventures:
Mike & Joyce Hendrix's home page
Travel Adventures by Year ** Travel Adventures by State ** Plants ** Marine-Boats ** Geology ** Exciting Drives ** Cute Signs ** RV Subjects ** Miscellaneous Subjects
We would love to hear from you......just put "info" in the place of "FAKE" in this address: FAKE@travellogs.us
Until next time remember how good life is.