Burbank and Hollywood, California
Places Visited:
California: Los Angeles, Hollywood, Burbank

Our motorhome is located at Golden Shore RV Resort-- Long Beach, California: $45.90 with GS discount FHU-50amp. Paved interior roads gravel sites. N33° 45.919' W118° 12.210'
However, we are in Hollywood, California and staying with friends on a mountain overlooking Los Angeles and Hollywood.
Mel's Drive in in Hollywood, California where we ate a late lunch
We spent Saturday with Mark and Amber Osborne friends from Pensacola, Florida that now live in Hollywood, California. They took us on a no holes barred tour of not only Hollywood but many of the well know California Beach communities the last of which was Venice Beach.
After Venice Beach we headed back to Hollywood for a late lunch at Mel's Drive-In. If you remember the movie American Graffiti --------- Mel's is the Drive-In. Mark thinks the filming for American Graffiti was done at the Mel's in San Francisco. None the less we ate lunch there and enjoyed the music, memorabilia and food.
Mark and Amber have shown us a wonderful day. We said good-by to them and head to Mark's Sister's house less than 8-miles away where we are going to spend the night. We have been invited to dine with Donna and Don and their Children tomorrow and they knew that the drive back to Long Beach tonight and return trip to their place tomorrow would be brutal------ they were right, so they invited us to spend the night with them. It is amazing how well friends are treating us. They have also invited us to park our motorhome on the street in front of their home. There is NO-WAY I am going to drive my motorhome up the windy road to their house high on a hill/mountain above Hollywood.
Don is a successful corporate attorney servicing the movie industry and appropriately their house sits on a mountain high above east Hollywood. For those of you that are familiar with the area it is the mountain that separates East Hollywood from Brentwood.
Sometime after 9PM Donna and Don took us for a walk in their back yard that is flat for about 60' then abruptly climbs up the extremely steep face of the cliff their home is built on. They have constructed a walkway up that cliff to a deck near the top. From that deck to the west they can see the pulsating lights of West Hollywood all the way to Santa Monica and the Pacific. To the south they see lights in sky scrapers of downtown LA. What a view and the cool night air is so refreshing. A haze hangs over the downtown area slightly blurring those lights but the view toward West Hollywood and the Pacific is crystal clear.
To say this was a full day would be an understatement. There is absolutely nothing better than good friends, AMEN!
Sunday, May 22, Golden Shore RV Resort-- Long Beach, California: $45.90 with GS discount FHU-50amp. Paved interior roads gravel sites. N33° 45.919' W118° 12.210'
Donna, Don, Louis and Anna with Shoney's Big Boy at the original Big Boy restaurant in Burbank, California
As if yesterday was not enough we were treated to breakfast at Bob's Big Boy the original "Big Boy" restaurant. In the southeast Big Boy franchises are Shoney's Big Boy Restaurants many of which still feature the drive-in where you order from your automobile. We had a good time eating breakfast at this landmark in Burbank.
This is Donna & Don and their children Louis and Anna posing with "Bob's Big Boy".
This Big Boy restaurant has been here since 1949. The restaurant was honored in 1993, receiving the designation as a "State Point of Historical Interest" by the state of California. The most prominent feature of a "Big Boy Restaurant" has to be the Big Boy statute in checkered coveralls. Now as Paul Harvey would say "you know the rest of the story".
Paramount in Burbank, California
After breakfast Donna took us on a sightseeing spin to see Universal Studios and the Disney Animation Building, Warner Brothers Studios, then where NBC has the Jay Leno studio, and by Paramount on Melrose (I think I recall one of those studios being the Dr. Phil Studio) all in the Burbank area, I believe. As you can imagine with all this information being delivered in staccato fashion my poor old mind was spinning and getting things confused.
Capitol Records building in Hollywood, California
No matter where we are in Hollywood we keep seeing Capitol Records.
Old Money mansion in the Hancock Park area of Hollywood, California
Then, as if that wasn't enough Donna drove by Hollywood and Vine (that is the BIG corner in Hollywood) to get to the Hancock Park the area of LA where incredibly beautiful "Old Money" homes were located in the heart of Los Angeles.
While in that area she drove us by the La Brae Tar Pits where we elected not to stop and walk around the Tar Pits since some big function had the area swarming with people.
The Famous Hollywood sign from the street Don & Donna live on
Back in Donna's neighborhood she continued past her house to a vantage point where we could see the famous Hollywood sign high on a mountain probably east of where we were. The only reason there was an opening in the houses where we could see the sign was because two houses had fallen down the side of the mountain as a result of mudslides years ago. The city now owns the property and no one can build on them.
Across the street from Don & Donna and on (the down hill side of the street) two houses have been condemned as a result of damage from the heavy rains this winter and spring. These are beautiful houses with awesome views that are on the verge of falling down the mountain.
After our drive we said our good buy's to Donna, Don and family and headed back to Long Beach. Driving on the LA freeways is something else. Thankfully, we made it back to Long Beach.
Until next time remember how good life is.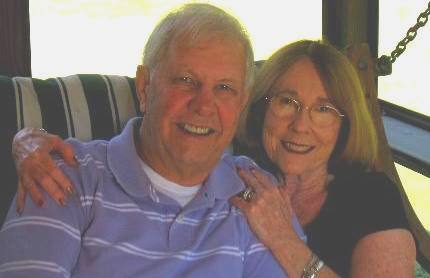 Mike & Joyce Hendrix who we are
We hope you liked this page. If you do you might be interested in some of our other Travel Adventures:
Mike & Joyce Hendrix's home page
Travel Adventures by Year ** Travel Adventures by State ** Plants ** Marine-Boats ** Geology ** Exciting Drives ** Cute Signs ** RV Subjects ** Miscellaneous Subjects
We would love to hear from you......just put "info" in the place of "FAKE" in this address: FAKE@travellogs.us
Until next time remember how good life is.