Places Visited:
Wednesday, October 1, 2003
We drove 51-miles to Wickham Park 2500 Parkway Drive operated by Brevard County $17 per-night or $13.20 per-night by the week. 30-amps & water with central dump nice grass sites under tall pine trees. 321-255-4307. www.brevardparks.com/rv&tent/wickham.htm
Mailto:Wickham@brevardparks.com N28° 09.995' W80° 39.918'
We packed up the motorhome and headed back to Melbourne located 50-miles north of Ft. Pierce where we have been the last five days. We drove US-1 north today instead of I-95 that we used when we came south the other day. I-95 is much faster. We weren't in a hurry and US-1 immersed us in the "flavor" of life along the Treasure Coast that we missed the other day on I-95.
Bugs were non-existent as we journeyed along the east coast highway today. That is so different from Central Florida where love bugs kamikaze into your windshield in never ending clouds. On the Gulf Coast in the Panhandle of Florida US-98 was covered with butterflies. It is amazing how drastically things change in a few short miles.
In the Savannah's RV-Park in Ft Pierce a pair of sand hill cranes pranced around the park entertaining us all week. The park was obviously their territory. Sand hill cranes mate for life. Once the pair bond they stay together day and night for life. I suppose anyone visiting the park would have a good chance of seeing this pair. A huge flock of white ibis descended on the field out our window one morning. Torrential rains had rendered the expanse of once grassy lawn into a 10-acre pond. Whatever the ibis were feeding on was located an inch or so under the soil. The Ibis walked around poking their long beaks (10-12 inches) into the soft sod. Ospreys and pelicans are common sights along the shore of Indian River and the myriad creeks and sloughs feeding the lagoon.
When we arrived at Wickham Park in Melbourne they put us into the same site we were in week before last. They told Joyce the park would be full when we return in January.
Thursday, October 2, 2003
What a beautiful day. Joyce's Sister, who normally takes care of Pop's, headed out for a worry free week. Pop's not only has us with him his best friends from Brunswick have also arrived in Melbourne. It is like a mini-reunion. Too bad the nursing home doesn't have a communal kitchen. In normal times Pop's would be in the kitchen fixing up some good "old-time country vitals". I can visualize and taste what ain't going to happen.
We spent the day with Pop's and his friends from Brunswick, Georgia.
I thought we had heard it all until the local news tonight. Back in 2000 a teenage girl was bitten by a shark somewhere near here. Now the family is suing the county because the county did not tell them about the "danger" in the waves. I can just see this coming to trial. Can't you see the county's defense attorney questioning the girl & her parents? "And Dad how many times did you see JAWS?" "Mom, how about you, exactly how many times did YOU see JAWS?" ………………….. OHHHHHHHHH the possibilities. "By the way were the two of you conceiving little shark bait while watching Jaws?" What am I missing here?
Do you suppose these parents think that every county should stop each individual entering the county and have them sign a notarized statement that when entering the county they understand that:
1. Lightening may strike 2. Bees, Wasp and ants may sting 3. Alligators are present and dangerous 5. Rattlesnakes, Water moccasins and coral snakes are dangerous and deadly residents of this county 6. Florida has both fresh and salt water: people, like you, may drown in water. 7. This county has streets, roads and highway with vehicles on them these vehicles may do you bodily harm. Gee the list could go on and on.
Friday, October 3, 2003
At daybreak it was raining. It stopped in time for us to enjoy lunch with Pops and his Brunswick friends. After lunch they said their good-byes and headed back to Brunswick. We spent the afternoon with Pops then moved to Barnes & Nobel when he settled down for a nap.
We are researching trawlers (a type of live aboard vessel). After we tire of roaming the country in the motorhome we are planning a trip along the coast of this wonderful country. Well, we are planning a bit more than just a trip along the coast we actually want to motor up the east coast then over to the Great Lakes then down the Mississippi to the Gulf Coast. This is something we will do in the future. As usual we are doing our research years in advance. Half the fun is in the anticipation and planning.
Saturday, October 4, 2003
This was another wonderful day. The weather was cool. Pop's was in a good mood. Lunch was good. The Florida Gators lost another football game. Joyce fixed supper. Man, what a day. Overall, things don't get much better. VBG
Sunday, October 5, 2003
This was another wonderful day. Pop's enjoyed lunch. Joyce and I watched another movie, Second Hand Lion. Joyce's sister recommended this movie to us and it was great. We are getting into this movie stuff. Joyce has one more on our schedule, something about "the Tuscan Sun". As many times as we have been to the movies recently I won't have to go to another movie for years. VBG
We have been walking in the City Park every evening. Wickham Park is a 4,000 acre park the people really use. It has a horse arena with places to stable and show horses. They have regular horse events on the weekends. One Saturday there was a dog thing. I am not sure exactly what to call it but everyone with a dog was invited. Throngs turned out to parade their dogs in the park. Some had a dog on both ends of the leash. Others seemed to be trolling. All were having a good time. If you spend time in the Melbourne area make time a stroll in the park.
Monday, October 6, 2003
This was another wonderful day in Central Florida. We enjoyed lunch with Pop's then Joyce and I watched another movie. This is getting to be a habit. All I can say is you boys don't resist too much if the Mrs. applies pressure on you to see "Under the Tuscan Sun". The main character is eye-candy along the lines of Julia Roberts. What can I say? There is no telling what we will be doing next. Two movies in two days, four movies in less than a month, decades old traditions have been completely shattered. There is obviously no end to what we will do to keep entertained while spending time with Pop's.
Tuesday, October 7, 2003
This was our last day in Melbourne with Pop's. Tomorrow we head toward home. Something tells me that we will be stopping somewhere around Carrabelle a small fishing village along the Forgotten Coast, south of Tallahassee.
Wednesday, October 8, 2003
We drove 420-miles to St Andrews State Park, Panama City Beach, Florida. $20 for 30amps, water & central dump.
www.floridastateparks.org 850-233-5140 N30° 08.168' W85° 44.121' www.reserveamerica.com (1-800-326-3521)
We woke up in Melbourne, Florida with the sun rising in the east across the Atlantic. We took off across the state in our motorhome and settled into St Andrews State Park in Panama City Beach 420 miles to the northwest. We dined at Schooners on Panama City Beach and watched the sun set in the southwest. What a day. The love bugs were gone from Central Florida. I was dreading having to negotiate the suicidal mess they leave. There was none, not one. As we passed through the Forgotten Coast Gulf fritillaries were as thick as when we were here a month ago.
Normally we traverse the central part of Florida on state roads getting a taste of the "real-Florida". Today we decided to skip the leisurely sightseeing routine. We took I-95 north to the series of toll roads that traverse the state from the east coast through ORLANDO. Thirteen dollars later we popped out on I-95 northwest of Orlando. A tip for those of you not familiar with Orlando traffic: thirteen dollars to drive 60-mph unimpeded through the Orlando gridlock is a bargain.
Around 4:00 we started calling the State Park. It would ring 8 times then croak. That is not usual. As we neared Panama City Beach it started raining, not just a west coast drizzle but a full fledged Gulf Coast frog strangler. When we entered the park there was no one at the campground office and the door was locked. Remember it is raining cats and dogs. Joyce got back in the motorhome and we scratched our heads. What gives? We decided to just drive on in to the campground and "homestead" a site. You can say I was a bit miffed. Type "A" personalities don't deal with things like this well. I couldn't talk to them on the phone and their office was locked and it was only 4:40 when they are supposed to be open until 5:00. In the campground we stop by the first "host" only to find that they are not home. Did I mention it was raining? The next "host" we spotted was home and said that the office should still be open. Yea, they SHOULD. He could detect our agitated state. He said that the best site would be 129 since it was a "volunteer" site and unoccupied at this time. Any other apparently vacant site could be occupied by someone with a reservation. We returned to the gate in our automobile and explained things to the "volunteer" on the gate. He was sympathetic and professional. He made a note and assured us that some clod would not be knocking on our door informing us that we would have to move and otherwise explain ourselves. We are to check in with the campground office when they open at 9:00 in the morning.
Thursday, October 9, 2003
St Andrews State Park, Panama City Beach, Florida. $12.01 for 30amps, water & central dump.
www.floridastateparks.org 850-233-5140 N30° 08.168' W85° 44.121' www.reserveamerica.com (1-800-326-3521)
Our first order of business this morning was to deal with the campground office. I was ready to deal with them but it was not necessary. The young lady took our money, $24 for two nights and we were on our way. That was a pleasant surprise. I was sure that they were going to make us move and no telling what else. It didn't happen.
We stopped in Panama City to see my Mother and get Mark my brother-in-law to perform some of his magic on my two laptops. Mark is an enabler. He enables me to have a computer and sanity. When things happen Mark fixes them. If you own computers you know what I mean. We all have a Mark that enables us to stay sane.
Friday, October 10, 2003
We drove 100-miles to Pensacola and home.
Back home in Pensacola.
This will be all until we take off again. We hope to spend January and February in south/Central Florida. If you are going to be in that area give us a shout and we will try and get together.
Until then, remember how great life is.
Mike & Joyce
Until next time remember how good life is.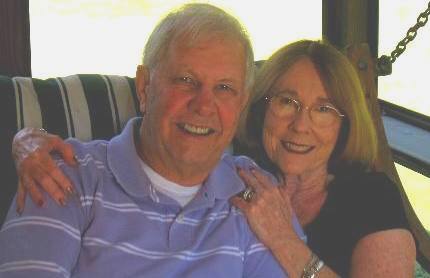 Mike & Joyce Hendrix who we are
We hope you liked this page. If you do you might be interested in some of our other Travel Adventures:
Mike & Joyce Hendrix's home page
Travel Adventures by Year ** Travel Adventures by State ** Plants ** Marine-Boats ** Geology ** Exciting Drives ** Cute Signs ** RV Subjects ** Miscellaneous Subjects
We would love to hear from you......just put "info" in the place of "FAKE" in this address: FAKE@travellogs.us
Until next time remember how good life is.