Kerrville, Oscar Scheriner State Park, New Braunfels, Gruene, Texas
Places Visited:
Texas: Kerrville, Oscar Scheriner State Park, New Braunfels, Gruene, Texas.
Saturday, May 24, 2003 Alamo KOA San Antonio, Texas. $29.50 full hookup with 50-amps very near downtown San Antonio.
Along with everyone else in San Antonio we headed north on I-35 to New Braunfels and Gruene (pronounced Green). New Braunfels is home to the famous "Smokehouse" Restaurant and we wanted to experience that. The Smokehouse has good brisket, BBQ & sausage but the best brisket in my opinion can only be obtained by special invitation to Rob and Linda Farrell's home. VBG New Braunfels is also home to Schlitterbahn, a BIG, water park/resort. To get an idea of what Schlitterbahn is all about, it is rated America's #1 Waterpark by the Travel Channel and has been for the past four years.
Gruene is a restored German farming community and business district now filled with shopping, craftsmen, bed & breakfasts and restaurants. Gruene is actually inside the city limits of New Braunfels. Gruene is a truly quaint "wide spot in the road" still very-much clinging to the 1850s. The Grist Mill has been cleaned up and is now a first class restaurant. Next door is historic "Gruene Hall" one of the most popular dance halls in Texas. Gruene Hall has not changed one whit since the early 1900s.
The Guadalupe River flows through town and along with it thousands upon thousands of tubers in every form of colorful floating rubber. Floating in Texas must be illegal without an obligatory cooler packed with beer. Every party is bringing back huge onion sacks filled with evidence of the day's fun. It is a HOT day and perfect for floating down the cold, spring fed Guadalupe. Ice-cold Bud-Lite obviously enhances the experience. While I was at the bridge watching throngs of tubers & rafters a big 18-wheel Bud-Lite truck started to cross the bridge then stopped and started blowing his "Big-Rig" horn. The crowd went wild as only a crowd can do late in the afternoon, after downing several six-packs each. I just laughed and thought to myself he had best get that 18-wheeler in gear and out of there before the crowd stormed his supplies. They didn't and he eased on down the road after the crowd had yelled their selves hoarse. It doesn't take much to entertain a crowd loaded with "BUD". VBG
Joyce strolled through the Shoppe's of Gruene while I spent my afternoon at the river being an armchair observer. I can attest to the fact that everyone passing by on the rafts was much cooler than I and having a much better time. I was wishing that I had a swim suit. It was sooooooo HOT but I couldn't just jump in the COLD Guadalupe with my clothes on no matter how good it would have felt. I have to admit it was tempting.
Late in the afternoon we spent an hour or so in Gruene Hall listening to a talented band. We had planned to hang around Gruene until 9:00 when the Memorial Day weekend band was scheduled to start. To our disappointment it was a "blues-band". With that information we decided to skip dinner next door at the Grist Mill and instead just head back to San Antonio. Gruene Hall is where George Strait, Hal Ketchum and Lyle Lovett got their start. Both George and Hal spent 5 or 6 years each as the house band. George had the owner's save him a spot when he headed off to Nashville. Of course he did not have to come back and the rest is history. Gruene Hall's legacy is more than just being the oldest, continually operating dance hall in the State of Texas it is known throughout the world as a music venue. The stage has seen the likes of Bo Diddley, The Dixie Chicks, Jerry Lee Lewis, Garth Brooks and Willie Nelson to name a few. Gruene Hall hosted baseball great Nolan Ryan's 50th birthday party and has been featured in numerous music videos and movies. George Strait's first album featured Gruene Hall. The dance scene from the movie "Michael" starring John Travolta was filmed there. Just to put things into perspective we did not see any of those folks there but we did see autographed pictures.
For those of you not familiar with Texas dance halls let me tell you "they ain't fancy". Like Gruene Hall they are usually big barn, tin roof affairs with wooden floors. All sides are open to catch the breeze. No air conditioning if you get my drift. Children play in a fenced in area outside while parents dance the night away. Most but not all dance-halls have the sides screened. The old dance halls in Texas must have served as the meeting place after a hard day of work.
This is one of those days where everything did not go as we had planned. Oh well, possibly next time the band will be more to our liking and I will have a swim suit with me!
Sunday, May 25, 2003 Alamo KOA San Antonio, Texas. $29.50 full hookup with 50-amps very near downtown San Antonio.
We headed downtown to the Menger Hotel for the Sunday Lunch Buffet. It is one of the few places in town that serve something other than Tex-Mex or BBQ. That stuff is good but it gets old. The Menger specializes in a "high-end" buffet with things like salmon, ham, crab-salad, boiled shrimp, calamari and a salad bar with everything on it but iceberg lettuce if you get my drift. I tried the "stilton cheese dressing" on my salad since I was not familiar with "stilton cheese". In my opinion it is very similar to blue cheese both in texture and taste. The house-dip for the fresh melons and fruit as a divine banana yogurt concoction. Unlike during the week a variety of juices were available like mango, grapefruit, tomato and the other normal breakfast juices.
On some of the historic markers around the Menger Hotel we learned that Teddy Roosevelt actually recruited his rough riders from the Buckhorn Saloon and Menger Hotel. Back in those days I suppose Officers had to do their own recruiting and training. I suspect a guaranteed paycheck, meals, horse, clothes and roof over your head appealed to many of the cowboys. The great poet and musician Sidney Lanier lived in San Antonio for 6-months in 1872. Sidney was born in Macon Georgia in 1842, spent some time in Brunswick, Georgia and died in North Carolina in 1881. For a man who only lived to the age of 39 he sure got around in the 1800s. I am passing on this information for our friends back in Brunswick because we know Brunswick claims Sidney also. Brunswick has a giant bridge over the Brunswick River that is named the Sidney Lanier Bridge. I think it was Sidney that coined the phrase "Brunswick and the Golden Isles" in one of his poems, that is used to describe Brunswick to this day.
As we made our way to River Walk through the Mall we stumbled upon an instrumental group from the Andes Mountains playing a variety of music featuring the woodwinds & flutes the Andes musicians are noted for. We settled into good seats under an umbrella where we could enjoy the music, the people walking by and the boat-loads of tourists on boats traversing the river.
Monday (Memorial Day), May 26, 2003 Alamo KOA San Antonio, Texas. $29.50 full hookup with 50-amps very near downtown San Antonio.
The KOA Park we are staying in experienced a mad rush as "normal" people headed home after the Memorial Day weekend. All that was left by 11:00 this morning is the retired folks who are just bumming around.
Before heading out this morning we slowly drove around the RV-Park looking at the wildlife and empty spaces. We spotted a pair of Black Bellied Whistling Ducks with 7-ducklings in tow. It is a prize that birders seek when visiting South Texas. It is a largely tropical species occurring southward through Mexico and Central America and into South American lowlands. Its U.S. range is centered in the Rio Grande Valley north to Corpus Christi. Joyce and I can now confirm that their range has been extended to San Antonio. The black-bellied whistling duck's markings are so distinctive there is no getting them mixed up with another species of duck. Other than the ducks; fox squirrels, white winged dove, grackles and sparrows completed park wildlife this morning.
For individuals planning to visit San Antonio I have a hint for you. Free parking in San Antonio is non-existent. Most lots charge $5 and up. However, the city of San Antonio operates parking lots under I-37 very near the Alamo & River Walk Mall for just $1.50. We enter our favorite parking lot from E. Houston Street as it passes under I-37 it is just one block from the much more expensive lots plus it is in the shade.
I learned more information about San Fernando Cathedral today. It was built by Canary Islanders as their parish church and completed in 1749. The church was elevated to cathedral status in 1874 when the diocese of San Antonio was formed. It is the oldest continuous parish in the U.S. This is the second time in our travels we have run across Canary Islander's populating early North America. A few miles down river from New Orleans is the community of Saint Bernard. Saint Bernard has maintained many of the Canary Island Customs, have a museum showcasing their heritage, and have a festival celebrating their homeland. As I recall the Canary Islands went through a time of extreme drought. Residents did not have much choice but to find other places to live. When Spain offered them land they obviously took the offer.
San Fernando Cathedral is also where in 1831, James Bowie, (of Bowie knife and Alamo defender fame) got married.
In last week's travelogue I went over how awesomely magnificent San Fernando Cathedral was inside. It should be! It just recently underwent a $50 million dollar renovation including the addition of new religious statuary, retablos, baptismal font and the preservation of its beautiful stained glass windows. I knew I was in the midst of something special but I had no idea that it was $50 million SPECIAL. Silly me. I thought only the U.S. Military could spend that much money in such a small space.
Tuesday, May 27, 2003 We drove 67 miles to Kerrville Schreiner State Park. Kerrville, Texas. $15.00 full hookup with 30-amps, 2 to 3 miles from downtown Kerrville yet out in the woods with wildlife.
Where is the Texas Hill Country? To my knowledge there is no scientific boundary established. However, as we drove out I-10 this morning as we left San Antonio heading for Kerrville it was evident the hills started within the city limits of San Antonio. Also generally speaking I-35 north out of San Antonio is the eastern boundary. It is fairly easy to tell when you are in the "Hill Country" because the rich farm land to the east and south gives way immediately to dry, rough, limestone outcroppings and ranch country. Row crops like corn, wheat, oats etc., are cultivated right up to the barbed wire fences that provide the demarcation line.
We took the Mooney aircraft plant tour this afternoon. Mooney is one of the few single-engine, light-airplane manufacturers left in the U. S. A. Product liability insurance has driven most manufacturers out of the market. Mooney specializes in making small planes with the speed and performance of larger craft. There were only 4-tourist on the tour guided by a tool & die maker that had been with the company for 45-years.
Walking through Mooney's processing plant was like entering a small scale Naval Air Rework Facility like the one I used to be employed by in Pensacola. This place only had 169 employees where the Navy Facility had over 3,500. We entered a spotless "sheet-metal" shop where stretch presses and drop hammers were used to shape pieces of sheet metal and aluminum into aircraft skin and structural parts.
The place was relatively quiet for a manufacturing facility where parts fit together with rivets. Anyone that has been around a place where metal parts are constructed using rivets knows the deafening noise this process can generate. The cacophony of noises I am used to hearing on the "floor" were there but muted. Some of you will know the sounds: grinders, buffers, bucking rivets, metal on metal as parts come together combine to make that industrial music.
Those of you that like industrial tours the Mooney Aircraft facility in Kerrville is a good one and it is FREE. That information is provided for those of you that would skip it otherwise. VBG (Very Big Grin) Phone them at 830-896-6000 for tour times.
I spotted some cactus pads and yucca roots in the produce section of a Wal-Mart Super Center here in Kerrville. Joyce and I have not found a place serving cactus on this trip but we are looking. An elderly gentlemen, saw me looking at the yucca roots and ask me if I was going to make bread? He indicated that is what the roots were used for. I suspect the huge brown carrot shaped roots are used for other types of food than bread. Does anyone know?
Several signs have caught our fancy lately. Entering Hondo, Texas on US-90 west of San Antonio is an official sign welcoming you to the city, it says, "Welcome This is a little piece of heaven Don't drive through here like it was Hell Hondo"
Toad's Road kill Café A small café in the town of Leakey.
And on the side of a well established auto body shop in Kerrville:
"Its not a question of IF your are going to hit a dear." Cecil's Body & Frame
Other parts of the country may not understand that sign but out here EVERYONE understands it. We had to evict four deer from our RV site before we could set up this morning. I counted 10 of them when I went outside around 8:00 tonight. Driving at night, even in the city limits, is hazardous.
And some interesting facts for the scholars among us. In 1846 Texas became the nation's 28th state. It was the only state admitted by treaty between two sovereign republics. With this annexation, Texas retained the right-and still does-to divide itself into as many as five states. Think about that for a minute. Instead of having 2 Senators they could have 10 Senators. That could really shake up the political world.
Wednesday, May 28, 2003 Kerrville Schreiner State Park. Kerrville, Texas. $15.00 full hookup with 30-amps, 2 to 3 miles from downtown Kerrville yet out in the woods with wildlife.
We packed in a variety of activities today. Before lunch we toured the Riverside Nature Center a 5-acre site with self-guided walk through the center's arboretum and botanical garden of native plants. More than 100 species of trees and shrubs are identified on the walk. Identification plaques help reinforce our identification skills for the trees and flowers we frequently see in this area of Texas.
We dined at "Joe's Jefferson Street Café" in downtown Kerrville. Located at 1001 Jefferson Street, Joe's is in a beautiful old home constructed in 1890. Not much has changed in the 2-story structure. The house features high ceilings, big bay windows and porches. Architecturally attractive gables filled in with ornate fish scale siding finish off the important features. Joe's is a relatively high-end lunch place for the downtown professionals. It was a great place to dine with a "big-city" menu.
Our next stop was the home of Kerrville founder Captain Schreiner. The historic Romanesque mansion built in 1879 doubles as the hill country museum. Limestone from a quarry down the street was used in the construction. Captain Schreiner brought a stone carver in from Germany to shape the stone. Polished pink Granite columns were quarried not far away in Marble Falls.
A large pinion pine tree in the front yard came from a seed brought home from Colorado by Schreiner's son Gus after a cattle drive.
Captain Schreiner was born in the Vosges Mountains (upper Alsace, France) of France and came to Texas with his family as a young boy. His father died of a rattle snake bite 4-months after arriving in San Antonio. Not long after his Mother passed away. He became a Texas Ranger at age 14 then fought for the Confederacy.
When the war was over he migrated to Kerrville and started buying property. He owned ranches, a mercantile store, bank, Telephone Company to name a few of his ventures. At one time his ranch holdings exceeded 600,000 acres. Our docent confided to us that a series of divorces with his descendents has decimated the original holdings. It seems with each divorce the ex-wife got half. His original holdings are still known as the YO-Ranch. At one time it was the size of the famous King Ranch in South Texas.
We plan to take a tour of the YO-Ranch tomorrow.
A three piece band was playing from 6 to 10 at Chili's on the bank of the beautiful Guadalupe River. We did not know what to expect but when we arrived the band was outside on a small pavilion and throngs of people were waiting for outside seating. We sat and listened to the band for an hour or so before our buzzer went off. Good band, good weather, good food, good scenery and good company, what else could we ask for?
Ain't life great?
Thursday, May 29, 2003 Kerrville Schreiner State Park. Kerrville, Texas. $15.00 full hookup with 30-amps, 2 to 3 miles from downtown Kerrville yet out in the woods with wildlife.
Today was the day we had been anticipating for several years, the day we were going to finally take the YO Ranch tour and see their world famous exotic game. The tour did not live up to our expectations. While we were the only people on the tour, and even did the tour in our guide's private pickup truck we did not see nearly as many exotics as expected.
The YO Ranch today is 40,000 acres. Scarcely a shadow of the 600,000 acres Captain Charles Schreiner controlled in the late 1800s. Today the Y.O. specializes in quarter horses, Texas long-horned cattle, and exotic game. Ranch managers like long-horned cattle because they have a 90% calf rate and need very little if any veterinary attention. They also do not need help in the calving process and fend for themselves well on the native grasses & vegetation. Texas long-horns are descendents of cattle the Spanish introduced when they were trying to colonize the area in the 1500s, 1600s and 1700s. The cattle got lose and became wild. By the 1800's thousands of longhorns were roaming wild around Texas. Charles Schreiner is purported to have rounded up over 300,000 of them himself.
Although we saw a variety of exotics we did not see anywhere near what was available on the ranch. Our tour only consisted of around 500 acres of the 40,000acres (60 square mile ranch). We saw most of the wildlife that was within those 500 acres where it appeared they had fenced a variety of species in just to show tour groups. The Y.O. is the most famous and largest private hunting ranch of its kind in the world. It is home to the nation's largest collection of natural roaming exotic animals. Over 10,000 animals make their home on the Y.O. including 55 different species of which 25 are available for hunting.
We saw all the world's big flightless birds the ostrich, emu and rhea all together. This helped us to be able to distinguish between the species. Emu and rhea are very similar in size and coloration while the ostrich is double the size of the emu or rhea.
Hunters pay good money, as in $1,000 to $9,500 to shoot trophy animals like ibex, elk, markhor, eland and other exotics. Exotics are not the only thing hunters are after on the ranch. Whitetail bucks 7 points or less go for $1,000 while 8 points or more go for $2,250, wild turkey for $450, and wild boar $1,000. That is good money for the ranch however, it takes 5 or more years to grow a trophy size animal. The only way to manage herd size is to control the female population of the species. The Y.O. manages herd size by calling in a packing house operation that arrives after dark with sharp shooters, spotlights, a processing van and freezer truck complete with a federal inspector, to thin the female population. Exotics (non-native game animals) do not have a hunting season or bag limit in Texas. Since the meat is going to be sold as a food product a Federal Inspector must be on hand to certify the butchering process. Essentially, the sharp shooter must shoot the animal and deliver it to the processing van where it can be butchered within an hour of death. The butchering team can handle around 6-animals per-hour.
In addition to selling exotic animals for the table market they also supply zoos, other ranches starting exotic game herds, and even ship some of the animals back to their native countries. There are 4 to 5 species of deer and ibex that Texas now has more of than the native countries. Some of the species are actually extinct in their native ranges. Restocking in their native countries is being attempted from the Texas herds.
In Texas you gotta have a "Ranch" like you have to have a waterfront home in Florida. If you have a "Ranch" you gotta have an exotic. It used to be that a llama or alpaca would fit that bill but they got common. Now the "Big-Boys" have to have a "real-exotic" like a giraffe, oryx, red stag, zebra or any of several dozen spectacular exotics from Asia, Africa, and India. If you have a "BIG" hat you also gotta have peacocks, ostrich and emu running lose around the ranch for the amusement of guests. Otherwise you are just trying to act like you have a "BIG" hat. VBG
Our tour guide did not get along with one of the wild camels. The ornery critter would attack his truck when we passed in the camel's "territory". Thank goodness the road was good through there so the truck could go fast. Many places we went in the truck we could only go very slow as we drove over football size boulders in search of animals hiding in ravines and draws. In a place like that we would have been "dead-meat" for that critter.
A family of giraffes approached our truck in anticipation of a handout that must have been normal from the tour group. Our tour was anything but normal so we had nothing to feed them.
Part of the tour package was lunch in the "YO Chuck wagon". The front gate to YO Ranch is located an hours drive west of Kerrville. The ranch buildings are located another 7-miles from the highway. If you did not quiet catch what I just wrote; after you leave the highway and enter the gate of the ranch you have to drive seven-miles to the actual buildings on the ranch. After all 40,000 acres is a BIG place (60 square miles to put it in perspective). When you are as far away from town as they are you have to feed employees and guest and that is done in the "Chuck wagon" an ordinary lunch room affair that can feed a hundred or so ranch hands and guests for each meal. Guests staying at the lodge were also eating there. Hunters and their family stay on the ranch in the hunting lodges.
If you want to know more about the YO-Ranch try 830-640-3222 or www.yoranch.com
For RV'ers touring the area make sure that you stop in the "OLD" store at the junction of US-83 and Texas 41. The store has been there since the 1850's and looks it. They have gasoline and an outhouse or at lease a "detached rest room". Don't laugh it is the only publicly accessible "potty" within 20/30 miles. What might not be acceptable under normal circumstances may resemble something heaven sent if you get my drift. The owners laugh and say it is open and available 24/7 for just that reason. Being open and available 24/7 may be why it is detached from the store. The Y.O. Ranch front gate is about 6-miles up Texas 41 from the store.
Friday, May 30, 2003 Kerrville Schreiner State Park. Kerrville, Texas. $13.00 water & electricity 30-amps, 2 to 3 miles from downtown Kerrville yet out in the woods with wildlife.
We had to change campsites this morning. The full-hookup site we were on has been reserved by someone else for the weekend so we moved to a water & electric site for the next 3 days. We would have spent the entire 6 days in a water & electric site but they did not have one available when we arrived. Such is life. When I went to dump gray water this morning I pulled the handle and NOTHING happened. I mean NOTHING. With a little troubleshooting I determined that the handle/shaft was not connected to the blade, in other words the thing was broken. Thank goodness it was not the black tank! That is a major relief. For you RV'ers this is something you do not want to happen when you have 40-gallons of gray water in the tank. I decided that I had to get to the blade somehow and pull it open it with vice grips or needle nose. In order to do that I had to saw off the housing on the valve where the blade goes when the valve is open. A small saw cut right through the plastic housing. However, there was NOTHING to grab with needle nose or vice grips. I knew the blade had to be located between the housings but all that was visible was black plastic. I decided to drill a small pilot hole into what had to be the blade, into that I inserted a skinny 3"long wood screw. I did not screw it in far but far enough for it to hold when I pulled on the screw with vice grips. Wa La___. The screw was firmly imbedded into the blade. I now had a handle (actually a 3"screw) on the blade and was able to pull almost like normal and water ran from the tank like it is supposed to. With the tank empty it was an easy job to remove the valve assembly and replace it with a new one.
RV'ers are always trading information on what tools to take. I can say that a saw with a 6" blade can come in handy. A hack saw blade would work but something with a handle would be preferable. Spare dump valves would be another item to carry. My black tank has a 3" valve while my gray tank has a 1&1/2" valve. Know what sizes your rig has. Some gray tanks have 2" valves others 1&1/2".
The rest of our day was spent doing domestic functions.
Did I mention that the temperature here was 102 this afternoon. It was brutal in the sun but just fine in the shade.
Until next time remember how good life is.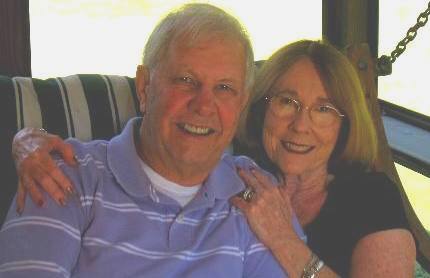 Mike & Joyce Hendrix who we are
We hope you liked this page. If you do you might be interested in some of our other Travel Adventures:
Mike & Joyce Hendrix's home page
Travel Adventures by Year ** Travel Adventures by State ** Plants ** Marine-Boats ** Geology ** Exciting Drives ** Cute Signs ** RV Subjects ** Miscellaneous Subjects
We would love to hear from you......just put "info" in the place of "FAKE" in this address: FAKE@travellogs.us
Until next time remember how good life is.