Junction, Garner State Park, Rio Frio River, San Antonio, Texas
Places Visited:
Texas: Junction, Garner State Park, Rio Frio River, San Antonio, Texas
Monday, May 19, 2003 We drove 66 miles to Parkview Riverside RV Park across the river from Garner State Park. County Road 350. A very nice commercial park with 50 amps and full hookup $28.80.
We got up this morning and headed to the livestock auction in town. Today was sheep and goat day. Auction action started at 10 AM so we arrived at 10:00. I wandered around the grounds getting an idea of what was happening. There were thousands of goats, a few hundred sheep, and one llama in the pens. The stock yard looked to be 2 or 3 acres of steel pens under a gigantic tin roof. Above the pens was a catwalk where you could leisurely view the animals and action going on down in the pen area where 5 or 6 men and an equal number of dogs were "sorting" goats.
Sorting goats. WOW! What an operation. They would open some gates and let several hundred of one rancher's goats into a long holding area. From that central holding area they started the "sorting" process. The first sort was to separate the adult goats from the small young goats. The goats in the holding area would be moved into the front end of the holding area by the dogs. Then a man would close a door behind them. The far end of this pen was shaped like a funnel. The funnel narrowed into a long chute. The goat at the head of this melee was crowded head first into that narrow chute. It was so narrow only one goat at a time could fit. At the end of that chute a man performed the sorting by moving a gate allowing adult goats to go left and sub-adult goats to go right. This separated the mothers and other adults from their offspring. Adults were then routed back through the "sorting process" where they were again sorted by size. Larger ones on the left smaller on the right. Then the larger of the adult goats were run back through the sorting process this time black ones and white ones were separated.
Why all this sorting? One of the stockyard hands explained that the sorting was because buyers were buying for different markets. Greeks and Italians want a certain size goat. Mexicans want another. Moslems want another. It seems that for religious purposes color of the goats makes a difference. A rancher may be purchasing stock and only want small goats, on the other hand he may be looking for breeding stock or a stud billy.
Inside Joyce and Mother were watching action in the auction room. They were running from 2 to 6 of the sorted goats into the ring, bidding took place in a minute or so and the goats were moved to the successful bidder's holding area. The next group of goats was herded in and the bidding started again. From that vantage point it was a well choreographed event, nothing on the auction floor hinted of the hustle and bustle taking place just a few yards away in the sorting chutes. Mother and Joyce never understood anything the auctioneer said and neither did I. None of us could tell which person in the audience was the successful bidder. We have no idea what price anything was going for. We do not even know if they were selling by the pound or by the animal. Like I said we did not understand anything the auctioneer said. We all laughed when we exited the room. Each of us were scared to scratch our nose or anything else for fear we would have purchased a herd of goats!
From the walkway above the stock yard pens I could view the fast, furious well orchestrated action. When one of the men told those dogs to "PUSH'em" the dogs would get to one side of the long pen giving the goats a way to get around them then the dogs walked menacingly to the back of the pen. Once in the back of the pen the dogs lined up 4 or 5 abreast and started pushing the sheep into the funnel and the sorting chute. One really big dog named Bruiser was called upon to handle the ranker more stubborn big goats. Bruiser didn't take any "goat-stuff" if you get my drift. The goat that didn't quickly move for Bruiser didn't get his heels nipped. Bruiser went for the throat. I don't know how hard Bruiser bit but every one squealed and quickly moved to where Bruiser wanted him after his application of encouragement. That particular goat did not need another attitude adjustment.
Sorting of the small goats went from under 10 pounds in one sort. Between 10 and 20 in another sort and 20 to 30 pounds in another. In this sort the sorter was directing sheep through 3 gates. Buyers are looking for certain size and color of goats to be used in specialty dishes for a variety of cultures. A rancher/buyer may be looking for goats to start a herd. Whatever the reason goats were being sorted into and auctioned in small specialty groups
After eating lunch we drove south on U.S. 83 through the small community of Leakey on the Frio River. A few miles south of Leakey is Garner State Park. That is where we intended to spend the night but it was super HOT and we need shade plus 50 amps so we can run both air conditioners on HIGH!
Normally Garner State Park and its 300 or so RV sites are a prime destination. However because the temperature was over 100 degrees in the sun and nearly that in the shade extraordinary tactics were required. It was difficult to keep the motorhome reasonably cool with 50 amps and both air conditioners on high in the shade much less in the sun. We needed shade and 50-amps that is why we are in this RV-Park and in this space under the shade of a large live oak. Garner State Park did not have good shade and only had 30 amps.
Around 6:00 PM it was cool enough for us to go sight seeing in the Saturn. Views are awesome on country roads along the Frio River. This area has not experienced rain since the floods last July. The Frio River does not have much water. Businesses along the river catering to tubers can only hope for rain. Would be tubers will have to carry their tubes down the rock strewn river bed on Memorial Day weekend unless things change fast.
Evidence of the devastating effects of last years flood are scattered up and down the river. Almost every road crossing has been replaced. Property damage was horrendous.
On our drive we only spotted a few jack rabbits and one turkey plus deer, deer and more deer. Deer out here are like squirrels in a city park back east, or in my back yard in Pensacola. If a home owner waters their yard as many as 8 or 10 deer can be seen grazing on the green grass as soon as the sun starts to go down. Even the RV-Park we are in has a deer feeder. The critters are everywhere. We intended to drive to a "bat-cave" located a few miles east of Concan but couldn't make contact with them via phone. In Concan we stopped at the store (Neal's Lodges) and asked about the bat cave. They called and found out that they were not doing the tour that night. Oh well, we have missed seeing thousands of bats exit a cave before, what is one more miss? Possibly the next time we are through here they will be conducting a tour to the bat cave.
Wildlife did not provide the most spectacular views on our scenic drive. Spectacular views revolved around the winding Frio River, huge cypress trees that line the banks and the limestone cliffs that tower above the river. As the river and road twists and turns through this rough terrain one spectacular view after another presents itself. Almost every paved road in this area is listed in books featuring scenic drives in Texas and/or the entire USA. We agree with those books.
Tuesday, May 20, 2003 We drove 95 miles to Alamo KOA San Antonio, Texas. $29.50 full hook up with 50-amps very near downtown San Antonio.
When we started stirring around this morning it was evident the weather and temperature had changed for the better. The wind was blowing as it always is out here. However, this morning the wind is cool and crisp not laden with 90% humidity. It feels good outside. Before heading to San Antonio we walked down to the river and stood beside the giant cypress trees, lining the Frio River, for pictures. Joyce and I have visited one of the largest cypress trees in the state of Florida nicknamed "Old Methuselah". These trees are, in our opinion, larger than "old Methuselah". The Texas champion live oak tree is located in Rio Frio less than 5 miles from here. We drove through town looking for that oak but did not see the champion oak so it must be on a side road or located back from the road on private property. Some day we may see that tree.
The 95-mile drive into San Antonio took us south on US 83 for a few miles before we turned on Texas 127 heading to the southeast and the community of Sabinal, on US 90, named for the Sabinal River that flows through town in better times. All that was visible of the Sabinal River when we passed through was a dry river bed with small pools here and there.
A remarkable thing happened on Texas 127. Not far east of the small community of Concan the Hill Country abruptly stops. As if a chalk line had been snapped we came around a turn in the road and flat land appeared replete with irrigated fields of corn, wheat, oats, sorghum, and other row crops. Irrigated farm land was with us all the way into San Antonio. During this time we were crossing the Medina Valley. Some have called it the "Alsace of Texas", where rich soils yield abundant crops. Alsace is the region in northeastern France between the Rhine River & Vosges Mountains.
We stopped for lunch at a small outdoor BBQ place in Hondo. We were having trouble with the menu when a nice Mexican gentleman ambled up and helped us. He was so helpful we asked him for advice on where to eat in San Antonio. Without hesitation he told us to eat at Mi Tierra in Market Square. Next I inquired as to what he would recommend on the menu. Without hesitation he said Cabrito (at least that is what it sounded like) he explained that it was very young roast goat. With that advice we were armed for San Antonio.
We never stay in a KOA if you are an RV'er you probably know why. Not staying in a KOA it is a rule we are breaking this one time because so many "virtual" friends have recommended this particular KOA in San Antonio. Now that we are here, I want to second that recommendation. It is just three or four miles from downtown and River Walk. It is also just blocks from the Coliseum where the San Antonio Spurs play and they have just advanced to the NBA Western Conference Championship game. Everyone in Texas is going bonkers over B-ball.
Around 6:30 we drove into downtown San Antonio to Market Square (El Mercado) where we dined at Mi Tierra (My Country) Mexican Restaurant. The owner Pete Cortez from Guadalajara, Mexico and his wife Cruz Llanes of San Antonio named the restaurant Mi Tierra after Pete's enthusiastic affirmation that he was "American by choice not chance". Mi Tierra is one of the "must-do" places for tourist in San Antonio. It is purported to be the #3 attraction in the state of Texas behind River walk and the Alamo all located a few blocks from each other. In addition to being a famous restaurant the establishment showcases some of the best mariachi groups in San Antonio. One three dimensional mural covered a large wall depicted life size portraits of Spanish American and Mexican personalities. Our waiter told us that the artist used oil paints over the relief formed on the stucco wall. Does anyone know what form of art that is? Helen & Dave are my resident experts on art technicalities. VBG So, is there a name for the art form that applies oil paint to plaster relief on an otherwise flat-medium?
Mother and I split an order of cabrito sp (small roast goat) and a big sampler plate. We had watched the livestock auction in Junction where bidders were bidding on these small goats. That is where we learned that the small goats were a delicacy among many ethnic groups including Mexican. The nice Mexican man in Hondo had recommended the restaurant and cabrito, we had to do it.
Now Mother and I have eaten cabrito/roasted goat! It was not something either of us are dying to eat again but we are both glad that we have experienced cabrito. If raised on Cabrito as a child I am sure we would consider it a delicacy. To us it tasted more like pork than anything else we could compare it to. These really small goats do not have much meat on them so it is not like eating a steak but rather like getting meat off a quail or dove. It would have been easier to pick meat out of a crab if you get my drift. We also had a variety of side dishes. The best of the sides was an avocado salad in a soft tortilla shell.
Wednesday, May 21, 2003 Alamo KOA San Antonio, Texas. $29.50 full hook up with 50-amps very near downtown San Antonio.
Mother treated us to an all day tour of San Antonio. We visited most of the top "tourist" things in San Antonio and now have a good understanding of the history of the city. We visited the Alamo, watched the IMAX movie "ALAMO The Price of Freedom", took the boat ride through River Walk, took a guided tour of the 1889 Spanish Governors Palace, then a guided tour of San Fernando Cathedral (the oldest cathedral in the US), ate at the Meager Hotel made famous by Teddy Roosevelt when he trained his "Rough Riders" in San Antonio before leading the "Rough Riders" to victory in Cuba (all this took place in the 1890s). We either drove by or actually toured 4 of the 5 Spanish Missions dating from the 1700s in addition to experiencing Market Square. Near one of the Missions was two of the best surviving examples of Spanish Colonial irrigation systems in the United States, represented by the Espada dam and aqueduct. Our guide told us that Native American's constructed the dam. It was the Spanish who engineered it, that part he did not tell us. The Missions, dam and aqueduct are physical reminders of the Spanish empire's monumental effort to colonize North America.
Our tour was awesome. We have seen and done it all. My mind is a blur of dates and facts. San Antonio is truly steeped in history. One of the major tourist attractions in San Antonio is the string of Spanish Missions located every few miles along the San Antonio river running from north to south through downtown San Antonio. Spain was trying to settle this area while the British were attempting to colonize New England and France likewise in Louisiana around New Orleans. When Spain, Portugal, and France established overseas empires in the 16th century, the Roman Catholic Church sent missionaries along. Spain and the Roman Catholic missionaries established missions throughout what was then "New Spain". Spain not only wanted to convert the indigenous peoples to Christianity but also make them full-fledged partners who could guard against the evil empire, which is how Spain viewed imperial France not far away in Louisiana.
To understand Spain's role in North America requires understanding a lot about what was going on in the world in the 1700s. Spanish explorers spurred by the lure of gold had explored Texas and the San Antonia area. As dreams of wealth faded, the Spanish concentrated their efforts more fully on spreading the Catholic faith among the local Indians. Franciscan's, members of a Christian religious order founded in 1209 by St. Francis of Assisi were instrumental in this effort. They served both the Cross and the Crown. These friars (the Franciscans) whose members took vows of poverty, chastity, and obedience pledged to serve as protectors of the Indians. They also assisted the Crown as explorers, cartographers, diplomats, scientific observers, and chroniclers. However, their primary task, as far as the Crown was concerned, was to aid in extending Spanish culture to whatever lands the Crown claimed. To accomplish this the Franciscan friar's had to convert indigenous hunters and gatherers into Catholic, tax-paying citizens of New Spain. The Indian's struggle for survival against European disease and raiding Apache's led them to the missions and to adopt this new culture. Everything changed for these indigenous peoples: diet, clothing, religion, and culture-even their names. They were required to learn two new languages, Latin and Spanish, as well as new vocations. No longer would they be hunters and gatherers. Men and boys learned to work in the fields, orchards, quarries and in textile, tailor, carpenter, and blacksmith shops. They also toiled as masons, weavers, irrigation ditch builders, and at lime kilns. Some were trained to tend livestock at the mission ranches, while others constructed the stone walls and buildings. Women and girls prepared food, swept dirt floors, tended gardens, made soap, pottery and candles, carded wool, and fished in the irrigation ditch.
Under the Franciscans direction, Indians built these communities erecting stone structures and developing stable economies. Enclosed within massive stone walls, each compound offered residents security from enemies. Spanish soldiers taught the Indians to use European arms. Virtually every armed patrol in Spanish Texas, pursuing Apache and Comanche Indians, included a compliment of "mission" Indians.
Up Mission Road to the north of downtown is Mission Concepcion's twin towered church, built in 1755 and the oldest unreconstructed Spanish church in the nation. Its convento features recently-restored frescoes painted by Indian artists. The Alamo, located in downtown San Antonio, is also a mission complete with church. Mission San Jose features one of the best known Spanish landmarks in the Southwest. An outside wall of the church features the delicately-carved "Rose Window," considered by many to be the premier example of Spanish Colonial ornamentation in all of Spanish North America. Now commercial structures around San Antonio and the southwest replicate the "Rose Window" on magnificent structures.
San Fernando Cathedral located in the center of San Antonio has been beautifully restored. The restoration is something to behold. This restoration has brought the oldest cathedral in the United States to life. A large retablo, a 24 feet by 16 feet ornamentation gilded in 24-carat gold, serves as the centerpiece at the end of the tabernacle. Mexican artist Leonardo Sotel Recendiz created the new 18th century style main retablo sculpture as well as two other minor retablos in the tabernacle. The retablos replace the original ones lost in an 1828 fire. Professionally placed lighting has also enhanced magnificent paintings and statuary in the Cathedral. One oil painting "Las Tres Marias" (Three Women at the Empty Tomb) was resplendent. The painting represents Mary Magdalene, Mary the mother of James, and Mary Salome at Christ's tomb on the day of His resurrection. The drama of the Passion and Death of Christ depicted in the carved stone Stations of the Cross are breathtaking. A statue of San Antonio, St. Anthony, the patron saint of the city, is proudly displayed. In the middle of the tabernacle, a stone marker marks the "official center" of San Antonio. That may seem odd but right there imbedded in the floor is this marker designating that spot as the center of San Antonio as it was laid out in 1731. Our tour guide related that when Spain was establishing new towns they would lay the town out with the Church in the center and a string of "plazas" on either side. The cathedral also holds the Alamo crypt, a marble sarcophagus with the purported remains of Alamo defenders, Davie Crockett, Jim Bowie and Colonel Travis. I would recommend including a tour (it is free) on your tour of the city.
Thursday, May 22, 2003 Alamo KOA San Antonio, Texas. $29.50 full hook up with 50-amps very near downtown San Antonio.
We drove Mother to the San Antonio International Airport this morning for her flight back to Florida. She has been traveling in the motorhome with us for a month. What a pleasure it was to be able to spend quality time like that with my Mother. I am sure that she will have some good stories to tell her friends back in Panama City.
Joyce and I spent the day catching up on chores like house keeping and clothes washing.
We headed to River Walk for dinner. The place was crowded, river boats were jam packed as were the sidewalks. The city of San Antonio along with the business community have transformed a very small river into a superb tourist attraction. The foresight to develop River Walk into the attraction that it is today was nothing short of phenomenal.
Friday, May 23, 2003 Alamo KOA San Antonio, Texas. $29.50 full hookup with 50-amps very near downtown San Antonio.
Joyce had a day in downtown San Antonio planned for us.
The first stop was the Alamo. We briefly walked through the Alamo with Mother while on the tour. This time we spent several hours walking through many buildings that we had ignored earlier. The timeline of Spanish control, Mexican control, the Fight for Independence, the era where Texas was a full fledged "Republic", then it became a state only to succeed from the Union a few years later during the Civil War, then as a state again. A lot of things changed in the 1700's and 1800's in Texas. So much more was going on in Texas that was not going on in the remainder of the nation.
For lunch Joyce chose the Buckhorn Saloon and Museum. We both enjoyed the Buckhorn. The food was nothing to write home about but the decor was awesome. The Buckhorn Saloon has been in business since the mid 1800s and collecting memorabilia the whole time. All kinds of western memorabilia are on display in the museum area. In the restaurant area a superb collection of mounted animals from around the world are prominently displayed. Nothing is too big or too small. Giraffes, elephants, Cape buffalo, Texas long horn cattle, polar bears, brown bears, lions, rhino's and virtually every other horned animal are on display throughout the facility. This was one of the best museums we have visited especially if you are interested in animals around the world. In the museum collection were numerous Boon and Crocket record racks. We can't say enough about this museum and can only wonder why it was not included on the tour we took the other day.
Next Joyce led me on another stroll around River Walk. Another stroll or two around River Walk and we can qualify as guides. Just joking__ it would take longer than that but we are getting familiar with the place.
Mike & Joyce Hendrix
Until next time remember how good life is.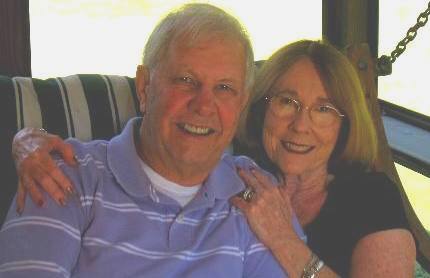 Mike & Joyce Hendrix who we are
We hope you liked this page. If you do you might be interested in some of our other Travel Adventures:
Mike & Joyce Hendrix's home page
Travel Adventures by Year ** Travel Adventures by State ** Plants ** Marine-Boats ** Geology ** Exciting Drives ** Cute Signs ** RV Subjects ** Miscellaneous Subjects
We would love to hear from you......just put "info" in the place of "FAKE" in this address: FAKE@travellogs.us
Until next time remember how good life is.