St Andrews State Park Panama City Beach, St Joseph's Peninsula State Park Cape San Blas near Port St Joe, St George Island State Park, Apalachicola, Ochlocknee River State Park & Carabelle
Places Visited:
Florida: St Andrews State Park Panama City Beach, St Joseph's Peninsula SP Cape San Blas near Port St Joe, St George Island SP, Apalachicola, Ochlocknee River SP, Carabelle
Saturday, January 19, 2002 St. Andrews, State Park: Panama City Beach, Florida
My sister and brother-in-law arrived at my parent's house late last night. They are the reason we stayed in Panama City all week. We got up and went to my parent's house where we spent the day with family. A fun day was had by all.
Sunday, January 20, 2002 St. Andrews, State Park: Panama City Beach, Florida
Jeff and Kathryn drove over from Pensacola this morning to join us. The whole family spent the day eating and enjoying each other until late into the night. Jeff and Kathryn spent the night with us in the motorhome.
Monday, January 21, 2002 Cape San Blas RV-Resort, Port St. Joe Florida
Jeff and Kathryn headed back to Pensacola as soon as we ate breakfast. Joyce and I packed up the motorhome, said goodbye to St. Andrews State Park, and headed to Cape San Blas (near Port St. Joe). We were looking forward to staying in a special, quaint RV-Park on the beach that we enjoyed years ago. Much to our surprise it was no longer there. Hurricane Opal did it in several years ago. We ended up staying in another park just down the street. We should have stayed in the State Park. However, we wanted to walk on the beach near the cape where shelling is so good. The shells are still there the RV-Park was lacking.
Upon arriving we took a long walk on the beach. Porpoises were playing in the surf just a few feet from the beach. Joyce was picking up shells destined for her large collection. We took a ride down to the State Park and drove around its two RV-Camping areas. Both are awesome. The park was about 60% full. Snowbirds were enjoying a magnificent sunset. The State Park on Cape San Blas is perfect for someone that is looking for seclusion. The State Park is a long way from restaurants and shopping but smack in the middle of some of the most beautiful beach and dune systems anywhere. Surf fishing is great in this area and many of the snowbirds were wetting a line.
Tuesday, January 22, 2002 St. George Island State Park just east of Apalachicola, Fl.
We woke to a balmy day. However, by noon we were out of our shorts and back in jeans. Instead of taking a walk on the beach we packed up and headed to the State Park on St. George Island 40-miles to the east. As we drove through Apalachicola we debated whether we should stop and eat/shop or continue on to the State Park. We decided to continue on to St. George Island then take the Saturn back.
As we cross the bridge from the mainland to St. George Island we see over a hundred small rickety boats harvesting oysters east of the bridge. The state has just opened this part of the bay to harvest and area fishermen are packed into the area. During oyster season fishermen harvest the tasty bivalves from tiny boats, just as their fathers and grandfathers did before them, "tonging" with specially made nine-foot long tongs. "Tonging" is a method used to harvest oysters in relatively shallow water. Tongs resemble post-hole diggers with much longer poles. The poles are hinged and large rakes adorn the business end. Working the nine-foot tongs manually from the side of a boat is HARD. No mechanical harvesting is allowed. In Chesapeake Bay, where the water is deeper, watermen harvest oysters using a sailboat to pull dredges, which are nets attached to metal frames. The dredges are attached to the boat by a line and dragged along the bottom. No mechanical harvesting is allowed on the Chesapeake Bay either, notice the boat pulling the dredge is wind powered.
This summer the harvest of seafood was shut down in Apalachicola Bay because of Red Tide. From the looks of all those oyster boats they are making up for lost time.
The Apalachicola River and Bay system supports one of the most productive fisheries in the United States. It is home to world famous Apalachicola Bay oysters. In addition, it produces tons of shrimp, crabs and scallops while supporting a huge commercial seafood industry. This complex ecosystem is dependent on fresh water delivered by the Apalachicola River. The Apalachicola River is formed by the confluence of the Chattahoochee and Flint Rivers at Lake Seminole (on the Florida, Georgia & Alabama borders). The Apalachicola River emerges from the dam and meanders through the undeveloped coastal plain of the Florida Panhandle as it makes its way to Apalachicola Bay. Many streams, creeks and rivers feed into it, including the Chipola River, which originates from springs and spring-fed creeks in northwest Florida.
St. George is another of Florida's outstanding State Parks. The State has preserved 9-miles of undeveloped beaches, pristine shorelines, majestic dunes, fresh water lakes, salt marshes and sandy coves. This place has it all. We would like to take a walk on the beach but it is much too cold. Instead, we drove back to Apalachicola for lunch at the Apalachicola Seafood Grill located in downtown Apalachicola on the corner where US-98 takes a 90-degree turn (this corner features Franklin County's lone "blinking" light). This place is a "home-run". Mike had a fried shrimp lunch with over 30 succulent fresh fried shrimp. Fresh fried shrimp are EXCELLENT only when they are fresh and not covered with thick dough. These were lightly dusted with cracker crumbs and flour. Where else can you get over 30 fresh shrimp for $7.95? Joyce had an equally impressive grilled grouper dinner. If you stop here to eat expect good food not atmosphere. The Apalachicola Seafood Grill has been an Apalachicola Landmark for nearly 100 years and it has retained some of that ancient ambiance.
The city of Apalachicola is a charming old fishing and riverboat town with a glorious past. Although it is struggling now, 150-years ago, it was a bustling port city exporting cotton, lumber and sponges. During Apalachicola's heyday it was the third most significant port on the entire Gulf of Mexico. Fortunes were made and mansions erected. One mansion, the Raney House can still be toured. It is an 1838 Greek revival mansion that reflects the prosperity of its original owner, a cotton merchant. The house has four tall columns across the front reflecting the temple-pediment style popular in that day. It features wide halls that now display antiques and museum pieces. The wide halls once served as breezy rooms during hot summer days.
Back in its glory days Apalachicola had 43 cotton warehouses. Only one of these warehouses remain. It must have been an impressive sight seeing all those compressed bales of cotton that passed through the port after a prosperous growing season. Imagine the activity that must have accrued to all of the activity surrounding the loading and unloading of this cotton. Cotton, grown in Alabama and western Georgia, was transported down the series of rivers that empty into the Gulf of Mexico at Apalachicola. Sailing schooners, packet ships and brigs unloaded all manner of goods from Europe and other ports of call and loaded bales of cotton for the return trip to textile mills in England and France.
The abandoned sponge exchange building stands as a memorial to the days when the sponge trade in Apalachicola ranked as third in the state. The sponge days will never return. Today shrimp nets are continually drug across the sea bottom destroying sponges and everything else that tries to grow in the Gulf.
I would be remiss if I did not mention the John Gorrie State Museum. Dr. John Gorrie was the inventor of the first ice-making machine. Yellow fever was a serious problem during Apalachicola's early days. Cooling yellow fever patients was the treatment of the day. Developing a method to cool his patients led to his discovery. You can view a replica of Dr. Gorrie's first ice-making machine at the museum.
The international waterfront of bygone days has given away to shrimp boats and all manner of fishing vessels delivering their catch to seafood markets.
Wednesday, January 23, 2002 St. George Island State Park just east of Apalachicola, Fl.
After a long two-hour walk on the beach we headed out to do some exploring. This part of Florida, locals call it the "Forgotten Coast" is caught in a time warp. Million dollar homes line St. George Island while across the bridge on the mainland a bygone era of wooden boats attached to rickety stick and board docks exists. Abandoned half-submerged boats litter the shore. Faces of the watermen and women are incredibly etched by the weather and sea. There is no way to tell how old someone is by looking at his or her face.
Fog rolled in during the night and stayed with us until just before noon when it burned off. It descended on us again around 5:00. The temperature got up to 79/80 today. However, when the fog rolls in it feels damp and cool.
For supper we went to Harry A's on St. George Island. They have a daily special and today it was Mexican. After eating we stayed to enjoy a large group of locals participating in karaoke. Harry A's was hopping for a Wednesday night. Fishermen mingled with locals and college students. Fishermen decked out in white rubber boots bellied up to the bar with women in dresses and heals. A snaggle tooth women plays pool while a group of well-healed tourist participates in karaoke. What a sight!
The nine-mile trip back to the motorhome was through fog was so thick you could cut it. We were only able to drive around 30-mph. It was dangerous to drive even that fast.
Thursday, January 24, 2002 St. George Island State Park just east of Apalachicola, Fl.
We got up late this morning. Too much Harry A's last night! After "standing by" while Joyce did some upscale shopping in downtown Apalachicola we headed for our outing on the Osprey. The Osprey is Captain Gibby Conrad's 32-passenger estuary tour boat. Captain Gibby operates his estuary tour out of Scipio Creek Marina just four blocks from the blinking light in downtown Apalachicola. The Osprey's shallow draft allowed us to explore a maze of creeks, tributaries and distributaries that meander beneath a cathedral of cypress, tupelo and cabbage palm trees. Captain Gibby did a good job of explaining what an estuary is (a place where fresh and salt water mix) and how important it is to the seafood industry. The Apalachicola estuary creates an extremely bountiful seafood industry. Apalachicola Bay produces 90% of Florida's oysters and roughly 20% of the total U.S production. We see osprey nest but the osprey have migrated south. However, bald eagles line the shore farther up river while loons and cormorants dive for fish. Captain Gibby taught us about distributaries. Many of us are familiar with a tributary, a stream that flows into a larger stream or body of water. A distributary is the opposite of a tributary. A distributary is a branch of a river that flows away from, rather than into, the main stream and never rejoins it. In the Apalachicola River delta several distributaries break off from the main body of the Apalachicola and create another path to the bay. We travel through a swamp, recognized by woody plants in a wetland. Then he takes us through a marsh, recognized by grassy plants in a wetland. As we made our way up one distributary Captain Gibby pointed out how the river created two distinctly different swamps. On one side the swamp supports cypress and tupelo trees, this side is actually underwater most of the time. The other side supports cabbage palms, cedar and oak trees with scattered pines. This side is just above the water table but floods as the river floods. Just a few feet or inches in elevation create completely different forest zones.
After the estuary tour we stopped at the Apalachicola Caf' again. This time Joyce had fried shrimp and I got the "worlds largest fish sandwich". We had heard that the "worlds largest fish sandwich" was the most popular dish served at the Apalachicola Caf'. They don't actually know if it is the world's largest fish sandwich or not. They do offer it for free if someone can show them where they have purchased a larger one. So far no one has collected. The bun was just a large hamburger bun. However, there was enough fried fish on the buns that it would match about 6 fish dinners in a normal restaurant. I have never seen so much fish on one plate unless it was a serving platter. We both ate shrimp and fish. We did not eat the buns or French fries but, incredibly, we did polish off the seafood.
Back at the RV we take a nature walk along the bay. About two miles into the walk the trail passes an eagle's nest. One eagle is on the nest the other is in a nearby tree. We like this place better every day. Along the walk we notice that every slash pine of any size has a long scar on the trunk. This long ugly scar gives testament to the turpentine industry that milked these trees early in the twentieth century. Back in those days laborers would make V-shaped incisions in the trees during the winter. A galvanized metal gutter was nailed along the bottom of the gash. A special clay pot known as a "gerty cup" was placed below the gutter. In the summer, resin flowed down the ugly gash to the gutter and into the "gerty cup". The pine resin would be distilled into volatile oil of turpentine, which was used for explosives, as a thinner for paints and varnishes, insecticides, medicines, detergents, and in shipbuilding. I will bet that many of you from the southeast will know relatives that spent some time working in the turpentine industry. Feel free to share some special knowledge of the industry me. :-)
Friday, January 25, 2002 St. George Island State Park just east of Apalachicola, Fl.
We were fogged in with scattered rain all night and it continues all day. The good part is temperatures are in the 60's and 70's. This is our last day on St. George Island and we had sooooooooo much more to do. We could entertain ourselves for weeks here. One of the things I want to do is harvest some of the oysters from the bay side of the state park and make an oyster stew. It doesn't look like I will get around to that this trip but you can bet that we will return and I will do some oyster harvesting and eating.
Yesterday one of the park volunteers told us where we could view a great horned owl. On the way out of the park this morning we stopped by the spot where the park volunteer told us and wa-la there was this huge great horned owl. A large group of warblers and a few mocking birds were chastising the owl. The mocking birds were dive- bombing it. What a great start for the day. Next, before we exit the island, we check out an eagle nest someone told us about. We drive down the road Harry A's is on and we are able to spot several eagles nests and a great horned owls nest. The great horned owl and a large baby were sitting on the nest in plain view. On one of the eagle nests a fledgling eagle was exercising his wings. We watched as the youngster held tight to a large limb in the nest and flapped his wings. I suppose the adults were out fishing. Anyone looking for these nests should drive down the road Harry A's is on and search for large nest located in the tops of pine trees lining the bay.
Next we head to the National Estuarine Research Reserve (NERR) in downtown Apalachicola. In addition to the important job of monitoring the nations estuaries NERR does a good job of educating the public about the importance of these estuaries. In Apalachicola NERR has an excellent building with displays, microscopes, interactive computer training stations, discovery centers, educational videos, posters, display tanks with live fish and finally a swamp and marsh nature trail.
One diorama in the NERR depicted the areas turpentine industry. This display was a bit different and considerably more detailed than the one at the state park. It displayed a clay "pringle-cup" from 1915 vintage that had a curved shape to better fit the tree and a "herty-cup" 1902 -1930 that looked like a clay flower pot without the hole in the bottom. Both of these clay cups had a small hole in the lip area that fit over a nail holding the cup to the tree. There was also a tin "herty-cup" in the display. The diorama display included a large glob of resin that had been recovered in a shrimp net. It appears that either a delivery boat sank or a barrel of resin fell off the boat sometime in the early 1900's. When the resin was originally recovered it was in the shape of a barrel. As it sat in the hot sun on a dock it became soft and lost the barrel shape.
We finished off the night at Harry A's, with a group of locals, enjoying the live band. By the time we head home high pressure has moved in, the temperature has dropped a few degrees, fog has lifted and the cloud cover is thinning, the weekend is looking good. The fog had been so thick every night we have been here that we literally had to feel our way home. Tonight we are able to see.
Saturday, January 26, 2002 Ochlocknee River State Park south of Tallahassee and near the metropolis of Sopchoppy.
We are moving to Ochlocknee River State Park located 45 miles east of St. George Island. There is so much more for us to do in and around St. George Island. We will have to save those things until we return.
Before taking off we took a long beach walk then headed a mile or so down a nature trail looking for a Great Horned Owl nest. Just like we had been told the Owl and two little ones were on the nest keeping watch on everything.
All week long we have been stopping to watch thousands of tree swallows feeding over the beach dunes and adjacent swamps. We were thinking that they were early arrivals from South America. This morning we met a local birder and she told us this is where they wintered. For those of you in the northern climes now you know where your tree swallows spend their winters (in St. George State Park).
On the drive to Ochlocknee River SP we stopped in Carrabelle to eat at Julia Mae's. We have eaten here before and found it to be nothing special other than expensive. However, locals rave about the place so we gave it another try. We laugh as we both remark upon leaving, nothing has changed; Julia Mae's remains expensive and nothing special.
Ochlocknee River State Park is located on some high ground along the Ochlocknee and Dead River. When I say high ground I am talking about 15'. That is high in this part of Florida. Most of the camping spots in the park are for tents and popups but a few are large enough for motorhomes and other RV's. Campground roads and spots are sand nothing is paved.
Mike & Joyce Hendrix
Until next time remember how good life is.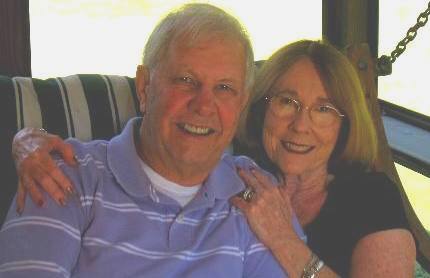 Mike & Joyce Hendrix who we are
We hope you liked this page. If you do you might be interested in some of our other Travel Adventures:
Mike & Joyce Hendrix's home page
Travel Adventures by Year ** Travel Adventures by State ** Plants ** Marine-Boats ** Geology ** Exciting Drives ** Cute Signs ** RV Subjects ** Miscellaneous Subjects
We would love to hear from you......just put "info" in the place of "FAKE" in this address: FAKE@travellogs.us
Until next time remember how good life is.