Grayton Beach SP, St Andrews State Park in Panama City Beach
Places Visited: Florida: Grayton Beach SP, St Andrews State Park in Panama City Beach
Friday, January 11, 2002 Grayton Beach, State Park: Off highway 33A Grayton Beach, Florida
After getting up late we finished packing and said good buys to several neighbors as we finally started rolling around 10:30am. They all wanted to know if we were going to be gone for another seven months. Not this time was our reply. We have been home in Pensacola for the past two months enjoying the holidays and taking care of Mike's hernia surgery. He is supposed to take it EASY for 6-weeks. It has been four and he promises to take it easy for another two weeks. Visiting with family and friends has been a joy and Joyce has really enjoyed our home, SHOPPING and having lunch with girlfriends. Not to mention being close to Jeff and Kathryn and enjoying their company. We are ready to continue the adventure. Lets roll!
Our plan is to see and experience Florida. Although we have lived in Florida most of our lives it is absolutely amazing how much of it we have not "really" experienced first hand. The first week or so we plan to spend some time in a variety of State Parks scattered along the Panhandle's Gulf beaches. Grayton Beach State Park is located about 15-miles east of Destin, Florida and is right on the Gulf. We skipped Henderson Beach State Park located in Destin because we did not know that they had RV-sites. Henderson Beach State Park does indeed have 33 RV-sites, as of last year, and plan to add 30 more this year. Anyone, especially with kids, that is looking for a good beach with plenty of activities, shopping, restaurants etc., will find that Henderson Beach is as close to nirvana as it can get. Those looking for something more secluded will like Grayton Beach State Park. Between Henderson and Grayton Beach is Topsail Hill Gregory Moore RV-Resort State Park. I have no idea why we passed Topsail Hill up in favor of Grayton Beach. We have decided to drive back to it tomorrow and see what we missed.
Mike picked the Red Bar in downtown Grayton Beach as our dining destination this Friday night. Joyce had planned on eating in the motor home since we had a big meal at lunch. Mike just didn't want to eat salad and that is what Joyce was planning. The Red Bar was recommended by the park ranger and turned out to be a popular place for the 30's crowd. The food was OK but very expensive. The décor could be described as interestingly tacky or beachy rundown, although some might say it had character. They only took cash or checks! Although we wanted to be impressed, we weren't. It must be us, since the place was packed. Oh well! Sometimes we hit a home run other times we strike out. The Red Bar wasn't a home run, in our opinion.
Saturday, January 12, 2002 Grayton Beach, State Park: Off highway 33A Grayton Beach, Florida
We headed out for our daily walk under cloudy skies. The nature trail we walked was through a mature dune system. This is an area where sand is constantly moving. Each time the wind blows sand shifts until it is stopped and held by plants. Every tree able to scratch out an existence in this hostile environment is gnarled and stunted. Live oaks, magnolias, yaupon holly and palmettos hold most of the inland side of dunes in place. Sea oats hold dunes in place until the oak thickets can catch hold. On the backside of the dunes are the oak thickets. The oaks grow so thick in these thickets that it would be virtually impossible to penetrate. Although these trees are less than 6 feet tall they produce large numbers of acorns. They are pruned by wind born sand and salt. Saw Palmetto is another predominant plant in this region. Saw palmetto's are palm trees with trunks growing along the ground. Fruit of the saw palmetto plant is harvested to produce a product touted as good for the prostate. You can see the "saw palmetto" product in the herbal remedies section of most pharmacies.
Grayton beach is consistently rated as one of the top ten beaches in the United States, including Hawaii. The sugary white beaches make the State Park one of the most pristine coastal spots on this continent. Back in 1994 it was rated as the number-one beach in the United States. The dazzling sugar white sand contrasts with the emerald green waters of the Gulf. Shorebirds, searching for food, rush in and out with each wave. Large dunes line the shore crested by beautiful stands of sea oats and the wind-sculpted trees. These truly stunning seascapes literally beg to be captured on film or canvas.
Grayton Beach State Park, with its pristine white beaches and the variety of specialty shops readily available, is a paradise for Joyce. She could stay here forever. However, as you know, we are always looking for a good small town restaurant featuring unique home cooking. After our walk we drove to the small town of Freeport for lunch at the Corner Café. We both ordered mullet, a local favorite, expecting it to be fillets but to our disappointment it was full of bones and very salty. We should have known better. During the summer, area restaurants serve large succulent black mullet fillets. During the winter black mullet migrate to deeper water in the gulf and local fishermen rely on the much smaller silver mullet. The silver mullet are so much smaller that restaurants just filet one side and leave the backbone in the other. Strike two in our attempt to find a truly great local restaurant. Oh well! We have only begun this search. You might ask why did we drive to Freeport (11 miles north of US-98 on hwy 331) when we are staying in the mist of all these high-class establishments. Well, Mike talked to a man, from New Hampshire, on the beach this morning, that spends his winters in the area, and he recommended the Corner Cafe in the small little red neck town of Freeport. What does someone from New Hampshire know about mullet anyway? That is kind of like asking a redneck about the Opra isn't it?
Joyce is itching to get back to something classy (read that expensive) and maybe take in some music and dancing. She scoped out the Santa Rosa Golf and Beach Resort. They advertised dinner and dancing on Saturday nights. Too bad it is closed for remodeling. Joyce is disappointed to say the least. We take the short drive from Grayton State Park to Seaside so Joyce can browse in the upscale specialty shops. While there it begins to rain and turn cold so we headed back to the motor home to enjoy the remainder of the day reading and writing.
On our short drive this morning along hwy 30A we stopped and toured Topsail Hill State Park and it's RV-Resort and learn that it has only been a State Park for three years. It was previously a private RV-Resort. The rates are $32 per night, $202 weekly and $515 monthly (3 consecutive months for $430) (4+consecutive months $410). It was packed to capacity with snowbirds. It is a beautiful park with clubhouse, tennis courts and enclosed heated pool. It is Good Sam rated 10,10,10 and Wooddall's rated WWWWW, need we say more. We are paying eleven dollars per-night at Grayton State park for water and electricity. We both agreed that Topsail would be a nice place to stay for a couple of months next winter. It is only about 65 miles from our home in Pensacola and we would be close enough to still rock our twin grandbabies that will be born in July. We don't want to get to far from home that first year! If you are interested in checking it out contact Topsail Hill State Preserve the address is 7525 W. Scenic Hwy, 30A Santa Rosa Beach, and Fl 32459. For Reservations call 1-877-232-2478 or email address Topsailhill@gnt.net. Or look them up at www.Topsailhill.com It looks like a great place to meet and fellowship with others.
Sunday, January 13, 2002 St. Andrews, State Park: Panama City Beach, Florida
It turned cold last night. When I peaked out from under the down comforter this morning the temperature in the motorhome was 52 degrees. Mercy! We got the heaters going then jumped back under the covers until the place was warm and cozy.
In keeping with our goal of more exercise and less food we took off on another one hour plus walk down the beach. I sure hope that these walks will help keep the blood pressure and weight in check.
Next we moved the motorhome 32-miles east to St. Andrews State Park located on St. Andrews Bay in Panama City Beach, Florida. The campground is awesome. The ranger checking us in tells us it is the most popular RV-park in Florida's State Park system. Like Grayton Beach SP St. Andrews State Park has one of the top 10 beaches in the U.S. In fact it was voted the best beach in 1995. When we get to our site I can see why. Out our motorhome's front window, across picturesque Grand Lagoon is world famous Bay Point Resort. We are paying $15 per-night and those folks can't even get their car parked for that! Does it get any better?
We spent the early evening hours at my parent's house in Panama City with them and my younger sister and her husband (my personal computer guru). Everyone should know at least one computer guru that will return a phone call. <VBG> Very Big Grin.
Monday, January 14, 2002 St. Andrews, State Park: Panama City Beach, Florida
It started raining during the night and continued through the day. Instead of walking on the beach we strolled around Wal-Mart getting some necessities before heading to Mike's parents house. We visited and ate with them then headed home around 8:30 pm.
Tuesday, January 15, 2002 St. Andrews, State Park: Panama City Beach, Florida
The rain is gone replaced by bright clear skies. We spent several hours walking on the beach and around the park. This is a beautiful place.
We ate lunch at J. Michaels on the beach near the Treasure Ship. Joyce and I had enjoyed J. Michaels red beans and rice years ago when they were located on US-98 in Panama City. We did not know what happened to the restaurant that we liked on US-98 it just was not there one time when we passed through. Joyce spotted the J. Michaels sign as we were driving to St. Andrews State Park. We just had to go back and get reacquainted with their red beans and rice. We ate dinner at Mike's Mother's house and watched some Fox news with them before returning to our motorhome.
Wednesday, January 16, 2002 St. Andrews, State Park: Panama City Beach, Florida
Clear blue skies are the order of the day. Nuthatches and chickadees are flitting around the trees while great and snowy egrets feed just outside the front window. Just a little farther out the front window a flock of scaup are diving for breakfast. All of this and we have not left the motorhome.
Several of the snowbirds are having a ball catching bluefish both from the surf and the free pier sticking into the gulf.
We walked the shoreline from our RV around the point to the Gulf. This was another walk of several hours that did not overlap any of the shoreline we walked yesterday. Today there was much more life. Along the shore of Grand Lagoon ruddy turnstones and killdeer were feeding in the tidal flats exposed by the outgoing tide while willets were feeding in water around 6" deep. Farther off the beach mergansers are diving for fish while gulls circled overhead waiting for an opportunity to rob the mergansers of their catch.
Joyce is always vigilant in her search for excitement. Today she located it in a place called Chubby's Bar & Grill located in the Shoppe's at Edgewater (Panama City Beach, Florida). The place was advertising a "snowbird special". From 3:00 until 6:00 Tuesday through Friday they offer a "snowbird special" with meals from $4.00 to $7.00 plus music and dancing. Initially we were apprehensive, but upon arrival we were blown away. The place was packed with snowbirds. Everyone was having a great time. A DJ was playing 60's/70's music and everyone was dancing. The owner/DJ had personality plus. He used his effervescent personality to keep the audience totally entertained. We have finally hit a home run. This place is worth doing again.
We finished off the night watching Fox news with Mike's parents before heading back to the motorhome.
Thursday, January 17, 2002 St. Andrews, State Park: Panama City Beach, Florida
We took another long walk on the beach before getting cleaned up for a return to Chubby's. The place was packed by the time we arrived which was shortly after 3:00 in the afternoon. With every seat in the house occupied we were beginning to wonder what we were going to do. Then a very nice couple from Kentucky (near Cincinnati) asked us if we would like to sit with them. We were saved! This couple, Gene and Ann, were so nice and excellent conversationalist. They had 14 grandchildren and had been foster parents for 37 years. What a testimony! They have been wintering on South Padre Island for years but decided to change to Panama City Beach this year because of the bridge to Padre Island being hit by a barge. They have enjoyed Edgewater Condominiums so much that they have already reserved their place for next year. Joyce and I ate and danced until 6:00 when we headed to Mike's parents house for another night of watching TV.
Friday, January 18, 2002 St. Andrews, State Park: Panama City Beach, Florida
It turned warm today. Everyone was walking in shorts and many did not have shirts. You would think it was summer. Today we walked the entire beach loop from the RV east along the Grand Lagoon side, south along the pass, then west along the beach to the pier then across the peninsula and back to the motorhome.
After spending the afternoon with Mike's parents we headed back to Chubby's for the live band and entertainment. The band was great. The "snowbirds" were all at a "big-band" dance at Edgewater. The crowd in Chubby's was mostly locals in the 30 through 50's age group. We danced until the midnight hour. Joyce is a happy girl. <VBG>
Mike & Joyce Hendrix
Until next time remember how good life is.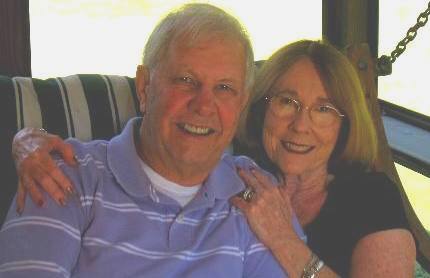 Mike & Joyce Hendrix who we are
We hope you liked this page. If you do you might be interested in some of our other Travel Adventures:
Mike & Joyce Hendrix's home page
Travel Adventures by Year ** Travel Adventures by State ** Plants ** Marine-Boats ** Geology ** Exciting Drives ** Cute Signs ** RV Subjects ** Miscellaneous Subjects
We would love to hear from you......just put "info" in the place of "FAKE" in this address: FAKE@travellogs.us
Until next time remember how good life is.