Hendrson Beach State Park in Destin, St Andrews State Park
Places Visited:
Hendrson Beach State Park Destin, St Andrews State Park Panama City Beach
Tuesday, September 17, 2002 Henderson Beach State Park, Destin, Florida. Campsite #34 (a great gravel pull-through with 50 amps, $18 within walking distance of one of the most spectacular beaches anywhere)
We got off around 4:00 pm this afternoon after retrieving the RV from our mechanic. He was repairing the dash air conditioning. It took him 2-days to get to it. Actually, Mike does not work on any vehicle the day you deliver it. All vehicles must sit in front of his place for the obligatory day before he actually looks under the hood. It is just the way things are. Don't ask me why. The receipt says Mike filled it with coolant and replaced the leaking valve. On the road to Destin we discovered that the dash air is not cooling. Things like this drive me crazy. Two days in the shop and it is still not working and to think $70 worth of refrigerant has escaped into the atmosphere. How many more days is my rig going to have to sit at Mike's place before the dash air produces cold dry air?
Did I say that it was "muggy"? Those that have never visited the Deep South have a hard time imagining what "muggy" is. Those that have visited have an idea. The Deep South is always humid but after a tropical depression or hurricane passes through things are multiplied in spades. Outside temperatures may only be in the upper 80s but the humidity hovers around 96%. Rain from the tropical depression is evaporating, literally oozing from the earth. There is so much humidity in the air that you cannot see very far in the haze. From Pensacola you can't see Ft. Pickens 6-miles across the bay because it is lost in the haze. Standing outside for just a few minutes results in sweat dripping from every pore of your body. Sweat does not evaporate, the heavy air will not hold any more moisture, breathing is laborious, and in short you are miserable. Did I mention that my dash air is not working?
Joyce took a sunset walk on the beach; it was too muggy for me to accompany her. She came back all excited. While the sun set on the west end of the beach a full moon was rising on the east end of the beach. The Gulf was so quiet blue herons lined up on the first sandbar waiting for an unsuspecting meal to happen by. As the sun disappeared and the moon reached higher in the sky condominiums appeared to be shimmering candles lined up along the beach, at least this is what she told me.
Wednesday, September 18, 2002 St. Andrews State Park, Panama City Beach, Florida. Campsite #8 (30-amps, hard-packed dirt on the water facing Grand Lagoon and the legendary Bay Point Resort)
After sleeping late then going for a walk on the beach we packed up and headed to Panama City Beach. It was only a 50-mile drive. After setting up the motorhome in our bay front site we headed to my parents house in Panama City proper. This is my Dad's 89th birthday and both of my sisters, their husbands plus Joyce and I went to the Captain's Table in St. Andrews to celebrate. Excellent seafood!
Thursday, September 19, 2002 St. Andrews State Park, Panama City Beach, Florida. Campsite #8 (30-amps, hard-packed dirt on the water facing Grand Lagoon and the legendary Bay Point Resort)
We spent the day with my parents at their home in Panama City.
Joyce photographed the sunset this afternoon framing the sun with sand dunes and sea oats. She is striving for one of those sunset pictures that can be blown up and framed.
The full moon beckoned us to take a moonlight walk in the campground and out on the dock stretching into Grande Lagoon. The breeze in our face felt so good. Wildlife, deer, raccoons, opossums, was visible in the moonlight. Occasionally a fish would leap into the air and crash back with a loud splash in the stillness or one of the great blue herons would utter one of their occasional croaks that would scare the wits out of a lion. Sitting on the dock watching the lights reflecting on the still water made us think of friends Ed and Sarah who recently sailed their boat from Norfolk, Virginia to Pensacola, Florida. That must have been a wonderful experience. We want to do that some day.
Friday, September 20, 2002 St. Andrews State Park, Panama City Beach, Florida. Campsite #8 (30-amps, hard-packed dirt on the water facing Grand Lagoon and the legendary Bay Point Resort)
We followed up that moonlight stroll with a mid-morning stroll. Both of us are trying to get more exercise. It is still humid but the morning breeze mitigated the humidity to some extent. At least we come back from our walk dry. A few days ago 10-minutes outside and we would look like we had just come from the swimming hole.
For years Joyce and I have passed by the "Museum of Man in the Sea" on Panama City Beach. Today was our day to take time and visit the museum. After stopping we can only wonder what took us so long to experience it. The Museum is operated by the Institute of Diving a non-profit educational organization formed in 1977. Commercial dive operations, the U. S. Navy and several foreign Navies as well as other government entities have donated equipment to make this a great museum. The museum reflects the history of diving from the 1690's to today.
Artifacts from numerous shipwrecks around Florida are on display. A 20-minute video of Mel Fisher's quest to find the Spanish Galleon Nuestra Senora de Atocha (lost in a 1622 hurricane) containing over $400 Million in gold and silver.
I climbed into a miniature submarine made for 2 individuals to venture deep into the unknown. These were brave souls indeed that descended into the depths in these small contraptions.
Another video takes viewers on a dive deep into a freshwater cave system.
The part I liked best was a narrated history of the coastal steamer SS Tarpon that made weekly runs between the port cities of Pensacola, Panama City, Apalachicola and Carrabelle during the years from 1900 to 1937. As a teenager (early 1960s) working on charter fishing boats out of Panama City, I remember fishing on the wreck of the "Tarpon". Back then it was just a great fishing spot. Now I realize the Tarpon played a major role in the settlement of northwest Florida. Bridges did not cross the major rivers and bays found along the coast. The Tarpon was how people and goods were transported until the railroad arrived and finally roads and bridges made travel over land possible. Although the Tarpon was only 7-miles offshore Panama City Beach it did not have a radio on board to call for help when it started sinking in heavy seas. As a result of the Tarpon's sinking the Federal Government mandated that all vessels carrying passengers for hire, operating out of site of land had to have a ship to shore radio on board.
Look for the "Museum of Man in the Sea" on highway-98 one block west of SR-79.
Saturday, September 21, 2002 St. Andrews State Park, Panama City Beach, Florida. Campsite #8 (30-amps, hard-packed dirt on the water facing Grand Lagoon and the legendary Bay Point Resort)
Some people are so thoughtless! We went outside this morning and a family upwind of us was cooking bacon. The aroma of Bacon saturated the still air. The look on everyone's face said the same thing "how can you torture an entire campground like that"? Once the fragrance of cooking bacon permeates the olfactory senses everything evaporates from the mind but breakfast. I think it was affecting the entire campground the same way. Thank goodness a stiff breeze started blowing out of the east.
No Joyce did not cook!
Sunday, September 22, 2002 We drove 51 miles today Henderson Beach State Park, Destin, Florida. Campsite #50 (a great gravel pull-through with 50 amps, $18 within walking distance of one of the most spectacular beaches anywhere)
The day began in St. Andrews State Park on Panama City Beach and ended at Henderson Beach, State Park in Destin, Florida.
We have been listening to the audio book "River Horse". It is an account of William Least Heat-Moon's journey across America by Boat. Many of you know William Least Heat-Moon as the author of "Blue Highways" and perhaps "Prairyerth". As you might surmise by his name William is a Native American. His adventure to cross America by boat starts in New York and ends in Astoria, Oregon at the mouth of the Columbia River. In the middle of the continent he follows much of Louis and Clark's historic path. The prose is as good as the adventure itself.
From the campground at Henderson Beach we can hear pounding surf. Waves from the hurricane that just passed over Cuba are making their presence known. The tide has risen several feet from the level it was a week ago. We noticed how high the water was at o in Panama City also. If the water rises much more it will start wearing away the dunes. Weather radio continuously warns of seas 6 to 9 feet and building, small craft should take shelter. On the beach it is mesmerizing to watch the great walls of water as they approach the sandbar a hundred yards off shore. Each wave grows steeper and steeper as it tries to ride over the bar. As it grows taller and taller the top part begins to travel faster than the bottom because of the sand bar's resistance on the bottom part. When this happens the wave curls and the top crashes back into the surf from a height of 6 or 8 feet. The sound is awesome. Because these great walls of water are hitting the beach from an angle you can watch a particularly large wave as it impacts the beach and like the contact of scissors blades we can watch is as it moves from left to right down the beach. The white froth keeps pushing onward relentlessly onward until finally the energy is completely expended on the sandy quartz beach. Momentarily the beach is exposed until the next great wave takes its last breath.
Monday, September 23, 2002 Henderson Beach State Park, Destin, Florida. Campsite #50 (a great gravel pull-through with 50 amps, $18 within walking distance of one of the most spectacular beaches anywhere)
Isn't life great?
We awoke, grabbed a large cup of coffee and headed out for a long walk on the beach. There is nothing like it. The surf has subsided somewhat. It is not calm, mind you, just not as ferocious as last night. Thousands of jellyfish have been washed onto the beach. They are crystal clear glistening blobs the size of golf balls and give the appearance of molten glass. We met some people from the heartland that were terrified of them. They had seen TV documentaries on stinging jellyfish and were taking no chances. They were amazed that I could touch them with my foot and even pick them up. When we first saw them they were walking far up on the beach. As we parted company they were in the surf happily kicking those little blobs they had been avoiding like the plague.
Joyce, my little shopping maven, headed out to Silver Sands the mega outlet shopping mall up the street from us. I was spared this experience opting to stay at the State Park and read instead.
By the time Joyce returned from her shopping foray we both needed a nutrition fix. The cravings were not for something healthy, heaven forbid, but something really good. We settled on the Acme Oyster House in the Village of Baytowne Wharf inside San Destin. You will remember from a previous travelogue that San Destin is the ritzy community where everyone living inside the gated community is a president of something. If not they got out of the stock market BB (before Bush). Acme Oyster House has only been open in Baytowne Wharf since August but they are a well-known restaurant in the French Quarter of New Orleans. They proclaim Acme to be boisterous, tacky and super casual serving --- Cajun delights such as po-boys, crawfish, jambalaya, gumbo, red beans and rice, fresh oysters etc., Our first encounter with Acme Oyster House was extremely favorable thus this second excursion. The manager stopped by our table to chat. He was from Lafayette, Louisiana and had worked at Enola Prudhomme's famous restaurant just north of Lafayette years ago. When we told him that we loved Lafayette and the abundance of Cajun cuisine in the area he started to share his favorite places with us. I took out a pen and took copious notes: Bertrand's in Lafayette (the spelling may not be correct) Eimarellis on Johnson (spelling not correct but pronounced like emerald) the place used to be an old 7-11 store. The Old Evangeline Seafood & Steak House on I-49 Then just east of San Destin on US highway 98 he told us about Shrimpers Seafood. They imported boudin from someplace over in Louisiana and he said that it was good.
All of these are now on our list of places to experience.
Joyce had grilled grouper and I had jambalaya, both were great. After dinner we walked on the dock and rode the San Destin motor trolley around the harbor. The motor trolley is a nice mode of transportation for guests of San Destin. For us it was a nice harbor cruise as the sun was setting. We will do anything for a cheap thrill.
Tuesday, September 24, 2002 Henderson Beach State Park, Destin, Florida. Campsite #50 (a great gravel pull-through with 50 amps, $18 within walking distance of one of the most spectacular beaches anywhere)
We awoke to rain. Not hard rain but rain non-the-less. Isidore the Hurricane turned Tropical Storm is back in the Gulf of Mexico and headed north. Reports have it gaining strength and becoming a hurricane again making landfall around New Orleans. We know it will take a few days for Isidore to make her way across the Gulf so we go about our business and ignore Isidore.
Yesterday Joyce got Silver Sands shopping off her list of things to do. We still have The Heritage Museum in Valparaiso, the Air Force Armament Museum on Eglin Air Force Base and the Indian Mound Museum in Fort Walton Beach to mark off our list.
We were heading to the Heritage Museum in Valparaiso when we detoured to check out Rocky Bayou State Park. Rocky Bayou is a beautiful finger of water appended to the north shore of Choctawhatchee Bay. The eponymous State Park is a beautiful piece of property stretching for a mile or so along the shore. It contained a boat ramp, picnic area and large campground. This place would be an option if Henderson Beach were full. Another RV-Park on the north-shore of Choctawhatchee Bay belongs to the military. If you are military, retired military or a DOD employee or perhaps a retired DOD employee you may be able to use this park.
We had expected the Heritage Museum in Valparaiso to feature the areas fishing industry. We were wrong. Fishing was hardly mentioned. They had a sizable display of artifacts (pottery & arrowheads) from early inhabitants. In 1946 this area was the largest producer of blueberries in the country. Naval stores are another industry that came and went. Lumber from the virgin stands of long leaf pine was another industry that came and went. During the Civil War this area was populated by small individual farmers that thought the slavery issue could be worked out short of war. They did not want to secede from the Union. This earned them the moniker "Lincoln County". Now they are home to Eglin Air Force Base the largest military installation in the United States.
We opted not to do the Air Force Armament Museum because of heavy rain. Much of display is indoors but many aircraft are on display outside. We decide to save this for another day.
At the Indian Temple Mound Museum in down town Fort Walton Beach they have put together a good collection of artifacts from the early inhabitants of the area. The Temple Mound is located next to the museum. The Temple Mound was a ceremonial and political center constructed around 1,400 years AD and is a National Historic Landmark.
Inside the museum are exhibits of bones and teeth of prehistoric animals and fish from the Florida Panhandle. Then various Indian cultures are documented with displays of their stone tools, shells, pottery and bones. Next in succession is the display of implements from the era where Europeans arrived and settled.
Destin is home to one of the largest works of art ever created east of the Mississippi. Many of you have seen "Wyland's" murals on buildings in many of the world's important cities. These gigantic murals are numbered with number 88 being the Mid-Bay Marina building located at the foot of Destin's Mid-Bay Bridge. To give you an idea of the size of this mural it is 71,560 square feet of marine life depicting pilot whales, orcas, dolphins, whale shark, manta ray, blue whales, hump back whales, sperm whales just to name a few of the large subjects. Wyland has a studio in Destin that features his work and several other well-known marine artists. Joyce and I stopped in to browse through his gallery. Nothing in the place had a price in view. I remembered the old axiom "if you have to ask you can't afford it" and did not ask. No way was I going to give that vacuous clerk the pleasure of saying "that one is $5,000 can your Visa handle it?"
It rained all day. Evening news was forecasting Isidore to make landfall Thursday morning around Louisiana. The Park office windows were boarded up in preparation for the expected high winds. It looks like Henderson Beach will be evacuated again. We will not plan anything for tomorrow. It looks like we will be heading back to Pensacola to ride out another storm.
Wednesday, September 25, 2002 Drove 50 miles to our home in Pensacola to ride out the storm.
It rained all night and continues to rain as we depart. The wind has picked up but nothing scary. Our trip back to Pensacola was wet to say the least. The only thing exciting was the trip across Pensacola Bay on the 3-mile bridge between Gulf Breeze and Pensacola. That stretch of bridge runs north and south while the wind was gusting 20 to 30 knots out of the east. There was a good bit of movement on the motorhome as we were buffeted by these winds during the open water crossing.
Joyce and I commented to one another that this would probably be the only day that we would not see fishermen on the fishing bridge paralleling the bridge we were on. Normally the bridge is full, even in inclement weather some diehard fishermen would still be trying their luck. We thought surely that today would be the day that the fishing bridge would be void of fishermen. Just when we got smug thinking we had finally seen the day, there were two fishermen in slicker suites about as far out on the thing as possible. Will fishermen stop at nothing?
Back in Pensacola we are going to ride out another storm in our stick and brick house.
We should be back on the road sometime next week.
See ya!
Until next time remember how good life is.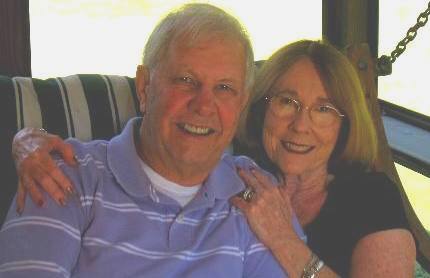 Mike & Joyce Hendrix who we are
We hope you liked this page. If you do you might be interested in some of our other Travel Adventures:
Mike & Joyce Hendrix's home page
Travel Adventures by Year ** Travel Adventures by State ** Plants ** Marine-Boats ** Geology ** Exciting Drives ** Cute Signs ** RV Subjects ** Miscellaneous Subjects
We would love to hear from you......just put "info" in the place of "FAKE" in this address: FAKE@travellogs.us
Until next time remember how good life is.