2011 Signs Part One
There is a story to go with this tag. We saw the vehicle in Key West. The vehicle was being lived in. Of course in Key West in January and February the weather is simply, well divine. Many individuals from around the world converge on Key West in the winter. That same attraction holds for those with a lot of money and those with very little.
In this case the man was living out of this vehicle which did have California license plates. He was not alone as we saw a goodly number of individuals living out of old vans and such. We even talked with some who spent each winter in Key West. Most of them live fairly simple lives. They work the food stamp office and every other game in town that is designed for the "homeless". For them it is a GAME that works to their advantage.
Now you know why I liked this "Dead Head" tag on the front of this vehicle.
HOG HEAVEN...... Sports Bar & Grill in the Florida Keys
We see this sign on our annual trips to and from Key West.
I can not remember exactly where but it is located on US-1 somewhere between Key West and Key Largo.
Wind vane on display in front of a Key West shop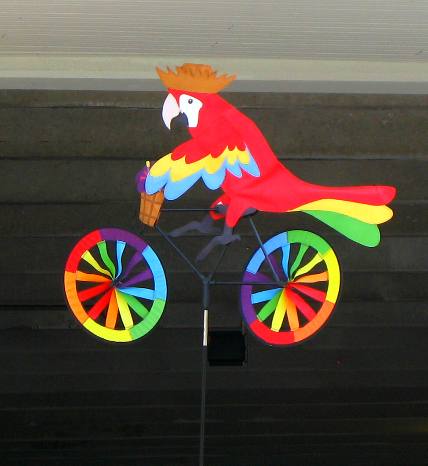 Joyce really liked this colorful wind vain that would spin in the wind. Both wheels would spin while the parrot would keep the contraption heading into the wind.
Ya just gotta love this B.O.'s Fish Wagon sign. B.O.'s Fish Wagon is a popular dive in Key West. We eat at B.O.'s Fish Wagon several times each winter. They feature fresh seafood.
Hogs Breath Saloon sign in Key West
Hogs Breath Saloon is one of the more popular establishments in Key West. I think everyone is attracted to the name. I suspect they sell as many T-shirts as anyone in Key West.
I know the sign says it is a saloon but I would call it a restaurant with an attached bar.
Mike & Joyce Hendrix
Mike & Joyce Hendrix who we are
We hope you liked this page. If you do you might be interested in some of our other Travel Adventures:
Mike & Joyce Hendrix's home page
Travel Adventures by Year ** Travel Adventures by State ** Plants ** Marine-Boats ** Geology ** Exciting Drives ** Cute Signs ** RV Subjects ** Miscellaneous Subjects
We would love to hear from you......just put "info" in the place of "FAKE" in this address: FAKE@travellogs.us
Until next time remember how good life is.