Thunder Beach Bikers At Tootsies -2
These pretty ladies told me they weren't bikers and I told them I wasn't either. They were at Tootsies for the party. Party they did! Thank you ladies, for allowing me to take your picture and include you in this article. We all had fun with the Thunder Beach Bikers at Tootsies.
Tootsies in Pier Park on Panama City Beach always provides excellent Country Music entertainment and Thunder Beach Bike Week was no exception. .
Nashville artist and band members play seven days a week starting at 11:00AM through 2:00 AM. Some of the Nashville artist performing Thunder Beach Bike week were, Clay Underwood, Anthony Orio and Billy Arnold. Of course, they are backed by outstanding musicians such as ,Morgan and Mark on bass guitar, Shawn on drums and Archie on lead guitar,
You don't want to miss a good time!
We are not Thunder Beach Bikers but we have a lot of friends who are bikers.
We love to swing dance and we go to Tootsies on a regular basis to dance to the great country music provided by Nashville artist. There was no way, we were going to miss out on an opportunity to have a good time with the Thunder Beach Bikers. I was also there to take pictures for my website www.travellogs.us
We had a blast and even taught some of the Thunder Beach Bikers to dance.
These two guys are regulars at Tootsies. I am not sure if they are bikers but they are both good dancers and know how to have a good time. By the way, all the young woman like to dance with them. Larry and Harold were both there to have a good time with the Thunder Beach Bikers.
Joyce and Debra having a good time at Tootsies with the Thunder Beach Bikers.
Mike & Joyce Hendrix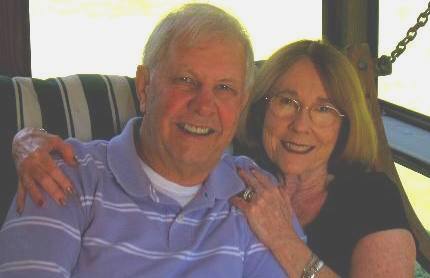 Mike & Joyce Hendrix who we are
We hope you liked this page. If you do you might be interested in some of our other Travel Adventures:
Mike & Joyce Hendrix's home page
Travel Adventures by Year ** Travel Adventures by State ** Plants ** Marine-Boats ** Geology ** Exciting Drives ** Cute Signs ** RV Subjects ** Miscellaneous Subjects ** Biker Adventures
We would love to hear from you......just put "info" in the place of "FAKE" in this address: FAKE@travellogs.us
Until next time remember how good life is.