Thunder Beach Bikers
This good looking couple is all smiles because they are friendly folks. They were having the time of their lives when I saw them at Tootsies enjoying the music and takng a break from riding. Their biking attire was classy to say the least!
This group of bikers were having some cold ones and enjoying the great country music at Tootsies in Pier Park.
No doubt, this group was having a good time! I talked with them while they were partying at Tootsies on Friday aftternoon. The guy on the right told me he would take me for a ride and promised not to go fast. Sure!!!!!!!!!!!!!!!!!!!!!!!! Maybe next time I was busy taking pictures for my website!
Two bikers riding on back beach road, better know as US Highway 98. As you can see the traffic is backing up. There are hundreds of Thunder Beach Bikers on Panama City Beach for the Thunder Beach Rally.
Here are my biker friends, Doug and Debra. We all had so much fun dancing and watching other bikers dance to the great Nashville bands at Toosties.

A group of Thunder Beach Bikers, cruising down front Beach Road on Panama City Beach.
Mike & Joyce Hendrix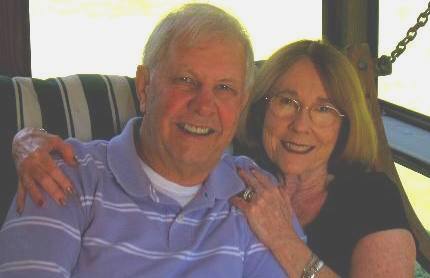 Mike & Joyce Hendrix who we are
We hope you liked this page. If you do you might be interested in some of our other Travel Adventures:
Mike & Joyce Hendrix's home page
Travel Adventures by Year ** Travel Adventures by State ** Plants ** Marine-Boats ** Geology ** Exciting Drives ** Cute Signs ** RV Subjects ** Miscellaneous Subjects ** Biker Adventures
We would love to hear from you......just put "info" in the place of "FAKE" in this address: FAKE@travellogs.us
Until next time remember how good life is.