Hells Canyon Geology on the Oregon side
June 16, 2007.
We are staying at Mountain View Travel Park in Baker City. $24.79 FHU, shade and a nice enough RV-Park. It must be a former KOA (Keep On Adding)since they charge extra for everything, $2 extra for wifi, $ 2 extra for larger sites, you get the picture ---- KOA Keep On Adding..
We drove from Baker City, Oregon east to Hell's Canyon and the Snake River on SR-86. This travel log takes place along the Snake River near the communities of Homestead, Oxbow and Copperfield.
Homestead, Oxebow and Copperfield: "Gomorra on the Snake"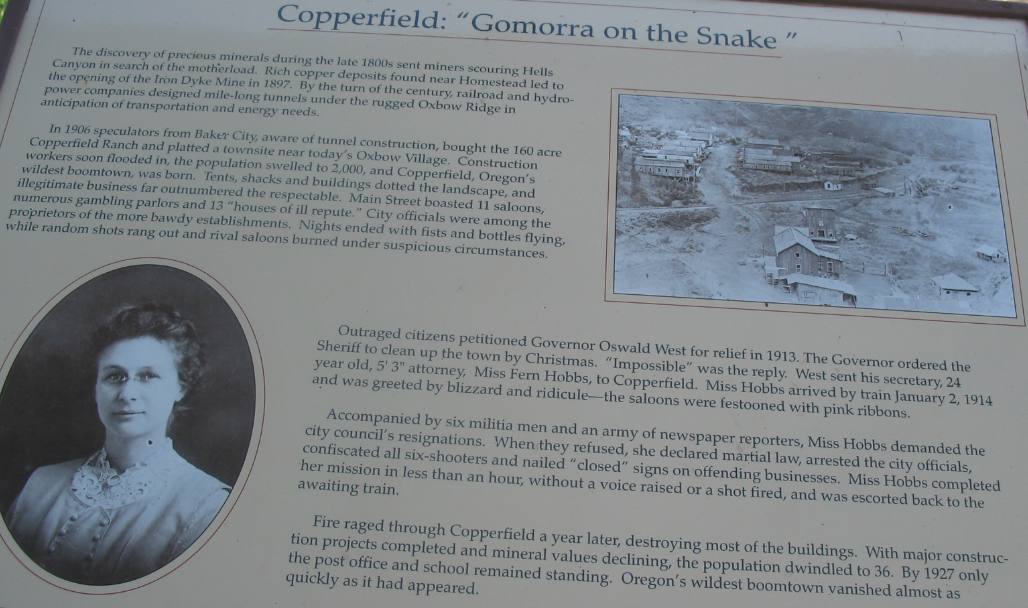 Contorted solid rock along a geologic fault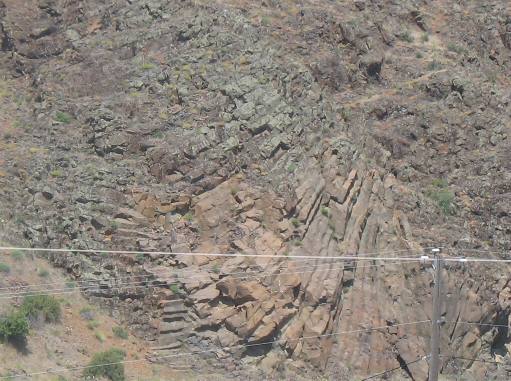 Joyce took these pictures of contorted rock along a fault near the dam and hydroelectric facility on the Snake River.
GeoloGeologic uplift along a fault line, has created this contortion of the solid rock
We turned off SR 86 to visit Oxbow Dam on the Snake River. We were not able to visit the dam but we did get this view of some awesome geology on the opposite bank. Enormous forces have contorted these rocks into awesome shapes.
Geologic intrusion or dike that was causing the solid rock to contort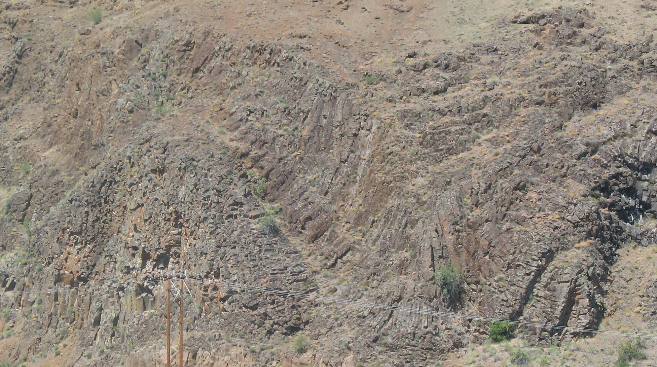 This is another look at that rock formation on the opposite bank. It looks to me like lava flows that covered this area millions of years ago were uplifted and bent by a later intrusion of molten rock.
Geologic faults and intrusions have extensively contorted this rock
This is a final view of the contorted rock formation. It is places like this that I want my own professional geologist to stand by and explain what created this.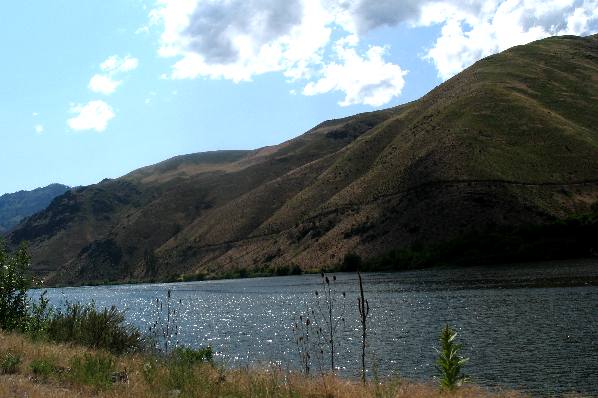 We crossed over the Snake River into Idaho and continued following the river north. Note that the Snake River here is a reservoir created by the Hells River Gorge Dam 30-miles north (down river) of here. Desert conditions still exist even though there is plenty of water in the Snake River Reservoir.
Mike & Joyce Hendrix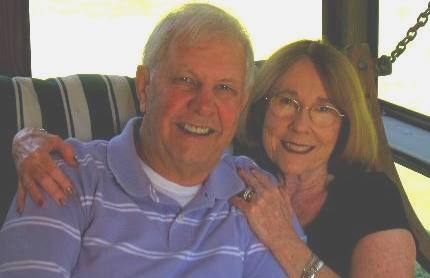 Mike & Joyce Hendrix who we are
We hope you liked this page. If you do you might be interested in some of our other Travel Adventures:
Mike & Joyce Hendrix's home page
Travel Adventures by Year ** Travel Adventures by State ** Plants ** Marine-Boats ** Geology ** Exciting Drives ** Cute Signs ** RV Subjects ** Miscellaneous Subjects
We would love to hear from you......just put "info" in the place of "FAKE" in this address: FAKE@travellogs.us
Until next time remember how good life is.