Chuck "Big Daddy Meier the Navy Rescue Swimmer
Joyce and I met Chuck "Big Daddy" Meier in the Steel Horse Saloon in Key West where he was the DJ and head bouncer in the world famous Biker Bar. It wasn't long before we became friends. I turned out that Chuck aka "Big Daddy" Meier had ties to Pensacola where we live.
Chuck is originally from Texas. Fredericksburg, Texas to be specific. He comes from good German stock. For those of you that do not know Fredericksburg is a solid German town in the heart of the Texas Hill Country. Kerrville is about 20-miles south of Fredericksburg, Luckenbach (the town made famous in the Willie Nelson song is less than 10-miles east of Fredericksburg. Willow Loop the famous blue bonnet ride is just north of Fredericksburg. RV'ers love to stay at Lady Bird Johnson Park just south of Fredericksburg. Fredericksburg is the birthplace of Fleet Admiral Chester Nimitz and home to the National Museum of the Pacific War. A famous wildflower farm is located on the east side of Fredericksburg.
Oh, don't forget to get your fill of German Food when visiting Fredericksburg. There are too many good German places to start trying to recommend which one, but you might get some ideas out of our travel logs covering Fredericksburg.
But I digress, we are discussing Chuck "Big Daddy Meier" the Navy Rescue Swimmer aren't we?
Back in 1988 Chuck was looking for a way to get out of Texas..... or Fredericksburg to be specific. He wanted to join the Marines but the recruiter was "a douche bag" according to Chuck. The Navy Recruiter, being the slick salesman took Chuck to Red Lobster and fed him a steak and lobster dinner where the silver tongued Devil laid out Chuck's future. Chuck wanted to be on the first bus out of town and the recruiter needed some gullible teenager to sign his name on the line. The deal was done.
Chuck enlisted during the Top Gun Era, and was signed up on the Airman to Admiral Program. Translation, the recruiter told him that he would be able to work his way up the ranks and be flying F-14's just like Tom Cruise. Yea Right! But Chuck's name was on the line and the bus had already left the station.
Chuck arrived at boot camp and explains it like this: " Being Raised on a Farm with an Old man accustomed to polishing the top side of his boots on the bottom side of our asses when things in the world were not right made Navy Boot Camp Child's Play."
Chuck added a bit more explanation that some of you will undoubtedly understand "Hell, I was already used to some dip shit yelling at me for no particular reason. Then having to do repetitive nonsense on top of the verbal stuff. Boot Camp was just another day. Everything came easy. Running, push ups, getting up early , making your Bed, attention to detail etc.,. it was all just routine for this old Texas boy."
Even in Boot Camp opportunities come knocking. During the PT sessions Chuck was smoking through them with ease. One of the drill sergeants suggested that I try out for BUD ( Basic Underwater Dive school). Chuck did the try out and passed the test, but then found out that he could not go because he was already in the pipe line for an A school.
After Boot Camp the Navy sent Chuck to Millington TN and "A" school where he became an AMS ( Aviation Structural Mechanic) then to Pensacola Florida for Air Crew Candidate School. Air Crew School is where the Navy teaches you to be a Crew Member on the particular type of aircraft that you will be assigned to. In Pensacola Chuck again found himself breezing through the physical qualifications.
This is where Chuck's life changes. You see Chuck wanted something a little more challenging. As Chuck is about to find out we sometimes get what we wish for and that is what is happened to Chuck in the form of Navy Rescue Swimmers school. It was at this point that Chuck was introduced to the second hardest physical school in the Navy. Rescue Swimmers school. Second only to B.U.D.S . Chuck describes the physical stuff as follows: "We started out on the work ups in Air crew school. If the Regular Aircrew Candidate was doing 50 push-ups, we did 100. When they did a mile, we did 2-miles. After graduation The Rescue Swimmer Candidates were really introduced to pain. The stuff we did in Aircrew school didn't even scratch the surface of Rescue Swimmer School. Our morning ritual started out with a good old fashioned kick in the nuts, followed by a 3 to 5 mile jog, If the instructors were happy 500-meter open ocean swim, followed by obstacle course and breakfast. Yep, I wasn't kidding about that kick in the preverbal sack either . Long story short we started out with about 75 candidates whom thought that they had the stuff to meet muster. I just happened to be one of the 25 that graduated."
During Chuck's seven years in the US Navy he logged flight time in H-1's and H-3 Siskorskys. Pulled several people out of places that probably would have killed them if I hadn't shown up. But that is the SAR Motto. ( So Others May Live. ) One of the Best Jobs in the Navy. PT, volley ball on the beach and saving peoples lives. All in a days work. It was kind of like being a real live action figure. And that, my friends, is the start of the Adventures of "Big Daddy".

As a rescue swimmer Chuck operated off the USS Lexington, USS Eisenhower, USS Saratoga, USS Forestall, USS Kitty Hawk and USS Mount Whitney.
Chuck was in on several rescues. A couple of them were actually ejections, which of course in the Rescue Swimmer community is a Big Deal. Because it was the pinnacle of what you were actually trained for.. The ejections happened in the Gulf of Mexico. Our SAR Search And Rescue) team was
responsible for saving a couple F-14 guys that were fighting the adversary squadron In Key West. Another SAR rescue was on a T-2 pilot. He had a problem off the Lexington which was conducting pilot training. The T-2 was the Navy's primary trainer at one time and used to train pilots in carrier landings.
Chuck aka "Big Daddy" Meier has have more than his fair share of Cuban refugee rescues, which at the time, the US Navy didn't count, It was called "Humanitarian Aid'. Deep sea life guarding at its best. He was part of countless Medi Vacs off of boats in the Gulf of Mexico that ranged from shrimp boats to cruise ships.
But Chuck reminds us "that is exactly what I was trained to do as a "Navy Rescue Swimmer", get knee deep in shit ,and come home smelling like a rose."

And finally Chuck ads, "According to more then one survivor. I did it well. I'm not bragging, it was just my life. Being s rescue swimmer was one of the best jobs that I have ever had."

A 1991 picture of HC-16 Rescue Crewmen all qualified in duel aircraft H-1's and H-3's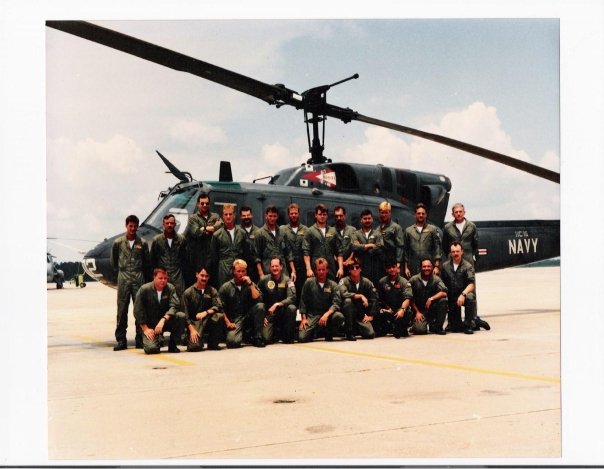 HC-16 Rescue Crewmen circa 1991.
Chuck aka "Big Daddy" Meier doing a Mock Rescue & Training scenario while I was a
Sheriff's Deputy with the Monroe county Sheriffs office SWAT & Dive
Team circa 1999.
This was the MCSO (Monroe County Sheriffs Office) Life Flight, Dive Rescue team training.
Chuck says, "I was lucky I got to use my Navy training & be a rescue swimmer
after I left the Navy.
Chuck aka "Big Daddy" Meier a Munro County SWAT team - Life Flight - Dive Rescue team swimmer
Chuck aka "Big Daddy" dangling on a rope beneath a helicopter during a training exercise.
SOAR Training off Key West, Florida at the John F. Kennedy Special Warfare Center and School

Chuck, aka "Big Daddy" puts some explanation to these pictures that Joyce and I took from Sigsby Naval Air Station Annex in Key West.
When Chuck saw this picture this is what he said "The Helo Pics brought back old Memories. I know exactly where you all were sitting when taking those shots. I have done my share of falling out of helicopters. That "Drop Zone" is appropriately named "Shark Drop Zone".
Don't you just know that the trainees look forward to being dropped into the "Shark Drop Zone".
The U.S. Army's John F. Kennedy Special Warfare Center and School known as SWCS (pronounced "Swick") trains and educates United States Army personnel for the United States Army Special Operations Command and United States Special Operations Command.
You can learn more about what these folks are training for here: SOAR Training on Spy Rigging
This Squadron picture is the HC-16 Bull Frogs, flying formation along Ft. Pickens National Seashore in Pensacola, Florida. The H-1's were used for day SAR while the H-3's a more stable platform were used for night SAR.
One of the advantages of the H-3 was that if
needed you could actually land the H-3 in the water to drag survivors into the Aircraft. The H-3 was big,& ugly, but very efficient.
For those of you that just see "helicopters" look closely. The three helicopter in the back of this flight ..... the ones actually in the white clouds, those are the H-3' The other, much smaller, helicopters are the H-1's.
If you want to read more about Chuck --- aka "Big Daddy" Charles Meier here are some more links:
Chuck aka "Big Daddy" Charles Meier in Iraq during good times
Chuck aka "Big Daddy" Charles Meier's Bad Day in the Sand Box
Chuck as head DJ & Bouncer at Steel Horse Saloon in Key West, Florida
Order "Big Daddy's" Book "Letters from the Sand Box"
Until next time remember how good life is.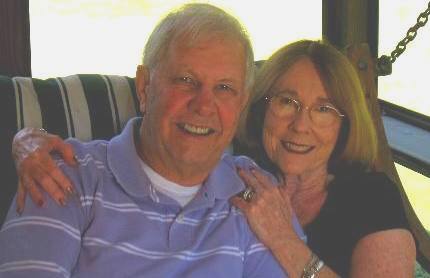 Mike & Joyce Hendrix who we are
We hope you liked this page. If you do you might be interested in some of our other Travel Adventures:
Mike & Joyce Hendrix's home page
Travel Adventures by Year ** Travel Adventures by State ** Plants ** Marine-Boats ** Geology ** Exciting Drives ** Cute Signs ** RV Subjects ** Miscellaneous Subjects
We would love to hear from you......just put "info" in the place of "FAKE" in this address: FAKE@travellogs.us
Until next time remember how good life is.